By Joan Rykal 
There's nothing like the bountiful harvest of summer's fresh fruits and vegetables – from plump red strawberries to rosy, ripe tomatoes, or sweet or tangy cherries, juicy peaches and crunchy peppers that pack a punch of flavor. Then, there are the awesome apples come autumn and the colorful gourds, including the pumpkins that signal fall's arrival. Farmer's markets and roadside stands spring up all around offering the "fruits" of the farmer's labors for you to enjoy.  
This harvest season why not take your enjoyment one step further and pick your own? There are plenty of places to choose from and plenty of produce to pick from. We gathered up just a few here but if you don't see something near where your summer adventure plants you, check out www.pickyourown.org. The most important thing to keep in mind here is that harvests change based on weather, so always check the website of any u-pick farm you've selected or call ahead to make sure they are open and ready for you.     
By the way, in case you're wondering, one bushel is equivalent to 32 quarts and a peck is 8 quarts or a quarter of a bushel!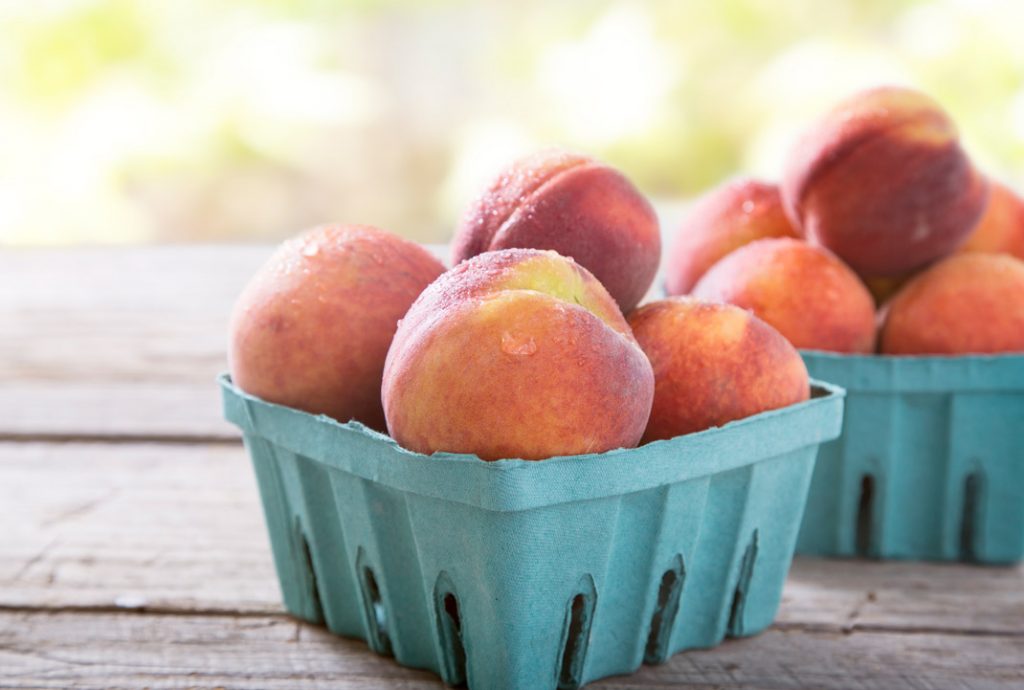 Illinois
Stade's Farm and Market, 3709 Miller Road, McHenry (www.stadesfarmandmarket.com) 
U-Pick: Raspberries, strawberries, green beans, sugar snap peas, tomatoes, and apples 
With twenty acres of strawberry fields, two acres of raspberries bushes, plus green beans and more than 8,000 tomato plants, there's always something ready for picking during the growing season. Come fall, there apples in the orchard and Shades of Autumn, a fall festival that runs weekends beginning September 7.  In addition to the U-Pick opportunities, Stade's also has a market stocked with baked goods, in-season fruits and vegetables, eggs, honey, and canning supplies.  
Stade's is located approximately 35 miles from Pine Country RV Campground
Indiana 
Spencer Farm, 7177 E. 161st Street, Noblesville (www.spencerberryfarm.com) 
U-Pick: Strawberries, black raspberries, blueberries, grapes, and red raspberries 
Spencer Farm has been in the u-pick business since the early 1980s and began with a crop of strawberries. Over the next several years, more u-pick crops were added and in 2012, they had their first u-pick asparagus crop (the picking season for which is late April-early May so make a note for next year). The farm also has a Sweet Shop which has hand-dipped ice cream, fresh fruit pies, and homemade fudge. Autumn brings a pumpkin patch and hay rides to the farm! 
Spencer Farm is approximately 80 miles from Indian Lakes RV Campground
Massachusetts 
Carlson Orchards, 115 Oak Hill Road, Harvard (www.carlsonorchards.com)
U-Pick: Peaches, nectarines, apples, and pumpkins
The 50 acres of orchards reside on this 120-acre working farm in the rolling hills of Massachusetts complete with a frog pond. Five varieties of nectarines, six varieties peaches and more than 10 varieties of apples including Fuji, Granny Smith and Honeycrisp are available for u-pick here.
Carlson Orchards is approximately 50 miles from Sturbridge RV Campground and 80 miles from Gateway to Cape Cod RV Campground
Michigan 
Crane Orchards, 6054 124th Avenue, Fennville (www.craneorchards.com) 
U-Pick: Apples, cherries, peaches, and pumpkins 
The history here is as extensive as the variety of fruit available for picking, as the farm dates back to the late 1800s and has been farmed by the same family since 1917. Cherries begin the u-pick season in June and there are several varieties of sweet Michigan cherries to pick from as they ripen through early July. Come August, the peaches are ready and there are more than 10 varieties ripening. Apple picking kicks off Labor Day weekend, followed by the pumpkins through September and October.  Also in the fall, you can explore a 20-acre corn maze, enjoy a hayride or take the little ones on a special cow train (no, they are not real cows!) 
Crane Orchards is approximately 70 miles from Bear Cave RV Campground
New Jersey 
Johnson's Corner Farm, 133 Church Road, Medford (www.johnsonsfarm.com) 
U-Pick: Blueberries, cherries, peaches, sweet corn, sugar snap peas, and string beans 
Come for the picking and stay for some of the other fun here at Johnson's Corner Farm. Friday nights from June through August enjoy a Classic Car Cruise and BBQ while the Fall Festival features a corn maze, live music, and hayrides. The Farm's Discovery Barnyard provides a hands-on farm experience and a kid's play area. There is also a bakery and restaurant. 
Johnson's Corner Farm is approximately 60 miles from Lake & Shore RV Campground
Ohio 
Rainbow Farms, 2564 Townline Road, Madison (www.rainbowfarmsonline.com)
U-Pick: Strawberries, raspberries, currants, blueberries, tomatoes, and peppers 
This family-owned farm grows more than 40 fruits and vegetable varieties, including the selections included in the u-pick process. The farm also has a retail market for the crops that are not part of the pick your own and each fall hosts the Piccadilly Pumpkin Patch with all kinds of fall fun including a hay maze, hay rides and of course, a pretty patch of pumpkins for you to pick from. From a u-pick perspective, in addition to the berries, pick a patch of peppers which include bell peppers, poblano peppers, sweet peppers, and banana peppers.  
Rainbow Farms is approximately 15 miles from Kenisee Lake RV Campground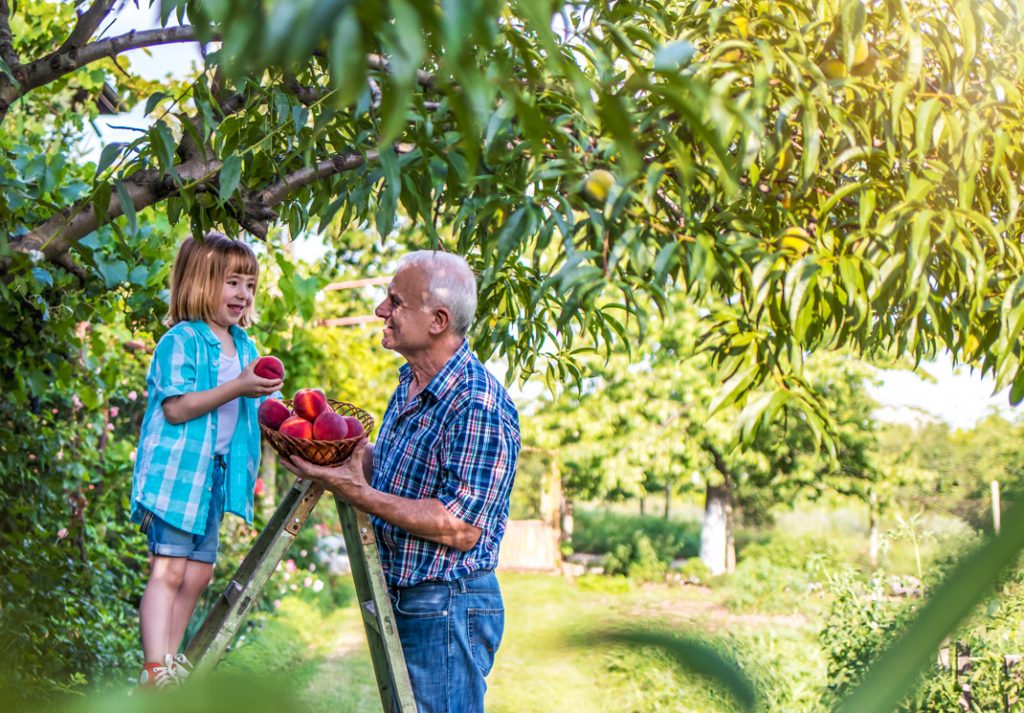 Oregon 
Columbia Farms U-Pick, 21024 NW Gillihan Road, Portland (www.columbiafarmsu-pick.com) 
U-Pick: Strawberries, raspberries, blackberries, and currants 
Located on Sauvie Island, this picturesque farm has plenty of berries (more than 15 types) for picking and a cute little gazebo under which to picnic when you're done picking! 
Columbia Farms is approximately 80 miles from Seaside RV Campground
Pennsylvania 
Maple Lawn Farms, 2885 New Park Road, New Park 
U-Pick: Cherries, blueberries, apples, peaches, and pumpkins 
In addition to the fruits ripe for picking here, there is also a winery that offers tastings and a Farm Market with jam, jellies, fruit butters, baked goods and fudge available for purchase.  Don't miss the annual Sunflower Festival and the fall Corn Maze.  
Maple Lawn Farms is approximately 45 miles from Circle M RV Campground
Tennessee 
Jones Orchard, various locations, Millington (www.jonesorchard.com) 
U-Pick: Nectarines, peaches, blackberries, strawberries, apples, pumpkins and pears 
Acres and acres of opportunity to pick your own are what the Jones Orchards are all about. All located within Millington, the u-pick orchards are spread over various locations and include 25 varieties of peaches, 3 acres of strawberries, 10 acres of nectarines and 5 acres of pears and apples each, plus another 5 acres of pumpkins. The farm's website includes a Ripening Calendar and a U-Pick Hotline to provide information about what's ready, what's coming up and other important information.  
Jones Orchard is approximately 70 miles from Cherokee Landing RV Campground
Washington 
Jones Creek Farms, 32260 Burrese Road, Sedro-Woolley (www.skagitvalleyfruit.com) 
U-Pick: Apples, pears, and plums 
Check the website for the harvest schedule and don't miss the farm store when visiting this wonderful u-pick farm.  
Jones Creek Farms is approximately 10 miles from Mount Vernon RV Campground