This month, TrailBlazer introduces you to Rubi & Eduardo! They are fulltime RVers, Thousand Trails members, and true outdoor lovers! Rubi and Eduardo have been camping for over nine years and traveling fulltime for over three and you can follow their never-ending journey on Instagram: @adventuresonwheels 
Check out Rubi and Eduardo story plus their favorite Thousand Trail's memories in this month's, I Knew I Was a TrailBlazer! 
How long have you been camping and RVing? Who introduced you to it? Tell us how it all began!
We went on our first tent camping trip a couple of months after we got married, 9 years ago. A close friend of ours invited us to a State Park close to Austin. We remember being at the campsite and seeing an RV next to us and thinking that we could get a pop-up camper for camping trips if we liked the experience.
Needless to say, we fell in love with camping and started doing it very often and a bit further every time. And every time we would go camping, we would see RVs and would bring up the subject of one day getting one for our camping trips.
How did you first hear about Thousand Trails? 
One day from a random article online (don't remember where), we read about Thousand Trails and became intrigued by it. We lived in Austin and had a few parks close to us. We started planning on doing a test run and trying to tent camp for a week at one of them and seeing how it would be. We tent camped at Colorado RV Campground and enjoyed it! That same year, we took a 3-week vacation to Florida and spent one of those weeks tent camping at the Orlando RV Resort, where we met a great couple next to us, who were full-timers.
They helped us make the decision to trying it out. That same month, we came back home, purchased a national membership, bought a travel trailer, leased our house, and left on our RV adventure, for a few months… But that has become three and a half years now and we don't see an end!
What is one of your fondest camping memories? How about one of your fondest TT memories? 
This is one and the same… Our fondest camping memory is at a Thousand Trails campground. It was a weekend that we took our moms to camp and we got to see them play like little girls all weekend, running around, feeding deer, even coloring in the family center! These are two women that are over 60 and haven't had an easy life… So, for us to see them so happy with something so simple, made us incredibly happy to be part of the RV community and of having our Thousand Trails Membership.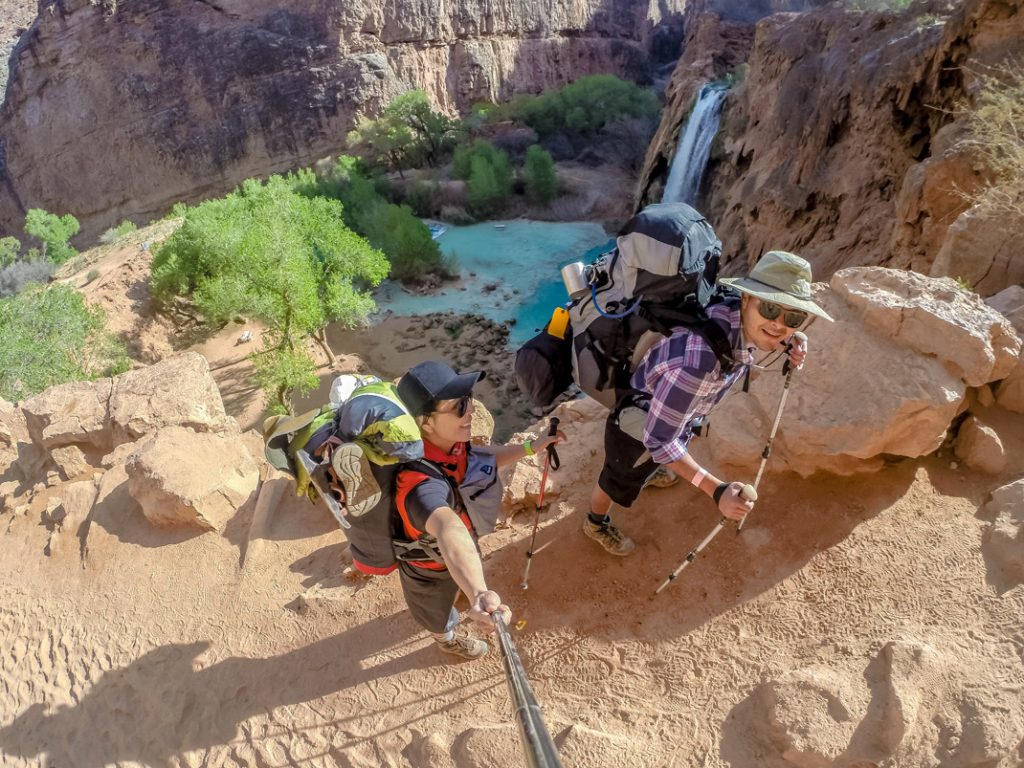 Any funny camping/RVing stories? 
So, at first, we never ever wanted to do number 2 in the RV and always used Park facilities… But on one occasion, while staying at Whalers Rest in Oregon, Rubi wanted to use the bathroom; it was nighttime, and it was raining pretty hard. We were parked close to the family center. We both walked over in the middle of the night, while raining, only to find out it was closed. We knew there was another one on the other side of the park, so there we went, walking in the rain to the other location… And guess what, it was closed!
We ended up walking all over the park, in the dark, soaking wet, and finally decided to cave and went back home. That was the last time we worried about not fully using our RV bathroom!
What type of camper are you/what equipment do you use? What do you prefer and why? (ex: fifth wheel, RV, tent, cabins, etc.) 
We like to travel light. We have a 22 feet Winnebago Micro Minnie travel trailer. We love the size because it gives us a lot of flexibility while traveling. We can park almost anywhere.
As far as equipment, we always use our Weboost and our clam canopy to hang out outside. And an awesome water filter to always have fresh water without creating trash.
Where have you gone that you wouldn't have otherwise if it hadn't been for your Thousand Trails membership? 
We wanted to Visit Oregon for many years, but it was a long drive from our home state of Texas, and we wanted to drive to be able to take our kayaks and mountain bikes… But now, thanks to the awesome Thousand Trails membership, we have been able to enjoy Oregon on multiple occasions!
Another place is New York City. We wanted to go but the hotels there are expensive. Thankfully, Thousand Trails has RV Resorts relatively close to the city and we were able to stay there while exploring The Big Apple!
What is your favorite part of the outdoor lifestyle? 
Traveling full time with our RV has given us the opportunity to enjoy beautiful landscapes and do all sorts of outdoors activities, we love hiking, camping, kayaking, paddle boarding, mountain biking… and we get to do all those activities all over the USA, thanks to this RV lifestyle.
For us, our favorite part of the outdoor lifestyle is the feeling of being ALIVE and one with nature!
We want to know when you knew you were the consummate camper, a true TrailBlazer. Can you finish this sentence… We knew we were TrailBlazers when… 
…We realized we preferred sleeping in our tiny travel trailer instead of a guest room when visiting friends and/or family. Or, when we noticed that we like being outdoors and enjoying a hike more than being inside a bar or in a city.
 If you could leave a piece of Thousand Trails history behind so that campers 50 years from now will remember what it was like to camp in 2019, what would you leave and why? This can be an actual artifact, a story, an image, or something else! 
It would be a thought… Life is full of adventures, do not waste so much time with material things and go out and enjoy the World as much as you can with whatever you have now… and make sure you take someone special with you!
Follow Rubi & Eduardo and their adventures on Instagram!