Whether you spend life on the road for pleasure or work, it's nice to have the comforts of home as you travel the highways and byways. TRAILBLAZER checks in with folks who spend a fair amount of time on the road to see just what makes their home away from home.
This month, we chatted with the American bluegrass band from Asheville, North Carolina, Steep Canyon Rangers.
From their humble days as students at the University of North Carolina at Chapel Hill in 2000 to their nine solo albums and a 2013 Grammy win for Best Bluegrass Album (Nobody Knows You), the Steep Canyon Rangers have been entertaining crowds across the country with their spirited songwriting, instrumental mastery, and entertaining performances. And, that's not to mention their friendship and collaboration with comedian, Steve Martin.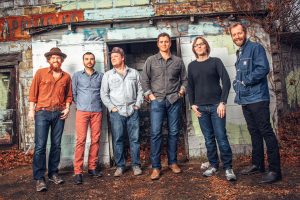 Originally starting out as a trio, the band has expanded into a sextet with Woody Platt on guitar, Graham Sharp on lead vocals and banjo, Charles Humphrey on upright bass, Mike Guggino on mandolin, Nicky Sanders on fiddle, and Mike Ashworth on a signature "cajón box kit" drum set. They all contribute to the vocals, which lends a stunning harmony to their bluegrass twang. Plus, they frequently perform with Steve Martin on banjo and Edie Brickell on vocals. As a matter of fact, the band has recorded two collaborative albums with Martin—Rare Bird Alert was nominated for Best Bluegrass Album in 2012—and were named joint Entertainers of the Year at the IBMA Awards in 2011.
Now based in Brevard and Asheville, North Carolina, when not touring—they even recorded their most recent album, RADIO, in the snowy winter of 2015 at Echo Mountain Recording Studio in Asheville—the band often plays at the popular downtown music venue, The Orange Peel when they are in town. Their philanthropic efforts are also local, including a partnership with Brevard-based Oskar Blues Brewery and their CAN'd Aid Foundation. Supporting "do-goodery" efforts, the band has contributed to CAN'd Aid's Towns, Tunes, and Treads + Trails causes by offering traditional instruments and free music lessons to kids with the hopes of passing on traditional Appalachia old-time music. They also hold benefits in conjunction with their decade-long Mountain Song Festival, held in the fall at the Brevard Music Center, to help raise money for the foundation's Treads + Trails efforts.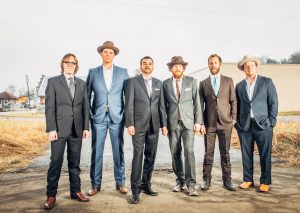 The Steep Canyon Rangers' appreciation of Asheville and the mountains of North Carolina run deep. Earlier this year, the Asheville Convention and Visitors Bureau decided to capitalize on the band's love of the area by partnering with the band as part of their efforts to broaden the awareness of the region's music scene. The partnership features many components including a colorful wrap for the band's tour bus. Now, when then Steep Canyon Rangers are on the road (they perform 150-plus shows per year), they can take a bit of Asheville with them. We spoke with Graham Sharp during a short break in their 2017 tour.
How did you settle on Asheville?
A good portion of the band is from Brevard, which is right down the road. My wife is from Asheville, so there were a lot of family connections. The first thing that pulled me to Asheville was the music scene. I loved the history of the music of the mountains. And it's a beautiful place. It's always been one of my favorite places in the world.
What are some of your favorite things to do in Asheville?
I love the mountains and I love to get outdoors. I do a lot of hiking and mountain biking. I have two elementary-school aged kids and they love to get out in the woods, so we do a lot of stuff out on the trails in the afternoons. We just try to take advantage of what there is to do.
Any favorite places to eat?
My favorite these days is a place called Nine Mile. It's kind of a Jamaican Asian…I don't really know how to describe it. It's delicious. There's a place called The Walk that's a great family place. If we go downtown, I love Posana's—it's delicious and really healthy. Mela's is one of my favorite restaurants in town. It's Indian.
What are some of your favorite local music venues and bands?
I love The Grey Eagle. It's always been a stellar standout venue. The Orange Peel is the big club in town so if there is a bigger sized show, that's where it is. On our side of town, I love to go up to The Mothlight and see music there. And Isis Music Hall.
When we first moved here, there were plenty of music bars. You could play at Barley's and Jack of the Woods but there weren't a lot of places. There must be ten really good quality venues here in town now. Tons of bands come through here. Some of my favorite bands these days would have to be River Whyless. They are a great band of a fusion of mountain music and pop music. There's a lot of great bluegrass and Town Mountain is one of our favorite bands. And then all the different people you can catch playing informally here, there and everywhere.
Tell us about your bus.
[It's a] 2005 Prevost XL2.
Does the band sleep on the bus?
We sleep on the bus. It's our rehearsal space [and] our lounge where we can watch ballgames (we're all big Tarheel basketball fans). My happy place on the road is a Saturday morning in the back lounge and [I] turn on an English soccer game, get out the banjo or guitar, and kind of hang low. The bus has a big front lounge where everyone can be together, there's the bunk hall, and then in the back is another lounge, where if you want a low-key situation, you can do that too.
What's your favorite thing about staying on your bus versus a hotel room?
It's got everything you need: snacks that you want, all your amenities, [and] a full stereo system that's great for Sunday morning mellow music or something after the show. I don't ever want to get off. Whenever we have an option to go to a hotel, I'd rather stay on the bus because it has everything we need.
What are your three favorite things onboard?
The espresso machine. I'd have to say the back lounge is a personal favorite. And the band.
Do you listen to music on the road?
A lot of time after the show when everyone is jazzed up, we've got a couple amateur DJs in the band and we'll make some playlists and put it on when you are going down the road after a concert. Maybe something a little different from what we've been playing all night.
What else (other than listening to music) do you do when you are on road?
We watch basketball. We all love to get out in whatever town we're in to explore. I like to get out for a walk or a jog. It's a great way to see the surroundings and the country. It's a lucky position we are in to be able to see the country.
Do you cook onboard?
No. We've got snacks and our mandolin player always makes these beautiful Italian dinners and brings them on board and occasionally shares his leftovers. The microwave is pretty much the limit of our cooking.
Where do you like to eat on the road?
Highways or scenic routes?
Usually the highways because we're just getting down the road. But there are a lot of beautiful drives on the highway. One of my favorites if from LA towards Phoenix out through the high desert. 
We like to just find a little local spot in each town. We don't have many big chains that we like to go to. Although our bus driver did stop us in the Casey Jones Country Buffet not long ago in the western part of Tennessee and that was pretty spectacular. We try to get the flavor of everywhere we go because everywhere is going to have their specialties.
What are a few favorite destinations?
We were just in the Hill Country just outside of Austin. That was beautiful. I always like going to Nashville. Especially the Ryman Auditorium or the Station Inn. I really enjoyed Philadelphia the last time we were there. I thought downtown was full of amazing things do with the museums and all the history.
Did anyone ever camp as a kid or as a family vacation?
I grew up doing a lot camping and I do that with my family as well. Now that I have kids, they are always clambering to take the bus out on vacation. I think a lot of the guys grew up camping.
We noticed that your tour bus recently got wrapped with the Explore Asheville brand. How nice will it be to take a little piece of Asheville with you on the road?
It's beautiful. You've got the big Blue Ridge Mountains and rhododendrons that travel with us everywhere we go. It looks like home. For years, we've always said from the stage that we're from Asheville, North Carolina. People always respond to it and come up to us after the show and tell us how much they love Asheville. People love to take pictures in front of the bus.