Asheville, North Carolina
By Lynn & Cele Seldon
Many loyal locals and visitors consider the North Carolina mountain town of Asheville as their Utopia on earth. It's certainly 'Youtopia' if you want a perfect place to enjoy your passions and pursuits. Over the years, Asheville has gained fame with varied utopian monikers, including: Foodtopia; Brewtopia; Beetopia; Spatopia; and, more recently, Musictopia. In Asheville, it's all about focusing on what 'you' enjoy.
Foodtopia
Years ago, the marketing folks in Asheville started calling their town 'Foodtopia' for good reason. Though the term 'farm to table' has been overused of late, Asheville has been a farm to fork type of town for decades—with creative chefs working with local farmers to serve up some seriously tasty food to hungry locals and lucky visitors alike.
The Foodtopian culture pervades the eating life in Asheville for those who insist on local and fresh cuisine that offers an inventive take on regional specialties and indigenous foods of Southern Appalachia. What has resulted for this city of 85,000 or so is a restaurant renaissance that started in the mid- to late-1990s and served as one of the catalysts for the revitalization of downtown Asheville and beyond.
Today, the movement has continued, with recent developments including elBulli alumna Katie Button choosing Asheville as the home of her first restaurant (Curate bar de tapas), tasty 'bean to bar' chocolate at the French Broad Chocolate Lounge and the Chocolate + Milk Library next door (or take a tour at their nearby factory and tasting room), a variety of food- and beer-focused tours, artisan hooch from the nation's first female craft moonshine distiller (Asheville Distilling Company's Troy Ball), and a long-standing run as the home of America's most visited winery (Biltmore). Given all of this, many new and veteran visitors plan their Asheville visit around where they'll head for breakfast, lunch, and dinner, with a wide array of options for all three meals (and lots to drink with them) during a short or multi-day stay.
Founded in 2001 and open bright and early every weekday at half past seven (9 a.m. on weekends), Early Girl Eatery is the place to head on any Asheville morning—as well as lunch and supper (that's 'dinner' in the South). "I love watching tourists and locals begin a conversation in our dining room and finding laughter and common ground over a plate of local eggs, Sunburst trout, and Boonville Mill grits," says Early Girl co-founder and -owner Julie Stehling. Julie runs the popular Wall Street restaurant with husband and chef John, as well as King Daddy's Chicken & Waffle in West Asheville.
Along with Early Girl, King Daddy's, and Curate (make a reservation!), the long list of restaurants to consider during a visit has to include: Rhubarb and The Rhu from acclaimed chef John Fleer; The Admiral (off-the-beaten-path and so worth it); The Market Place (downtown farm to table dining since 1979); Laughing Seed Café (a vegetarian and vegan mainstay that meat-eaters also love); Chai Pani (fun Indian 'street food'); Buxton Hall BBQ; 12 Bones Smokehouse; Justin Burdett's creative southern fare at Local Provisions; classic Corner Kitchen and the Grand Bohemian Hotel's Red Stag, both in bustling Biltmore Village; many Biltmore proper eateries; and several upscale and casual choices at the famed Biltmore and Antler Hill Village or The Omni Grove Park Inn.
In addition, Katie Button and her el Bulli alum husband, renowned front-of-house and cocktail expert Felix Meana, also serve up Nightbell, a food-forward nightclub concept with creative cocktails, tapas-style dining, and great desserts. The various truffles and more at aforementioned French Broad Chocolate Lounge also make for tasty dessert options. The Hop Ice Cream Café has people- and dog-friendly (really) ice cream options and Short Street Cakes features delectable traditional and vegan cupcakes.
Those who want to take an even bigger bite out of Asheville will want to take a tour with Asheville Food Tours or Eating Asheville—or head there in August for the growing Asheville Wine & Food Festival.
Brewtopia
Beer and other brews are almost as big as food in Asheville. Maybe that's because it seems like there's a microbrewery on every downtown corner or a distillery just down the street.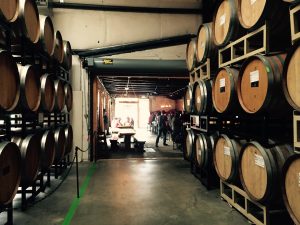 Brewtopia recommendations from locals in-the-know include: Asheville Brews Cruise (lots of varied options for brewery visits and tastings with someone else doing the driving); Bruisin' Ales (this beer-only retail store has a selection of 900+ beers—including dozens from Asheville brewers); Wicked Weed; Pisgah Brewing Company; Wedge Brewing Co. (the nightly and weekend scene here is oh-so-Asheville, including their new River Arts District location at The Foundation); Asheville Brewing Company; Jack of the Wood (from the owners of beloved Laughing Seed Café, their Green Man Ales pair perfectly with their hemp nut burger); and beloved Highland Brewing Company. The success of local breweries has drawn the attention of national breweries as well. New Belgium, Sierra Nevada, and Oskar Blues have recently opened East Coast locations in the area.
For those who want to drink in even more of what Asheville has on tap, the area is also home to four cideries—Noble Hard Cider, Urban Orchard Cider Co., Black Mountain Cider Works, and Bold Rock Hard Cider. There are also now several distillers (including aforementioned Asheville Distilling Company) and a sake brewer (at Ben's Tune Up, where they also brew beer and feature Asian fusion food in a converted auto repair shop). Plus, the craft cocktail scene is bigger and better than ever as well at many Asheville bars and restaurants. And, finally, a fizzy fermented beverage called kombucha is also a big deal in health-conscious Asheville, with Rosetta's Kitchen & The Buchi Bar among several places to try its unique flavor.
Beetopia
Already known as Beer City USA, Asheville's city council officially made the town the nation's first Bee City USA in 2012. Asheville was already the home of the Center for Honeybee Research, which focuses on the diminishing bee population and colony collapse disorder.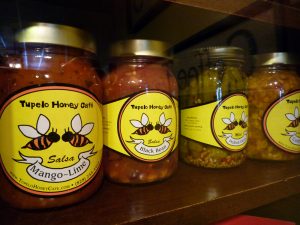 One great place to start and exploration of everything honey is downtown's Asheville Bee Charmer. The buzzing store has quickly become the place to head for all things honey—and bees.
The original location of Tupelo Honey Café is nearby, where an order of freshly made biscuits is served with honey. Known for their oh-so-southern fare, there are now ten-plus (and counting) Tupelo Honey locations.
More tastes of Asheville's honey scene can be found on other restaurant and bar menus, including a local cheese plate with honey at The Market Place, honeyed beets at beloved Early Girl Eatery, Burial Beer's Pollinator Honey Saison, locally-poured honey mead from Bee & Bramble and Fox Hill, and the refreshing Penicillin #3 cocktail that pairs apple pie moonshine and honey ginger syrup at Nightbell.
Spatopia
The soothing spa scene and wellness as a way of life have a long history in Asheville. In the late-1800s, tuberculosis patients started coming from near and far to convalesce in the crisp and clean mountain air. That history of healing and health has evolved into a new age haven for many visitors as a key component in 'Youtopia.' For example, Asheville boasts more than 625 licensed massage therapists and dozens of places to practice yoga, Pilates, and more.
Beyond an array of massage and yoga opportunities, new age-y adventures in and near Asheville can include: Wake Foot Sanctuary (soulful and sole-ful foot soaks and massages); Asheville Salt Cave (a healing salt cave); the Salt Spa of Asheville & Himalayan Salt Cave Sanctuary; Still Point Wellness (saltwater flotations experiences); retreat-like Om Sanctuary; Shoji Resort and Spa (hot tubs, massages, and more, with a view); several Dobrá Tea locations; Alchemy (tea room, apothecary, acupuncture, and more); Sovereign Remedies (an only-in-Asheville bar with a wellness bent); and the 40,000-square-foot underground Spa at Grove Park Inn. If you happen to be in the area in late-July, be sure to check out the Asheville Yoga Festival.
Musictopia
Like other Utopian concepts, Asheville is becoming a haven for music fans as well. Today, deep-seated bluegrass roots harmonize with new talent and innovative sounds, including the nation's longest-running folk music festival (the Mountain Dance and Folk Festival), Grammy-winning musicians, the birthplace of Moog music (including Moog Music Factory tours), frequent drum circles, and more.
Asheville even inspired a hit Broadway musical last year. Co-written and -produced by Steve Martin, "Bright Star" shined brightly on Broadway. Focusing on two love stories set in Musictopia, the show received five Tony nominations, including "Best Musical."
Live music is definitely a highlight back in Asheville, with some of the East Coast's highest peaks providing lyrical backdrops. The options include Sierra Nevada's outdoor amphitheater, Salvage Station (the area's newest riverfront music venue), the Biltmore Concert Series, and LEAF Festival, set on the banks of nearby Black Mountain's aptly-named Lake Eden each May and October. Indoors, along with well-known music halls like The Orange Peel and The Grey Eagle, there's a 1940s car dealership-turned-music venue at White Horse Black Tavern and Asheville Guitar Bar, a new venue in the River Arts District.
Like food, beer, and wellness tours, guided explorations of Musictopia are also a great way to explore the area. The options include Asheville Music Tours, LaZoom's "Band & Beer Bus Tour," and the great Blue Ridge Music Trails of North Carolina guidebook and website, which leads visitors to where folk music and dance still thrive. Those out on the road searching for live music will also want to grab a CD called the "Asheville Symphony Sessions" which pairs the Asheville Symphony Orchestra with local acts like Electric Owls, Shannon Whitworth, and the Steep Canyon Rangers. Other musicians who have roots in the region include: Roberta Flack, Nina Simone, Warren Haynes, David Holt, Doc Watson, Lizz Wright, and the sister-duo, Rising Appalachian.
Asheville-based Steep Canyon Rangers even takes the Asheville music scene on the road with them, thanks to the colorful "Asheville" wrapping on their tour bus. Playing more than 150 shows a year, they love sharing Musictopia through their bluegrass and more.
Given all of these versions of Youtopia, it's no wonder that Asheville has become a haven for whatever you enjoy most.
Visit www.exploreasheville.com for everything you need to plan a You-topian visit, or visit our website, www.thousandtrails.com, to find your own utopia.