By Joan Rykal
If you're planning to spend some time this summer in northern Indiana, a tour of the Heritage Trail is a must-do! Named one of "America's Most Scenic Drives" in a USA Today's Reader's Choice travel poll, this roughly 90 mile "trail" not only gives you an up close look at the Amish lifestyle in the area, but also takes you through picturesque small towns that are the essence of the heartland.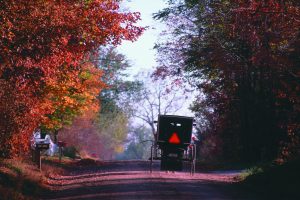 The trail itself takes no more than two hours to drive, but that's if you just drive….and you don't want to do that.  Take in the unique offerings of each of the quaint communities and get to know the Amish culture as well, enjoying the simplicity of their lifestyle as well as some of the handcrafts and homemade delicacies they are known for.
Indiana has the third largest Amish population in the US and the towns that comprise the Heritage Trail have an Amish population of about 20,000.  Amish settlements in the area date back to the mid-1800s as the Amish were drawn to the area because of the affordable land.
The towns along the trail include Bristol, Elkhart, Goshen, Nappanee, Wakarusa, Middlebury and Shipshewana and each has a reason or two to stop, explore and experience. A stop at the Elkhart County Visitor Center will provide you with a free Travel Guide and Heritage Audio Tour CD.  You can also plan ahead and order one by visiting www.amishcountry.org/request-destination-guide.
Starting north in Bristol, you don't want to miss Bonneyville Mill, Indiana's oldest continuously operating grist mill. The Mill is open Wednesday through Sunday, from 10 a.m. to 5 p.m., May through October. The Mill is located within Bonneyville Mill County Park, a 223-acre picturesque park with woodlands, wildlife and wildflowers. There is a seven mile hiking trail and a six mile bike trail. Enjoy a picnic and fish for smallmouth bass or stocked rainbow trout in the Elkhart River. When the Mill is open, you can experience the "daily grind" as the massive grist stones do their work.
Traveling south from Bristol, you come upon the city of Elkhart. Of course, the avid RVer will know Elkhart as the home of the RV/MH Hall of Fame and Museum where the history of the industry is depicted through exhibits, including 100 year old RVs.  For museum hours and tour information visit www.rvmhhalloffame.org.
There's also Ruthmere, a three-story Beaux Arts mansion built in 1910, now open to the public that includes a large collection of art and sculpture, including Tiffany glass and works by Auguste Rodin. For hours and admission prices, visit www.ruthmere.org.
Another must do in Elkhart is the Gateway Mile which incorporates three distinct districts; the Garden District, the RiverWalk District and the Arts and Entertainment District. The Garden District and the Arts and Entertainment District are connected by the RiverWalk's waterside pathway. Each Wednesday, the Arts and Entertainment District hosts an ArtWalk from 5 to 8 p.m.  Stop for a bite and craft brew at Iechyd Da, a brewpub that offers handcrafted ales and lager as well as pizza and sandwiches.
Between Elkhart and Goshen to south, stop in the Wakarusa Dime Store, home of the Jumbo Jelly Bean. The dime store began as an offshoot of Wolfberg's Department Store, which was opened by Mose Wolfberg in 1907. As for the giant jelly bean – it was created in 1969 by Wolfberg's son as a new candy to introduce at the town's annual Maple Syrup Festival. Over 75 tons of this famous bean are sold annually.
If the Jumbo Jelly Bean experience piques your love of sweets, then you'll be glad to find the Olympia Candy Kitchen in Goshen, another century-plus confectioner offering hand-dipped chocolates and homemade caramels. In addition to the fantastic candies, they also serve breakfast and lunch in a true soda-fountain style atmosphere.
Set in Goshen's Old Bag Factory, built in 1896, the Artisans Complex brings together quilters, potters, and sculptors as well as merchants selling one-of-a-kind items. Other specialty shops include a bookshop, antiques, a second-hand music shop and a bakery specializing in scones, aptly named Rolling Scones!   
The city of Nappanee is home to Amish Acres, the only Amish farm listed in the National Register of Historic Places. At Amish Acres, you'll find the historic 80-acre Stahly-Nisley-Kuhns farmstead.  Take a horse and buggy ride, watch films that detail Amish history and lifestyle, enjoy a family-style Threshers Dinner in the old barn, or catch the stage production of Plain and Fancy in the Round Barn Theatre. Plan your visit during the weekend of August 3-6 and enjoy the annual Amish Acres Arts and Crafts Festival, featuring 300 artists.
Fun Fact: Nappanee holds the distinction of being the longest city name in the US. Each of its letters is used twice! It also means "flour."
Heading back north (approximately 35 miles) you find the town of Middlebury, which in fact, takes its name from the settlers of the same Vermont named town who came west to settle in Indiana.  Nowadays, people come to Middlebury to experience Das Dutchman Essenhaus, the largest restaurant in Indiana serving authentic Amish fare.  There are also six variety shops and more pie than you can imagine in the bakery which features over 30 kinds of pie!
The last stop on the Heritage Trail (or first depending on your itinerary) is Shipshewana. Shipshewana is a blend of Amish culture and small town charm.
Menno-Hof, the Amish Visitor Center, provides a history of the Amish and Mennonites through displays and presentations. For tour information and more details, visit www.mennohof.org.
Kids will love the Dutch Creek Farm Animal Park where they can take a safari-style wagon ride to view the animals or get up close and personal at the Petting Zoo. Animals here include water buffalo and zebras!
Of course, no true flea market enthusiast can pass up the Shipshewana Flea Market and Auction, which has been in existence since 1922 and is now one of the popular markets of its kind in the Midwest. The Flea Market is open every Tuesday and Wednesday, from 8 to 5 p.m., May through September.  There is also an Antique Auction every Wednesday, which begins at 9 a.m. sharp. For more information on this unique experience, visit www.shipshewanatradingplace.com
Where to Stay: Indiana is home to three Encore/Thousand Trails resorts. Indian Lakes in Batesville and Horseshoe Lakes in Clinton are about a 2 ½ to 3 hour drive from Nappanee while Twin Mills in Howe is a little less than an hour outside of Shipshewana. Plan your next visit to one of these campgrounds through our website, thousandtrails.com.