by Lynn and Cele Seldon
Whether you spend life on the road for pleasure or work, it's nice to have the comforts of home as you travel the highways and byways. TRAILBLAZER checks in with folks who spend a fair amount of time on the road to see just what makes their home away from home.
This month, we chatted with Americana historian, photographer, documentarian, and preservationist, Erin Dorbin.
With a host of titles, job descriptions, and impressive cultural achievements on her resume, Erin Dorbin describes herself as a believer in the sense of place. In her mind, place matters. History matters. And, most importantly, preservation of both matters.
Growing up in a small town in the rural Midwest, Dorbin was drawn to a sense of place from a young age. She was fascinated by the details of the towns and regions around her and fell in love with drive-in theaters, neon signs, and unique landmarks across the Midwest. And, as time moved on and she began to see these touches of Americana dwindle and decay, she committed her life to the preservation of these one-of-a-kind landscapes through writing, photography, education, and storytelling.
Now through partnerships with institutions such as the Smithsonian, the Minnesota Humanities Center, the Wyoming State Historic Preservation Office, and the University of Wisconsin-Milwaukee, and many others, as well as her own 'zine' series, photography travelogues, public history narratives, documentaries, handmade clothing, and more, she's spreading the gospel of the economic, cultural, and social power of historic preservation. And, she's done much of it from her two classic RVs.
How did you discover your love of Americana and the American landscape?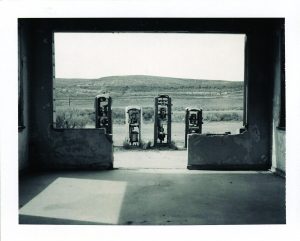 The moment I got my driver's license all I wanted to do was explore. I would take off and keep turning in directions I'd never been before, with the singular goal of getting lost. I'd always stop for a meal at a new place along the way and soak in some of the local culture. My eyes and heart were drawn to the places that were distinctly of that town, or region.
I began taking an interest in the built environment of my hometown of Kalamazoo, Michigan after I first moved away from the area. I'd frequently return home and notice that the unique characteristics of Kalamazoo and some of its area landmarks were beginning to disappear. I used my photos to attract viewers' eyes, spark their memories, and encourage support for preservation of these one-of-a-kind locations.
You've published several photo zines from your travels. What exactly is a zine?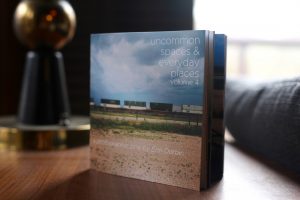 "Zine" is borrowed from "magazine" and refers to self-published works that are distributed in small runs through different social and like-minded communities. I didn't have much to say using words, but I did have a lot to communicate about places I'd visited and my reflections on them using images. I started my zine series, "Uncommon Spaces & Everyday Places" in 2011. I just completed Volume 4.
Tell us about your first RV experience.
My first RV experience was in a vintage camper with my family in the early 1980s. We had a little 1960's Gem camper that we took out on regular camping trips around the state of Michigan.  I can still remember the smell of the interior of the camper today. It had bunks in the rear and it was such a big deal to get up on the top bunk with an older brother fighting me for it. The front had a dinette and another bunk above which I also thought was so cool to climb up and sleep in. I remember its jalousie windows and cracking the glass in them numerous times by cranking the window closed too tightly.  When we weren't camping, it was parked in our yard just on the other side of a row of tall pine trees making it a really cool private spot for me to host slumber parties on the weekends with my friends.
What kind of RV(s) do you have?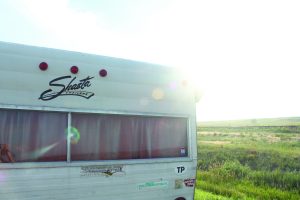 In 2008, I became the proud owner of a 1968 Shasta 1400—with wings. It's 14' long. I additionally adopted a 1973 Avion Travelcader in 2015 that is 25'. That's enormous compared to what I was used to with the Shasta.
Word has it that you traveled the historic Lincoln Highway in your camper. Can you tell us more about that?
For 4 months [in 2013] I lived out of my Shasta and documented the people and places of the Lincoln Highway for Wyoming's State Historic Preservation Office. I started out in Kalamazoo, MI where the Shasta had been stored and drove down to catch I-80 in Indiana and passed through Illinois, Iowa, Nebraska and Wyoming.
When I first arrived in Wyoming, I set up camp just across the state line at a former Boeing-owned RV camp. It was created to provide temporary living accommodations for its workforce fifty years prior. Once the company no longer had use for it, the town of Pine Bluffs acquired it. They operated the campground for mostly year-round residents and transient wind turbine workers and their families. By this point I'd traveled over 1,000 miles.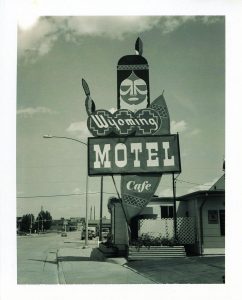 I made Pine Bluffs, Wyoming my home base for several weeks. I eventually had to move my home base to a private campsite over at Curt Gowdy State Park, positioned between Cheyenne and Laramie, Wyoming, at nearly 8,000 ft. elevation.
There were so many highlights from the trip. Every day seemed to trump the last as it unfolded. There were many serendipitous meetings along the roadway and amazing people and remnants of roadside architecture that captured my attention and my heart.
Did you travel alone or with companions (two- or four-legged)?
This trip was one that I proudly took alone. It was something I needed to do for myself.
What's your favorite thing about staying on your RV versus a hotel room?
It's home. It's private. It's my bed. It's exactly how I want it to be, without the intrusion of hotel staff. It's cheaper, too. Sitting in a camper with the windows open and a breeze blowing through, sipping your morning coffee is one of the most comfortable experiences I've ever had. I also love how I'm more inclined to go to bed naturally when it becomes dark out and wake up when the sun comes up. I don't rely on an alarm clock.
What are your three favorite things onboard your camper?
My electric guitar, a small amp, and my French press.
Do you listen to music when you travel? What kind?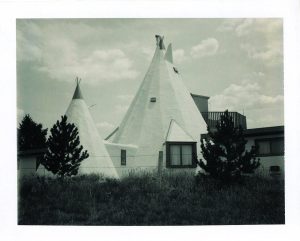 I listen to a lot of Dwight Yoakam and classic country. Trucker tunes about life on the road are quite fitting. "Eastbound (even though I was westbound) and Down" by Jerry Reed, [and] Eddie Rabbit's "Driving My Life Away" were two faves on the Lincoln Highway trip. John Conlee's "Back Side of Thirty" always hit my heart as I was traveling solo at just over 30. Johnny Paycheck is always welcome, too.
Once you reach your destination, what are some of your rituals?
I think it's first and foremost hoping I do an acceptable job parking the camper. The first few nights after I'd reach the campsite I'd be afraid of unhitching the truck because I worried I'd struggle to get it reconnected easily the next day. I encountered several older gentlemen who would eye me as they saw a young woman, alone, pulling into a campground. They'd keep their eyes glued to me until I got parked. One even rode over on his four wheeler to confess, "I wasn't sure about you when you first pulled in, but then I saw you park and realized you're all right."
I also had a huge snake attached to the underside of my Shasta one of my first nights on the Lincoln Highway, so I check for snakes now.
What are a few favorite destinations?
They always turn out to be the unassuming places. The "in between" stops and locations. They are the places that probably everyone else would, and do, overlook. I already mentioned Pine Bluffs, WY, but Nebraska had several unforgettable experiences for me in the towns of Kimball, Sydney, Lodgepole and Chappell. These places had everything I'm looking for: movie theatres (indoor and drive-in), tourist cabins, filling stations, cafés, neon and interesting people to gab with.
Any bucket list destinations?
Right now, it's Mammoth Cave in Kentucky. Beyond that, a trip to the Black Hills and Adirondacks are most definitely in order.
I guess we don't need to ask this, but do you tend to travel the highways or scenic routes?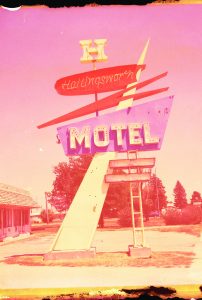 Around the time I got my driver's license, I became frustrated with the sameness of my surroundings. A Walgreens here, a Walmart there—the businesses and buildings of distinction were being purchased and razed for the erection of big box stores. The two-laners and scenic routes remind me that that there are places that still stand out along the landscape that attract my eye and spark my interest. They are those that have not yet been demolished, converted, or conformed to meet today's bland design standards.
Do you cook onboard?
Unfortunately, I don't cook much. That said, the small size of the Shasta appliances has never been an issue for me.
What's your favorite meal to enjoy on the road?
This really surprises a lot of people when I tell them, but the best meals I've had on the road were in Burns, Wyoming at a former 1920's Lincoln Highway roadside station, the Antelope Truck Stop. There is an incredible Indian restaurant in this former American diner space. It's very 1970's-ish, complete with wood paneling, and it is honestly some of the best Indian food I've ever had. Picture cowboys and Bollywood, with the best samosa plate you've ever had.