By Joan Rykal
When Alice Waters opened Chez Panisse in Berkeley, California in 1971 the restaurant was credited with creating "California Cuisine." To Waters, it was more about using organic, local ingredients and the menu centered on what was fresh, in season and sourced locally. Waters is considered a pioneer in the organic food movement and has said she believes "food is a way of life, not just something to eat."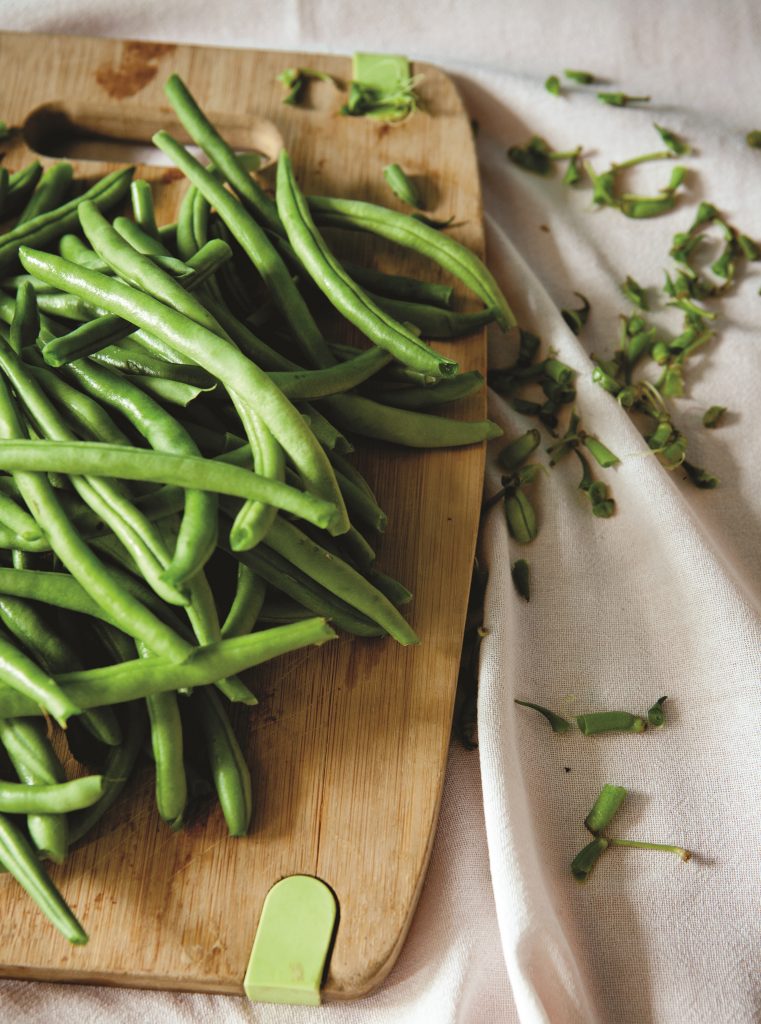 Fast forward some 40-plus years, and the movement is stronger than ever for several reasons. Whether you call it farm to table, farm to fork or farm fresh, it is really about what you're eating. Justin Burdett, Chef-owner at Local Provisions in Asheville, North Carolina said "I'm not the biggest fan of the phrase "farm to table" – it really should just be how we eat. It's better for us, more accessible and helps the local economy. That said I'm glad that it's become so popular and mainstream. I hope that we'll eventually be able to drop the farm to table reference and it will become the standard for which most restaurants source."
What people consider "farm to table" is that the food being served came directly from a specific farm, without going through a store, market, or distributor along the way.
"Local foods are popping up all over the USA," said noted Charleston chef, Frank Lee. "Patrons enjoy the diverse and quality products.
"We need to know where our food is coming from and how it is grown, "said Daniel Mondok, Executive Chef at Raven & Rose in Portland, Oregon. "It's how we can ensure a healthier future."
"Chefs have been a strong voice for the connection to local farms and food producers. Together with consumers' interest in health and the medical community finally admitting links  between diet and disease transparency in food ways are now front and center in our national consciousness," said Lee.
One thing farm to table enthusiasts, both patrons and chefs, understand is that menus can change daily depending upon the season and what farmers have available. "Being able to make the necessary changes on your menu based on the daily available product is the only way you can participate fully in farm to table," said John Zucker, Chef-owner of Cru Café and Cru Catering in Charleston, South Carolina. Zucker also said that as more farmers are available to the restaurants their product will be more accessible. "You will see that more local purveyors will have access to the products and more restaurants will be able to participate."
As for the future, Burdett said he hopes we'll see the movement spread further beyond just restaurants so people understand that it's easy to cook that way at home as well.  
A Brief Menu of Farm to Table Restaurants
Chez Panisse, Berkeley, CA
As the birthplace of the food movement, Chez Panisse is still a bucket list item for all foodies. But you should know that if you plan to go, make a reservation – they accept them one month in advance. The main restaurant offers prix fixe menus while the Café offers multiple options at varying prices.
(Nearby Encore/Thousand Trails: San Francisco RV, Pacifica, CA)
Jack's Farm to Fork, Fort Myers Beach, FL
Regionally grown, humanely raised and environmentally conscious is the theory behind the food at Jack's Farm to Fork in Fort Myers, Florida. Not only do diners find the food out of this world (even though it's oh so local) the views are not to be missed!
(Nearby Encore/Thousand Trails: Fort Myers Beach RV, Fort Myers, FL)
Corndance Tavern, Mishawaka, IN
Corndance is named for the harvest ritual, the corndance, celebrated by the native Potawatomi Indians.  Keeping true to the traditions of the Native Americans who inhabited this area of Indiana, Corndance strives to use only the freshest ingredients from local ranches and orchards and the result is a unique and interesting menu.
(Nearby Encore/Thousand Trails: Lakeside, New Carlisle, IN)
Quicks Hole Tavern, Woods Hole, MA
Boasting "wicked fresh" local ingredients, including seafood, the chefs here are "committed to farm to table sourcing." While the menu changes seasonally, you can expect chowder and crab cakes and you'll be surprised by the chef's specialty, Pig Candy, a crisp pork belly on a sweet potato puree.
(Nearby Encore/Thousand Trails: Gateway to Cape Cod in Rochester and Old Chatham in South Denis)
Cinque Terre. Portland, ME
Cinque Terre is known as one of the founders of the farm to table movement in Portland and source both produce and meat from their own Grand View Farm in nearby Greene, ME. They are also committed to the Slow Food movement so using local farms is important to reduce environmental damage caused by transportation of supplies not found locally.
(Nearby Encore/Thousand Trails: Moody Beach, Wells, ME)
Local Provisions, Asheville, NC
According to Local Provisions' website "If it can be made in house, it is, and if we're able to source locally, we do." Chef-owner Justin Burdett says "Asheville has supported this way of eating and sourcing for a long time, so our community is very supportive of our efforts."
(Nearby Encore/Thousand Trails: Scenic RV, Mocksville, NC)
Green Tavern, Cleveland, OH
When you think of Cleveland you probably think Rock and Roll Hall of Fame or the Cavaliers rather than local farming, but you may be surprised to know that the "Queen City" is home to one of the best farm to table restaurants in the US. The chefs at Greenhouse Tavern "focus on local first, organic, gmo free, and sustainable food."
(Nearby Encore/Thousand Trails: Kenisee Lake, Jefferson, OH)
Raven & Rose, Portland, OR
Locally sourced, handmade, organic, sustainably harvested – these are just a few of the reasons that Portland's Raven & Rose was named one of Portland's best restaurants in 2016 by The Oregonian.  A few more reasons could include its location in the historic Ladd Carriage House, their fresh and fabulous cuisine inspired by the British Isles or just the welcoming atmosphere.
(Nearby Encore/Thousand Trail: Portland Fairview, Fairview, OR and Mt. Hood, Welches, OR
Ma(i)son, Lancaster, PA
Billed as a "farm-driven, urban cookery" everything at Ma(i)son is handmade and locally sourced from either Lancaster or the Susquehanna River Valley. Ma(i)son is a member of Slow Food USA, part of an international movement dedicated to "rediscovering the flavors and savors of regional cooking and banishing the degrading effects of Fast Food."
(Nearby Encore/Thousand Trails: Circle M, Lancaster)
Prime Farm to Table, Flower Mound, TX
Local and sustainable are the menu options here at this full-service (brunch, lunch and dinner) farm to table experience.  Chef Chris Flahaven takes pride in the fact that every ingredient that goes into a Prime dish comes from a traceable supply chain.
(Nearby Encore/Thousand Trials: Bay Landing, Bridgeport, TX)
Fat Canary, Williamsburg, VA
With a menu featuring ham from nearby smokehouses, indigenous wild mushrooms, locally grown heirloom tomatoes and even rabbit fricassee, Fat Canary is a well-known farm to table venue in the area.
(Nearby Encore/Thousand Trails: Williamsburg RV, Williamsburg, VA)
The Corson Building, Seattle, WA
It's all about the relationship and the community at The Corson Building in Seattle. Dinner in this 1910 vintage home is served at long, communal tables where you eat the freshest and most local sourced from fishermen, farmers and foragers in the area. Saturdays and Sundays offer a prix fixe menu and Thursdays and Fridays offer ala carte options. Many of the dishes come direct from the gardens on the grounds.
(Nearby Encore/Thousand Trails: Tall Chief, Fall City, WA and Thunderbird, Monroe, WA)
Down on the Farm Experiences
Farm dinners can range from as low as $30 to upwards of $200 but the cost is well worth the experience; not to mention the food!
Heritage Prairie Farms, in Elburn, Illinois has been hosting farms dinners since 2007. Each summer, these family-style events brings families and foodies from near and far. In 2014 the farm became USDA Certified Organic. In addition to the dinners, the farm also has a Farm Store which sells raw and infused honey, organically grown produce, eggs from the farm's chickens as well as milk, meats and cheeses.
The Farm Dinner season begins June 15 and ends in November with the Friendsgiving Farm Dinner. This year's events include a Pig Gig, Honey and Beer Farm Dinner, and a Roots Farm Dinner. For more information visit www.heritageprairiefarm.com
(Nearby Encore/Thousand Trails: Pine Country, Belvidere, IL and O'Connell's RV Campground, Amboy, IL.)
Campo di Bella, Mt. Horeb, WI
A winery and farm-to-table experience awaits visitors to this 21-acre farm.  The owners' Italian heritage and love of cooking combine to bring their dinner guests a true, rustic farm-to-table experience.  Saturday dinners are held from April through August. Visit the farm's website at www.campodibella.org for more information.
(Nearby Encore/Thousand Trails: Blackhawk and Lakeland, Milton, WI)
Click on any of the resorts listed to book your next vacation, or visit our website, www.thousandtrails.com.