Learn, Fish, & Shop with the Best
By Lynn Seldon
For those who have caught the bug or will inevitably catch it, fly fishing can definitely be addictive. There is certainly something special about communing with Mother Nature on a fresh or salty body of water across the country. That must be why so many RVers pursue fish on the fly and why many more follow in their wakes every day.
Orvis retail stores and fly fishing programs and schools across the country provide a great place to start. Boasting a long fly fishing pedigree, Orvis was founded back in 1856 with the belief that the most meaningful experiences are created by sharing a love of nature and being inspired by its endless possibilities.
Today, Orvis operates more than 80 retail stores in 43 states in the U.S. and more than a dozen in the United Kingdom, as well as maintaining an elite network of more than 400 Authorized Orvis Dealers worldwide who also serve as a trusted source for fly fishing and much more.
Of course, sometimes a boat or guide is required to fly fish-and it's imperative to check local fishing regulations and licensing. That's another area where Orvis can be your fishing buddy for life.
Fly Fishing 101—and Beyond
According to Tom Rosenbauer, marketing director for Orvis Rod & Tackle, fly fishing is quite hot these days. Rosenbauer should know. He's the host of "Orvis Guide to Fly Fishing" on World Fishing Network (WFN) and author of many popular books about fly fishing (including the classic Orvis Fly-Fishing Guide and his brand-new book, Fly Fishing for Trout-The Next Level). He says, "We host free fly fishing clinics [Fly Fishing 101] in all of our retail stores and they're very popular."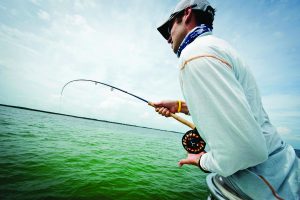 The regularly scheduled and free Fly Fishing 101 clinics offer an efficient and convenient way to get introduced to the sport or to refresh rusty skills. They're offered to all ages, though those 16 and under must be accompanied by a family member. Typically held on Saturdays and Sundays starting in the spring and running through June, it's typically easy to find a Fly Fishing 101 class that's already on the docket somewhere on the road (thanks to the large number of Orvis stores across the country).
Typically running about 2 ½ hours, Fly Fishing 101 provides details and hands-on instruction on fly casting and outfit rigging. Those who have completed Fly Fishing 101 will want to ask about Fly Fishing 201, which features an outing on local water (a nominal fee for the outing may apply). Upon completion of the courses, participants receive special in-store offers valid toward the purchase of Orvis products and a free Trout Unlimited membership (a $35 value).
Get Schooled
Rosenbauer also recommends Orvis's famed Fly Fishing Schools, which are available in a variety of topics, lengths, and locations across the country. "The Orvis schools will save you years of trial and error," says Peter Kutzer, Orvis Adventures Specialist with the fabled company. Kutzer says Orvis opened the country's first fly fishing school in 1966 with the hopes of drawing 20 students to the first class—and 150-plus people signed up.
More than 50 years later, Orvis fly fishing school locations at iconic fly fishing destinations range from Orvis "Mecca" in Manchester, Vermont, to varied options elsewhere in the Northeast, the Southeast, the Midwest, and the West. With more than two dozen specialty fly fishing and fishing schools across the country, it's easy for a fisher of any skill level to improve through Orvis' offerings to get schooled.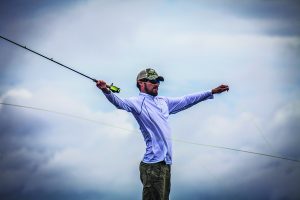 There are currently schools in: Florida (Islamorada and Key Largo); Alabama (Sylacauga); North Carolina (Asheville); Tennessee (Sevierville); Pennsylvania (Farmington); Rhode Island (Middletown); New York (Millbrook, Hancock, and Pulaski); Vermont (at Orvis HQ in Manchester); Ohio (Clyde); Michigan (Glen Arbor); Wisconsin (Kohler); Colorado (Edwards and Crested Butte (teen camp only); Utah (Park City and Altamont); Wyoming (Jackson); Montana (Bozeman, Ennes, and Ovando (kids camp only)); Idaho (Coeur D'Alene); and Oregon (Merlin).
These locations generally offer one- and two-day fly fishing schools and more. The ever-popular hands-on schools cover: Orvis's progressive and adaptable fly casting techniques, including video analysis; essential fly fishing knots; how to choose gear and tackle; stream entomology (the science of insects); proper fly selection; reading water and currents; and how to play, land, and safely release fish.
Many of the schools are held at renowned resorts, providing a luxurious location for those getting schooled and those just along for the ride. For instance, the Asheville, North Carolina, location is at renowned Biltmore Estate, with its tours of Biltmore House, gardens, grounds, Antler Hill Village & Winery, varied dining and accommodations, shopping, and lots of outdoors activities beyond the world-class fly fishing offerings.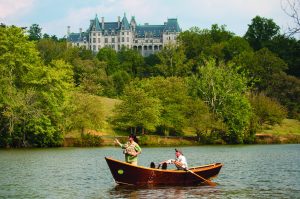 Several other U.S. locations also offer specialty schools. These include: the Everglades Saltwater School in Islamorada, Florida; the False Albacore Saltwater School in Middletown, Rhode Island; the Complete Trout School in Hancock, New York; an array of specialty schools and classes at Orvis HQ in Manchester, Vermont; a Complete Trout School in Altamont, Utah, and in Ennis, Montana; and a Three-Day Steelhead School in Merlin, Oregon.
For those who can't make it to a school (yet), the aforementioned clinics and more at Orvis retail stores across the country also provide a great place to start. Rosenbauer says the stores are also great resources for insider information and guidance for local fly fishing around the corner—and around the country.
Get in Gear
Of course, a fly fishing addiction will likely lead to an addiction to fly fishing gear as well. Orvis accommodates with a wide array of options to make the sport more enjoyable and successful.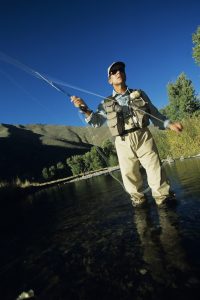 With products that blend cutting-edge technology with style and comfort, Orvis features a wide range of fly fishing gear that's considered among the finest in the industry. The options include: fly rods (with a 25-year guarantee) and reels; waders; boots; wading jackets; fly lines; fishing vests; fly boxes; tools and accessories; specialty luggage; and much more.
Thus, with so many retail locations across the country, it's easy to get in gear…and get going. While shopping in person at an Orvis retail store is the best way to get in gear (especially initially), other options include Orvis's world-class mail order operation, Orvis Authorized Dealers (400-plus and counting), and any of 10 bustling Orvis outlets across the East Coast (including Vermont, Maine, Massachusetts, New York, Pennsylvania, Connecticut, Delaware, and Virginia).
Get Going
Whether you're a first-timer or veteran attending a short Orvis store clinic, enjoying one of their longer schools, or taking advantage of a variety of other store or destination offerings, it's all about getting out on the water. Fortunately, North America's Orvis locations feature world-class fly fishing hotspots in many diverse locations—meaning it's a great idea to have your gear onboard at all times.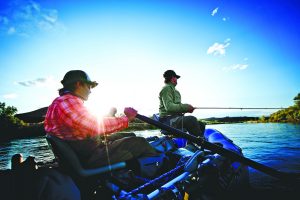 Along with the schools, clinics, and more, Orvis also offers hundreds of fly fishing trips across the country and around the world. There are currently an incredible 200-plus Orvis-endorsed fly fishing resources in 38 states, including lodges, guides and guide services, outfitters, expeditions, and kids' camps, as well as additional resources in Canada, Mexico, Belize, The Bahamas, Cuba, Venezuela, Brazil, Chile, Argentina, Spain, Norway, Africa, Mongolia, and New Zealand. It's easy to go online, pick up the phone, or even head into an Orvis store to shop for a vacation package or plan your own fly fishing adventure.
Here in the United States you'll find a fly fishing destination on every corner of the map. For instance, Maine's Libby Sporting Camps (2007 Lodge of the Year) accommodates guests in private log cabins, with family-style meals served in its historic lodge, while anglers fish for brook trout, landlocked salmon, and other species that change with the seasons. Or, choose Alaska for its char, salmon, and trout. Orvis has twice bestowed Alaska's Crystal Creek Lodge with the distinguished Fly Fishing Lodge of the Year award; it's a trusted partnership going back to 1991.
Back in the Lower 48, the C Lazy U Ranch touts "something for everyone," including horseback riding, incredible trout fishing, and gourmet cuisine in its historic Granby, Colorado ranch setting. Or, California's Sierra Fly Fisher guide service in Bass Lake serves beginners through advanced anglers, with excursions to Yosemite National Park and the Sierra Nevada on waters teeming with rainbows, brooks, browns, and rarer golden trout populations.
Up north, fishing Quebec's Grand Cascapédia with a stay at Salmon Lodge is a Canadian (and Orvis) classic. Other options include catching the northern lights (and fish) on Wollaston Lake in Saskatoon, Saskatchewan.
In the Caribbean and Central America, there's world-class bonefishing at varied Orvis-vetted resorts. There's also their four-day Belize Fly Fishing School at El Pescador. South American offerings include Venezuela, Chile, and Argentina, where Orvis Board Chairman Leigh Perkins's penchant for the Estancia Tecka is predicated on his intimate knowledge of the waters there.
Each of New Zealand's two exquisite fly fishing destinations also offers diversions for the non-anglers, as do many other of our vacation packages. Asian trips remove anglers from civilization to the far reaches of Mongolia, where the adventure goes beyond fishing for prehistoric salmonids to include a brush with the indigenous culture of the region's nomadic population. And, there's more. Europe, Africa, and elsewhere are also on the Orvis map.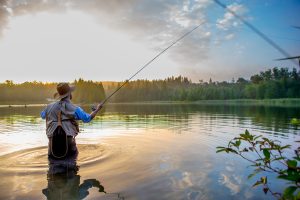 Thus, from around the corner to around the world, it's easy to feed a new or long-time fly fishing addiction. Just make sure Orvis is your fly fishing buddy.
There are several other websites that will prove to be great resources for fly fishing basics and beyond, as well as fly fishing trips. These include: www.takemefishing.org (a great overall resource, including specific fly fishing pages); www.basspro.com (almost as good as a visit to one of their stores); www.worldfishingnetwork.com (a great online extension of the television network); www.matchthehatch.com (great regional online and print resources); and www.fieldandstream.com.
To plan your next stay, possibly near one of Orvis' schools or stores, visit our website, www.thousandtrails.com.