Follow the Gold Record Road Between New Orleans, Memphis, Nashville, and Back
by Lynn & Cele Seldon
Music fans across the country now have a one-stop shopping resource to easily research and explore the more than 1,500 miles of Tennessee, Louisiana, Mississippi, Alabama, and Arkansas highways and backroads that make up the new Americana Music Triangle. This massive preservation, informational, and premier road trip planning project brings to life nine uniquely American genres of music in the South.
Designed to be completed in about three weeks if pursued in one trip, but easily broken down into smaller outings, the American Music Triangle is divided into five basic segments that basically complete a clockwise loop between New Orleans, Memphis, Nashville, and back. The five segments are divided by the cities between which they stretch: New Orleans to Natchez; Vicksburg to Memphis; Memphis to Nashville; Nashville to Muscle Shoals; and Tupelo to New Orleans. A PDF of the map can be found here.
The First Segment: New Orleans to Natchez
Of course, New Orleans and other famed Louisiana lyrical hotspots are great places to start. Preservation Hall, just off bustling Bourbon Street, is a great place to begin an exploration of the birthplace of traditional jazz. The nearby Frenchman Street area is another great destination for live music, with Maison providing a perfect introduction to the options day and night. Another nearby option is busy House of Blues, with Sunday's "Gospel Brunch" a bucket list event for New Orleans music and food lovers.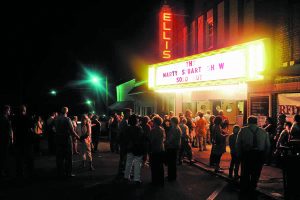 Food seems intertwined with music all along the Americana Music Triangle and that's apparent from the start in New Orleans. Some great options in and near the French Quarter include fresh seafood at Pêche, classic shucked oysters at either Acme Oyster House or Felix's, or New Orleans classics like Galatoire's, Antoine's or Brennan's.
Other music-oriented stops in New Orleans might include: the National Jazz Historical Park within Louis Armstrong Park; historic Congo Square, where slaves could gather on Sundays to play music that would evolve into jazz; and the jazz collection at Louisiana State Museum on Jackson Square.
Cajun country to the southeast of New Orleans is next, with live Cajun, Zydeco, and more found at The Jolly Inn in Houma. To the north, Thibodaux's Wetlands Acadian Cultural Center hosts a popular live Cajun music jam on Monday nights.
The drive then heads northwest to Lafayette, which is known as "The Heart of Acadiana" and is filled with Cajun and Creole culture. Highlights here might include: live music and local cuisine at many possibilities; Vermilionville Historic Village, a recreated Acadian village with weekly Cajun jam sessions; and Martin's Handmade Accordions in nearby Scott.
After passing through Baton Rouge (with a possible stop at the Buddy Stewart Music Foundation antique record museum or Teddy's Juke Joint), quaint St. Francisville on LA 61 is well worth a stop. Magnolia Café is the place to head for great food, plus live music.
Next, it's on to Mississippi on MS 61 and charming Natchez, right along the Mississippi River.
The historic Under the Hill Saloon, one of the oldest bars along the Mississippi River, is a great place to head for food and music.
The Second Segment: Vicksburg to Memphis
Heading north, MS 61 continues on to Vicksburg for the start of the "Vicksburg to Memphis" second section of the drive. Though known more for Civil War history, Vicksburg also has lots of music connections. Possibilities include colorful Catfish Row Art Park and the floodwall murals on Levee Street (look for the mural of Willie Dixon playing at the legendary Blue Room) and soul food and music at friendly LD's Kitchen. Leland is next, with the sleek Highway 61 Blues Museum featuring the blues history of the area (an incredible 150-plus well-known blues musicians come from within a 100-mile radius of tiny Leland) and larger-than-life murals celebrating their blues heritage.
Back on MS 61 out of Leland, Cleveland is the next stop. Two highlights in Cleveland proper are found at Delta State University. The new state-of-the-art Grammy Museum Mississippi is the only official Grammy museum outside of Los Angeles. On the way back to MS61, be sure to stop by Dockery Plantation (or call ahead for a tour), the birthplace of the Blues.
Clarksdale is next and it's well worth a multi-day stay. The Delta Blues Museum is a great place to start, with lots of exhibits highlighting blues music in the area. There's also the interesting Rock & Blues Museum. For live music, it's hard to beat iconic music and food at Ground Zero Blues Club, co-owned by actor Morgan Freeman and current Clarksdale mayor Bill Luckett, Jr.. For all things music and art, check out Cathead and Hambone Art and Music.
Back on the road and just south of Tunica proper on old MS 61, look for little Hollywood Café. Claimed as "the birthplace of the fried pickle," it was featured in Marc Cohn's hit, "Walkin' in Memphis," and still hosts live music. Known for its casino resorts, Tunica is also well worth a stop thanks to the Gateway to the Blues Museum, which features lots of exhibits, instruments, colorful paintings, movies and more.
Memphis means more music in its many forms. Of course, there's the legendary live music of Beale Street. But the laundry list of other lyrical options must include: the birthplace of Rock 'n Roll at Sun Studio; Stax Museum of American Soul Music (on the original site of iconic Stax Records); the Gibson Guitar Factory Tour and Retail Shop; the Rock N Soul Museum; and, of course, Elvis Presley's Graceland. Although not completely related to music, the National Civil Rights Museum chillingly portrays the period when so much of the music of this area was being created and is a Memphis can't-miss.
Of course, the Memphis food scene rivals the live music scene, with classic stops including Charlie Vergos' Rendezvous for dry-rubbed ribs, Gus's World Famous Fried Chicken, and one of three Central BBQ hotspots. Or step it up a notch at Food & Wine "Best New Chef" Kelly English's Restaurant Iris or James Beard-nominees Andy Ticer and Michael Hudman's Andrew Michael Italian Kitchen or Hog and Hominy.
The Third Segment: Memphis to Nashville
The third section of the Americana Music Triangle is the 225-mile drive northeast to Nashville ("from Beale Street to Broadway") and doesn't feature many stops, but several are well worth the short diversions. Brownsville is the first good bet, featuring the West Tennessee Delta Heritage Center and its Tina Turner Museum at Flagg Grove School, as well as delectable barbecue sandwiches, ribs, and more at Helen's Bar B Q.
Next, Jackson's International Rockabilly Hall of Fame and Museum recognizes pioneers of the genre, including Jackson native Carl Perkins, who wrote "Blue Suede Shoes."
Nashville is known as "Music City" for good reason, thanks to lots of lyrical history, music-oriented museums, and a live music scene that's likely unrivaled in the world.
Stops for music lovers have to include: the Country Music Hall of Fame and Museum and the Music City Walk of Fame; the Grand Ole Opry; the Johnny Cash Museum; and so much more, including the new Patsy Cline Museum.
On the events front, it seems there's something happening every day or weekend, including the appropriate AmericanaFest in September.
The Fourth Segment: Nashville to Muscle Shoals
Heading south on the fourth section of the Triangle, the revitalized Tennessee town of Franklin is just south of Nashville, but it's a world away in many ways.
In quaint Franklin, more music awaits (and some great southern cooking too). Check out the schedule of live music at the impeccably restored Franklin Theatre. Music lovers of vinyl discs and much more will also want to head to Carpe Diem.
Alabama is next and the Muscle Shoals area, best reached via the bucolic Natchez Trace Parkway, is likely to be a favorite stop for anyone driving the Americana Music Triangle.
Muscle Shoals was—and still is—at the epicenter of music recording history. Two iconic recording studios offer tours. First, head to FAME Studios, which launched the famed Muscle Shoals sound back in 1959, cranking out hits from Aretha Franklin, Wilson Pickett, Percy Sledge, and many others.
Nearby, Muscle Shoals Sound Studio in the town of Sheffield was recently restored and opened for tours, highlighting their history of hits with the Rolling Stones, Rod Stewart, Paul Simon, Lynyrd Skynyrd, and many others. Other stops in the Muscle Shoals area include the Alabama Music Hall of Fame in Tuscumbia, which highlights the achievements of an incredible number of Alabama natives; the "father of the blues" W.C. Handy Home, Museum and Library; and the music-soaked scene at appropriately-named Swampers Bar and Grille in Marriott Shoals Hotel & Spa.
The Fifth Segment: Tupelo to New Orleans
Natchez Trace Parkway next leads back into Mississippi and Tupelo for the start of the fifth and final section of the Americana Music Triangle. Of course, Tupelo is best known for the Elvis Presley Birthplace, which includes the cottage (now a museum) where he was born, the transplanted church he attended as a child, and much more.
Along with the Birthplace, the "Elvis Presley Self-Guided Driving Tour" includes downtown's Tupelo Hardware, which was where Elvis got his first guitar—and they still sell everything from musical instruments to nuts and bolts today. After becoming a worldwide sensation, Elvis returned to Tupelo for a homecoming concert, which is memorialized with a statue at the site of the one-time fairgrounds where he performed.
Back on the Natchez Trace Parkway, the drive to Jackson could include a stop in at the Sparta Opry, which is about an hour southwest of Tupelo and features varied live music most Friday evenings. Jackson has a long lyrical history, including Malaco Records, the world's premier gospel label and also known as the "Last Soul Company." Known for its blues-y vibe, live music is frequently found at Iron Horse Grill, Hal and Mal's, and elsewhere.
About two hours further down the Parkway, Natchez is next for those who didn't stop on their way north. From there, the Americana Music Trail leads back through Baton Rouge and the end (and beginning) of one of the world's most musical drives.
Visit their website, www.AmericanaMusicTriangle.com, which showcases hundreds of attractions and events along the triangle-shaped "Gold Record Road," and then make your way over to ours, www.thousandtrails.com, to plan your entire musical adventure!