The Scoop on an Iconic American Roadside Stop
by Lynn & Cele Seldon
There's simply no other roadside stop in the nation quite like a Cracker Barrel Old Country Store®. As huge fans with dozens of stops, tasty meals, fun purchases, and audiobook rentals under our belts, we decided to get the scoop on this iconic all-American brand so beloved by RVers and other hungry trailblazers on American's highways and byways.
The History
The fascinating history of Cracker Barrel is rooted in good ol' southern hospitality, homestyle cooking, shopping, and atmosphere and décor that make each of the 641 (and counting) "home away from home" locations 43 states consistent, but also unique. It all started on September 19, 1969, when Dan Evins opened the first Cracker Barrel Old Country Store on Highway 109 in Lebanon, Tennessee.
From those humble beginnings, Dan's mission was to please people with a warm welcome and a good meal at a fair price. And, yes, the corn bread was made from scratch starting that September morning—and still is at every location today.
Dan grew up when family mealtime was special and he wanted to re-create the Tennessee old country stores from his childhood. He figured that folks travelling on the new highways might appreciate a comfortable place to stop for a good meal and unique gifts.
The concept was such a success that, by 1977, Dan and his investors (mostly local friends and associates) had opened more than a dozen stores from Tennessee to Georgia. In 1981, Cracker Barrel went public, going way beyond the front porch all the way to Wall Street. As the company continued to grow consistently throughout the 1980s and early-1990s, Cracker Barrel reached a $1 billion market value in 1992, and, by 1993, achieved revenue nearly twice that of any other family restaurant chain. By the turn of the century, there were more than 420 locations across the country.
In 2010, the groundbreaking Cracker Barrel Cares™ was formed. Cracker Barrel's loyal employees had always joined together to help co-workers during times of crisis, but these efforts were formalized through an employee-funded non-profit organization that continues to help employees in need.
Last year, in their "2016 Consumer Picks" survey, Nation's Restaurant News named Cracker Barrel the Best Family-Dining Restaurant in America. Today, with 641 locations and counting, Tennessee, Florida, and Texas have the most opportunities for family dining at its finest. But, with locations in 40 other states, it seems like a Cracker Barrel experience is just off yet another exit just down the road.
Even Cracker Barrel veterans may not know that the company also owns and operates Holler & Dash™ Biscuit House. Specializing in signature biscuits (like the Chicken Holler, with fried chicken, cheddar cheese, and pickles, topped with mild, hot, or make 'em holler hot sauce), and with other options on the menu, they currently have four locations in Nashville (Brentwood), Birmingham, Tuscaloosa, and Orlando (Celebration).
The Food
Of course, the classic cuisine continues to drive Cracker Barrel traffic—and the occasional waiting area on the front porch. Founded on country cookin' at a good price, Cracker Barrel continues to deliver on the food front.
For many fans, it all begins with breakfast—and Cracker Barrel accommodates by serving homestyle country breakfasts all day. From fluffy buttermilk pancakes, Grade A farm fresh eggs, hickory-smoked bacon, and so much more, every breakfast is made to order. The taste-tempting "Traditional Favorites" list on the menu has to start with Uncle Herschel's Favorite™, named for Dan's real-world uncle and early goodwill ambassador, Herschel McCartney and featuring two cooked-to-order eggs, grits, sawmill gravy, homemade buttermilk biscuits with real butter, fried apples or hash brown casserole, a choice of hickory-smoked country ham, sugar-cured ham, U.S. farm-raised catfish fillet, eight-ounce hamburger steak, grilled pork chop, or fried chicken tenderloin, plus preserves or jam and apple butter, on request. Of course, there are many other breakfast options to be enjoyed morning, noon, and night, including healthy Wholesome Fixin's® menu choices (600 calories or less), like the fruit and yogurt parfait and apple and cinnamon oatmeal.
Starting at 11 a.m. across the country, Cracker Barrel lunch and dinner is served hot and fresh. At this same time, value-priced "Weekday Lunch Specials" are a popular mid-day choice, as are "Daily Dinner Specials," which are served starting at 4 p.m. Monday to Thursday and at 11 a.m. Friday through Sunday.
Those with a hearty appetite will want to order from the Fancy Fixin's® list, with generous portions of meat loaf, roast beef, chicken fried chicken, chicken and dumplings, varied seafood, and more (including the ever-popular Cracker Barrel Sampler) accompanied by a choice of three country vegetables and made-from-scratch buttermilk biscuits or corn muffins with real butter. The lighter Wholesome Fixin's® concept extends from breakfast to lunch and dinner (still 600 calories or less), with possibilities like Southern-style trout, oven-fried chicken breast, and more, served with wholesome and lighter side dishes.
Of course, there are also other beloved Cracker Barrel specialties, including hot soups, bowls of pinto beans, cooked with country ham and served with corn muffins, and beans and greens (cups of their pinto beans and turnip greens, served with onion, relish, and corn muffins). Breakfast, lunch, and dinner menus for kids introduces young ones to country cooking. Everything is washed down with bottomless servings of water, iced tea (sweetened and unsweetened), soda, coffee, and more.
The Atmosphere & Décor
Even veteran visitors may not know that the artifacts hanging from the walls and ceiling at every Cracker Barrel location are unique. Almost every tool, old toy, utensil, sign, advertisement, photograph, and more that decorates the stores is authentic and unlike anything else found in other locations.
When founder Dan Evins opened the first Cracker Barrel back in 1969, he turned to Don and Kathleen Singleton, owners of a local antiques shop, to provide an old country store décor to his new restaurant. The couple enjoyed it so much over the years that they passed the job down to their son, Larry, in 1980. More than 35 years later, Larry is still the Manager of the company's massive Décor Warehouse in Lebanon.
Larry typically oversees a collection of more than 90,000 objects in the Décor Warehouse, where—once Larry personally makes purchases across the country—his team restores and archives each object. As soon as Cracker Barrel breaks ground on a new location, Larry and his team start planning—including researching the town's history to identify artifacts that will complement the town and region.
After searching the collection, designers begin the layout process on full-size replicas of the restaurant's interior walls. The finished design is then photographed before the articles are packed and sent along with the photographs to the new store. Each new store is thus an Americana "museum," typically with 900 to 1,000 or more items. Singleton has purchased more than 600,000 objects for Cracker Barrel since 1980.
The Shopping
Just like the food, it's hard to resist the shopping options at Cracker Barrel. The famed rocking chairs are just the tip of the shop 'til you drop iceberg.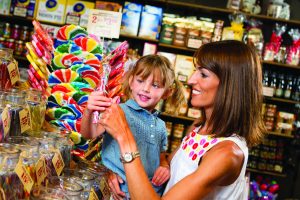 The categories for Cracker Barrel shoppers include: home and furniture; clothing and accessories; nostalgic electronics; music, movies, and books (including popular audiobooks for rent); toys and games; personal care; college fan items; military; collections; beloved foods and candies; sale items; and gift cards.
In 2013, the company added to the possibilities by launching Cracker Barrel-licensed products, also made available in supermarkets. The menu of options now includes a variety of bacon, hams, deli meats, baking mixes and more under the CB Old Country Store™ brand.
Of course, most items in Cracker Barrel stores are also available online, but nothing can match the in-store experience. The shopping is as unique as the food, atmosphere, and décor.
The Music
Country cookin' and country music (and other genres) go hand-in-hand, so it's no surprise that music has also become a big part of the overall Cracker Barrel experience. Each store features dozens of varied CDs for sale, including many that are exclusive to Cracker Barrel.
For instance, last year's exclusive Dolly Parton release, "Pure & Simple," included 10 new tracks inspired by Parton's East Tennessee Roots, two versions of Parton's chart-topping hits, "Jolene" and "9 to 5," a 48-page magazine filled with photos and interviews highlighting memorable stories from Parton, and coupons to various Parton attractions (including beloved Dollywood).
As part of Parton being Cracker Barrel's Spotlight Music artist, Parton hosted the first Cracker Barrel Front Porch Series on their YouTube channel, which featured Parton and emerging artists playing music, games, and more. "My relationship with Cracker Barrel goes back a long way," says the superstar. "We make a great team."
Of Parton and her history with Cracker Barrel, the company's senior marketing manager, Julie Ulmer, says, "With our shared Tennessee roots and authentic Southern styles, Dolly and Cracker Barrel are a natural fit. From limited edition rocking chairs to exclusive and gold-certified albums, we've had a long and successful relationship."
Over the years, Cracker Barrel has released albums with a wide variety of artists, some of which have debuted in top spots on a range of Billboard charts. Other Spotlight Music partners include the brand's first pop albums with acapella group Pentatonix and "Fight Song" singer Rachel Platten, their first R&B album with Anthony Hamilton, as well as recent albums by Dailey & Vincent, Cole Swindell, Black Shelton, and many others. In addition, CDs from a wide range of musicians can be purchased in-store or online, including the work of Reba McEntire, Johnny Cash, Hank Williams, Dierks Bentley, Rodney Atkins, The Willis Clan, and Cyndi Lauper.
Thus, from food and shopping in a unique atmosphere to road music to enjoy between Cracker Barrel stops, it's easy to see why there are typically so many RVs parked outside.
Visit www.crackerbarrel.com for locations, menus, hours, shopping, and more (including an app that's great for on-the-road location searches), and visit www.thousandtrails.com to start your next adventure. We're sure you'll run into one of these iconic restaurants on your travels!