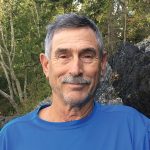 Camping is synonymous with BBQ and most folks enjoy the tantalizing smells of good grilling. There is something about camping and the lure of a thick steak cooking that entices fellow campers to stop in and see "what's cookin?". This month, we wanted to share RV Bill's passion for barbecuing and highlight one of our Thousand Trails members that shares our same enthusiasm for grilling and smoking all sorts of goodies in particular on our featured Green Mountain Grills model smoker/BBQ named the "Davy Crockett". This little number is sure to make it to the top of your must have list for the next outdoor adventure!
Many of us enjoy smoking at home but carrying a huge smoker around in a RV just isn't practical. Fortunately, we found the Davy Crockett to be a great alternative to a big, at home smoker/BBQ that brings home the bacon in more way than one! Equipped with convenient carrying handles that double as a supportive stand on uneven ground and sized small enough to nestle in the back of a truck or in a medium storage compartment.
GMG's digital touch pad control comes with an integrated meat thermometer for that perfect temperature. The Wi-Fi antenna will broadcast grill & meat temperature and report elapsed time right to your smart phone while you watch your favorite game.
The Davy Crockett is a pellet type smoker that automatically feeds the burner to maintain optimal temperature for either smoking or grilling. Green Mountain Grills innovative design allows their grill run on either 12 Volt battery or your 120-V system. The grill is large enough to smoke 4 large racks of ribs as well as several pieces of sausage or any hors d'oeuvres for that quick snack before halftime.
Being able to help The Wenger Family with some of their RV needs was my pleasure and in exchange, we were abundantly blessed with time together over the smoker and remembering just why we all love the RV Life so much in the Thousand Trails system. Enjoy these treasured recipes from The Wenger's to use on your GMG Davy Crockett Smoker. If you have a favorite BBQ Recipe to share, or a tech question for me at Ask RV Bill, please write in or come visit me in person at a Thousand Trails Campground near you. Looking forward to a wonderful New Year in 2017!
Wenger's Smoked Drummies & Rib Rub
1 cup Brown Sugar
1 tbsps. Garlic, Onion, & Chili Powder
¼ cup Paprika
1 tbsp. Cumin
1 tbsp. Parsley
2 tbsps. Lawry's Season Salt
1 tbsp. black pepper
A pinch of Cayenne Pepper
Pull membrane off of ribs, rub meats heavily and refrigerate overnight. Set smoker to 225 degrees and smoke for 7 hours. Remove and coat ribs with BBQ Sauce on both sides, wrap in foil and cook on 250 for 2 more hours.
For Chicken/Turkey Legs
Rinse chicken, coat with mixture of ½ Olive Oil and Worcestershire Sauce and heavily coast with dry rubs used for ribs. Smoke at 225 until chicken reaches correct internal temp. Every 30-40 min baste chicken Tina's Tasty Sauce;
1 stick melted butter
2 teaspoons Worcestershire
1 tsp vinegar
1 tsp of dry rub mix
½ cup brown sugar
Wenger's Cuban Corn
De husk corn ears, coat with cooking spray and cook on BBQ medium heat until kernels begin to brown, rotating every 2min. until fully grilled. Remove and coat with Mayo, Care Asada Seasoning, cilantro and coat with Cotija Mexican Cheese. Wrap in foil & return to grill. Cook for 10-15 min.