by Lynn & Cele Seldon
From the bustling Myrtle Beach area in the north and down through historic Charleston to Hilton Head Island in the south, the meandering coastline of South Carolina beckons with a wide variety of alluring options for visitors. Historic US 17 connects the coastal dots, making it easy to explore many of the Palmetto State's waterlogged treasures.
Myrtle Beach Days & Waves
From the North Carolina state line down to historic riverfront Georgetown, the popular Myrtle Beach area features an array of pursuits for those looking to go with the flow—or get a bit off the beaten track. The coastal fun gets off to a big start in Little River.
Situated off busy US 17 and just south of the state line, Little River is a unique combination—shrimp and fishing boats are docked right next to popular casino excursion boats. Visitors can head to the docks early to see the varied boats depart in the morning mist in search of the day's lucky catch. Later, it's easy to head out to sea in search of Lady Luck.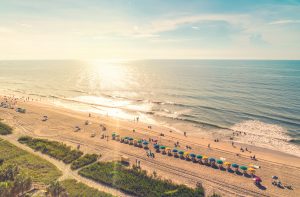 Cherry Grove Beach is next and historic Cherry Grove Pier is the place locals love to head. Originally built in the 1950s, the pier has been owned by the Prince family since 1965. It's welcomed lots of lucky fisherman (including several records) and those who don't bring their own fishing gear can rent it here.
Continuing right down the beach on famed Ocean Boulevard, North Myrtle Beach is the "Birthplace of the Shag." Dancers and those who just like to listen to beach music and watch the action head to Fat Harold's Beach Club (where there always seems to be music, dancing, lessons, or a special event), a restaurant and another shag Mecca across the street called Duck's ("The Place Where the Dancers Meet"), and Ocean Drive Beach & Golf Resort, including the OD Beach Club and the Shagger's Hall of Fame—with lots of great pictures and information about inductees dating back to 1983.
Myrtle Beach proper is just south of shag central. No visit to this historic part of Myrtle Beach is complete without some serious souvenir shopping at the sprawling Gay Dolphin Gift Cove. There's also always something new in the Myrtle Beach area, including the 196-foot SkyWheel at Myrtle Beach Landing, the newly renovated Myrtle Beach Boardwalk and Promenade, Wonderworks Science Center, and shows at Myrtle Beach's famed theaters.
Next, Myrtle Beach State Park is a great place to head for a peaceful beach setting, varied activities and ranger programs, and unique accommodations options. It's one of many great state parks along the coast and throughout all of South Carolina (47 in all).
The short drive from US 17 to Murrells Inlet is well worth the diversion. Known as the "Seafood Capital of South Carolina," Murrells Inlet has long been the spot to head for fresh seafood and great views. Locals know to stroll along pretty Marsh Walk to look at various menus.
Once back on the mainland and US 17, it's a quiet ten-mile drive through the woods to the charming waterfront town of Georgetown. Locals here like to send visitors to the Visitors Center (and Georgetown Maritime Museum), which is located right on Front Street in the mid-1800s Harper Building. The staff there will recommend historic options within walking distance, like the Kaminski House Museum, the Rice Museum, and the Georgetown County Museum, as well as varied places to eat.
The Road to Charleston
Crossing over the Sampit River, US 17 continues the pretty drive down to Charleston. The state's central coastline on and near US 17 is as steeped in history as a glass of sweet iced tea (and there's even America's only working tea plantation along the way).
The entrance to Hampton Plantation State Historic Site is just after the Sampit. This truly fascinating state-run property is well worth a stop of several hours and provides a perfect introduction to the various plantations located along South Carolina's coast.
Hampton Plantation was one of the grandest homes and most prosperous pre-Civil War agricultural operations in the nation. The state carries on the legacy with interpretive programs both inside the mansion and on the grounds.
When heading further south, this part of US 17 is where visitors will start seeing sweetgrass basket makers at work in rustic little stands along the road. The highway's official name along this stretch is actually "Sweetgrass Basket Makers Highway." Depending on the time of year (and day), it's relatively easy to pull over to one of these stands, learn about the history and craft of sweetgrass baskets, and purchase a unique souvenir that's likely taken many hours—and lots of skill—to produce.
The left-hand turn for Isle of Palms is next. Taking this detour provides a great way to check out the coastal islands and beaches just outside Charleston—as well as historic Mount Pleasant and Shem Creek—before re-joining US 17 and the bridge over to the Charleston peninsula.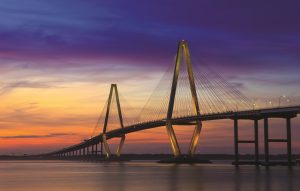 Isle of Palms is about seven miles long and a mile wide. It's a great place for a walk on the beach and lots of outdoor activities on or near the water. Sullivan's Island is next on the down drive to Mount Pleasant. Highlights here include more public beach access, Revolutionary War and Civil War-era Fort Moultrie, and a great dining and shopping scene along the island's main drag,
Route 703 then leads to historic Mount Pleasant. Though now a suburb of Charleston in many ways, Mount Pleasant still has many charms (including several historic buildings and many restaurants). The Historic Old Village features colonial and antebellum homes and churches, as well as the Old Village Post House restaurant.
Route 703 crosses right over Shem Creek, which is lined with restaurants specializing in local seafood straight off the shrimp and fishing boats docked at their back doors. Also located on the creek, Coastal Expeditions offers a variety of kayak trips and more (they also run ferry trips out to quiet Bull Island).
US 17 runs right through the Charleston peninsula, where there's likely more world-class history, culture, shopping, and dining per square mile than any other city in the nation. Highlights here have to include: historic homes (several open to the public); carriage tours; the Gibbes Museum of Art; shopping along King Street; world-class dining; and several nearby plantations that truly provide a sense of the Lowcountry.
On to Hilton Head Island
Upon leaving Charleston, US 17 crosses the Ashley River and heads into an area known as West Ashley. This portion of the drive features a wide array of out-and-back detours that will appeal to almost any interest.
The first potential turn happens quickly, with Route 30 and then Folly Road heading down to Folly Beach. Folly Road passes by a turn-off for James Island County Park. Part of the Charleston County Park & Recreation Commission system, this peaceful 643-acre park has vacation cottages that provide a unique place to stay in the heart of the Lowcountry—including great hiking and biking right in the park.
Once on Folly Beach proper (signs call it "The Edge of America"), local highlights have to include: a stop just across Oak Island Creek at Crosby's Fish & Shrimp Company (where one can buy fresh seafood and also rent kayaks next door); the long and wide Edwin S. Taylor Folly Beach Fishing Pier; and the short walk to view the historic Morris Island Lighthouse.
Back out on US 17, many cars turn left toward Kiawah Island, a classic South Carolina beach getaway. Day visitors will want to head to Kiawah Beachwalker Park, located before the main gate to Kiawah Island. It's a wonderfully wide state beach that's ideal for its namesake activity—walking the beach. Kiawah Island proper features dining, watersports, world-class golf and tennis, and much more.
Next, Maybank Highway provides a pretty drive that leads to Charleston Tea Plantation. As America's only working tea garden, Charleston Tea Plantation is truly a special place out on Wadmalaw Island. A visit can include an informative factory tour, a trolley ride through the vast plantation, and shopping in the expansive gift shop for a variety of teas, tea-related items, and other possibilities.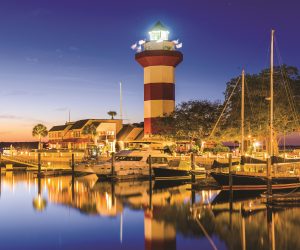 Beaufort is next. Highlights of this charming waterfront town have to include: the Federal-style John Mark Verdier House Museum; the Beaufort Arsenal Museum; and lots of private historic homes simply found by wandering the pretty streets. A wide variety of restaurants and accommodations options make Beaufort beautiful for one or more nights.
Historic Bluffton is also well worth a stop on the way to Hilton Head Island. The Heyward House Historic Center is the place to go for insider info on the town, including their helpful "Walking Tour" brochure, historic houses like the Fripp House, the waterfront Church of the Cross, fresh seafood right off the docks from the Bluffton Oyster, and varied dining.
Famed Hilton Head Island is the final coastal destination. Utilizing forward-thinking development techniques and offering environmentally-oriented attractions and activities long before "green" development and travel were trendy, Hilton Head Island is popular with visitors for good reason.
There's lots to see and do on or near the island. Some unique possibilities include: horseback riding with Lawton Stables in the Sea Pines Nature Preserve (be sure to also look for the sprawling Heritage Farms community garden in Sea Pines); climbing the red-and-white Harbor Town Lighthouse; one of many varied "dolphin" tours and more; world-class golf; and exploring peaceful Pinckney Island Wildlife Refuge (located just before the bridge onto the island).
For a unique excursion that takes one close to the dividing line (the Savannah River) between South Carolina and Georgia, Daufuskie Island is well worth the ferry ride. The quiet and pretty history-laden island was made famous in the late and great Pat Conroy's The Water is Wide. Today, creative dining, a soothing spa, world-class golf and tennis, and much more await.
It's easy to see why coastal South Carolina has lured visitors for generations. From Myrtle Beach to Hilton Head Island, the state's coastline is well worth the drive.