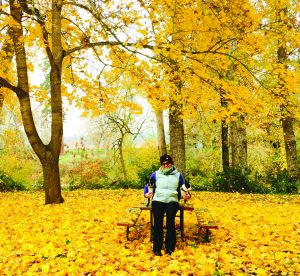 Thousand Trails members share their hearts of the how's and why traveling with their pets adds so much joy to their camping experiences. My Boston, "Brie" met a new best buddy named "Gracie" this last September in Grandy Creek, WA. Both Gracie's owners, Steve and Joyce Glenn from Bellingham, WA are new to the RV lifestyle having spent much of their free time on their sailboat with 2 cats! As our neighbors for several days, we all very much enjoyed this new found friendship that included watching the dogs play while sharing travel stories and swapping "must-do's when you're in…." lists.
This travel lifestyle wouldn't be the same if not for it's special Thousand Trails members. Over the years, so many campers have added such pleasure and laughter to our lives and we thank you for sharing with us as we share with you.
Have a wonderful New Year in 2017 and we hope to see you on your next camping excursion. Remember, we love pets and meeting you!
Cheers, Jenn Swope-Gehr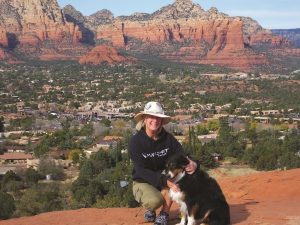 Every outing with "Willow", our Australian Shepard, is a new adventure! Each and every time we head out with her she finds new places to see, people to meet and dogs to greet. She has pulled us into campsites to meet the people staying there. She has found new hiking paths to take, helping me to step off the beaten path. Willow has found us unique shell fossils on the beach and found the best bench to take in the view. She has provided a reason to take much needed breaks while traveling…often stopping at parks and small towns we might have just passed right by. She has taken us for walks in historic neighborhoods and found us the best places to swim at local lakes and rivers. She provides cheap entertainment as she barks at motorcycles while going down the road…you haven't lived till you get a thumbs up from a biker dude because your dog is louder than the Harley.
Best of all, she has made us friends (y'all know who you are). If it weren't for Willow's sense of exploration, we might have missed out on many interesting adventures!
Full Timer, Nan Clute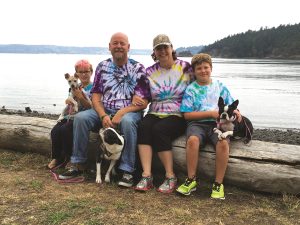 The Hennerberg Family love to camp! And it seems like each family member has its own special canine companion to care for both at home and on the road. This family enjoys being out in their motorhome so much that they have already booked the La Conner preserve again months in advance and are planning to visit the Sunriver Preserve in Oregon soon. They know that time is precious and having the flexibility to bring their beloved pets along with them just sweetens their experience. "Cheeto" the Cattle Dog is the newest member of the clan and is cherished by the youngest son, Riley, who explores the campground with his older brother Evan. "Having a chance to get away from my hectic work schedule and have a relaxing time together in the Thousand Trails network of wonderful parks" is what this family looks forward to each month and throughout the year.
Amy & Jason Hennerberg, sons, Riley and Evan,Cheeto the puppy, Tucker the Burly Boston and Bella the Boston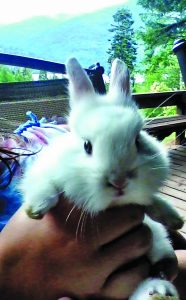 How many folks do you know that own and travel with a 1 year old terrier named "Willie" and a 8 month old white rabbit named "Nibbles"?! This dynamic duo gets along and walks together on a harness and leash. Nibbles is Linda's pride and joy and she looks forward to visiting all the campground she can while sharing time with her beautiful rabbit. They will venture south this winter to Yuma for more fun and both pets will come along for the adventure. Nibbles lives in a big cage, can munch through a celery stick in nothing flat and enjoys rearranging the "furniture" inside his wittle-wabbit house.
Linda Nasin