By Lynn and Cele Seldon
Whether you spend life on the road for pleasure or work, it's nice to have the comforts of home as you travel the highways and byways. TrailBlazer checks in with folks who spend a fair amount of time on the road to see just what makes their home away from home.
This month, we caught up with renowned travel expert and Emmy Award-winning television host, Samantha Brown.
Known for her warm, engaging personality and her ability to convey the true character of the people and places she visits throughout the world, Samantha Brown has been inspiring wanderlust since her television journey first began with Travel Channel's "Great Hotels." In 2018, Brown's beloved "Samantha Brown's Places to Love" television series was nominated for three Emmys and won two – for Outstanding Host for a Lifestyle, Children's or Special Class Program and Outstanding Travel and Adventure Program.
The third season of "Places to Love" aired on PBS earlier this year and is sponsored by AAA – The Auto Club Group, Rocky Mountaineer, and AmaWaterways. Season three highlights classic American destinations like Maine (where Brown enjoyed local lobster), the Florida Keys (including a visit to The Turtle Hospital in Marathon), Texas (featuring tasty barbeque at Pecan Lodge in Dallas), and Arizona (including a visit to Frank Lloyd Wright's winter home, Taliesin West, in Scottsdale). More recently, Brown teamed up with AAA for their "Well-Traveled with AAA" podcast, where she shares insights, stories, and tips to help listeners with their travels.
A few years ago, Brown and her husband, Kevin, rented an RV in the Pacific Northwest (with their adventure-loving twins, Ellis and Elizabeth, in tow), resulting in a popular "Places to Love" segment that Brown still loves sharing. Along with a link to the popular Oregon RVing show, which aired in 2018 as the final episode in season one, Brown's website (samantha-brown.com) also has several RVing stories, including, "America's Greatest Destinations for Traveling by RV," "Nearly Everything You Need to Know About RVing," and "9 Mistakes that Newbie RV Campers Make."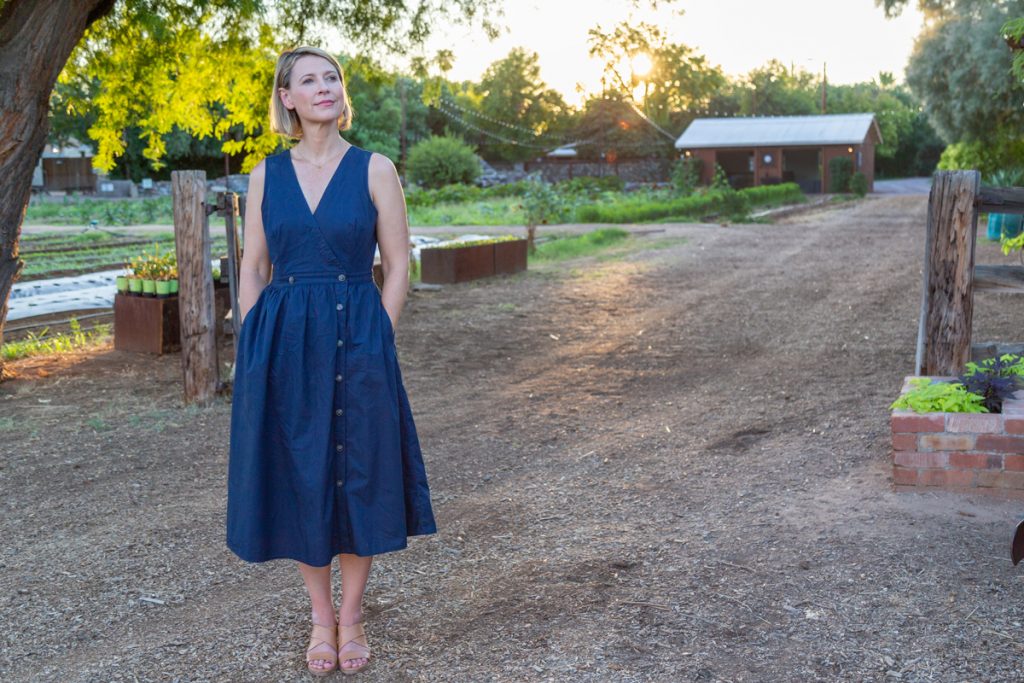 Brown says, "What could be a better season finale then ending with an all-American family RV road a trip throughout the state of Oregon? I've always wanted to do an RV trip, and especially while the kids are still young."
Of the RVing experience, Brown says, "For once, I didn't approach getting from point A to B with an attitude of seriousness and resolve, but instead to my family's enjoyment, totally lightened up. There was something about the RV experience that truly made me ready for the adventure."
We caught up with Brown during the taping for season four of "Places to Love," which is scheduled to air in 2020.
WHAT WAS THE MAKE AND MODEL OF YOUR RV?
It was a Winnebago Minnie Winnie. It was the perfect size for our trip. We loved it! For us, RV travel offered so much flexibility. As a contained unit, we could pivot at a moment's notice. There was no packing and unpacking. No need to go back to the hotel for naps; the hotel and your car are one. And, getting around is really half the adventure. 
WHEN DID YOU TAKE YOUR RV TRIP AND WHERE DID YOU GO?
It was August of 2017 and the resulting season one show aired in 2018. On this trip, we explored Hood River (including the famed "Fruit Loop" drive and the Western Antique Aeroplane
& Automobile Museum), Fossil (where the family was introduced to ranch life and fossil hunting), the Painted Hills (John Day Fossil Beds National Monument), and Bend, Oregon (where they enjoyed the family- and RVer-friendly atmosphere at famed Bend microbreweries).
WHO DROVE?
Move over, Clark Griswold…There's a new mom at the wheel! Er, more accurately, there's a new mom riding shotgun, trying to figure out how to read a map while dad drives. We're Brooklynites,
so we don't drive much. I really wanted to try it, but
we were so focused on shooting the show.
HOW OLD WERE YOUR TWINS WHEN YOU TOOK THE TRIP AND WHAT DID THEY THINK?
They were four at the time and they're now seven. They loved it. They thought it was hilarious that every time we left a campsite, we'd forget to secure stuff and it would go flying everywhere.
It happened every time
and they started looking forward to it.
DO YOU HAVE ANY SPECIAL RECOMMENDATIONS FOR RVING WITH CHILDREN OR GRANDCHILDREN?
I think most RVers already know this, but…Slow down! Don't try to see too many things or do too much sightseeing. Plan on doing half of what you think you'd want to do.
WOULD YOU RV AGAIN?
Oh, yes!
CAN YOU TELL US A BIT ABOUT YOUR WORK WITH AAA?
It's a great sponsorship and partnership. My father gave me a AAA card when I was 18 and I've been a member ever since. I don't think people realize everything AAA can provide (beyond their famed roadside assistance), including travel planning through their expert travel planners.
YOU'RE TAPING FOR YOUR FOURTH SEASON OF "PLACES TO LOVE," WHICH HAS WON TWO EMMYS AND HAS A HUGE FOLLOWING. TELL US MORE.
People often say I have the greatest job in the world and it's true. I'm really excited to transport viewers all over the globe, from Europe to my home state of New Hampshire, and introduce them to the people and places that reveal the soul of each destination. We just finished recording a season four show in Quebec City, which was wonderful.
HOW DO YOU VIEW TRAVEL IN THE WAKE OF COVID?
I think it's made everyone ardent travelers who are chomping at the bit to go somewhere and reconnect with friends and family. But the reality is COVID will keep us closer to home, doing a lot of one-tank trips to places in our home state or bordering states that share the same Phase openings and restrictions. And, we'll go back to the way my family always did our road trips and that is with a cooler of bologna sandwiches, lots of fruit, and bags of chips!