This issue, we are featuring The Wanderpreneurs, also known as the adventurous Lauren and Aaron Grijalva and their kids, Casen and Calista.
TB: How long have you been camping and RVing? Who introduced you to it? Tell us how it all began.
TW: We became full-time RVers without any camping or RVing experience 16 months ago! It was intended to be a one year trip around the US, but we quickly realized we wanted this lifestyle to be permanent. We knew two families who were full-time RVers and were so inspired by their travels. The Brewers and the Stifters showed us how fun it could be to RV full-time with kids. We were tired of the hustle and bustle of "regular life" with school, work, and extracurriculars, and wanted to take a different approach and live a slower paced, more intentional life. We have grown so much closer as a family in the last 16 months! We are able to work on the road as we work remotely, building and creating content for websites, and we homeschool (or "roadschool") our two children, Casen (7) and Calista (6). We all love adventure and travel, so we feel right at home on the road!
TB: How did you first hear about Thousand Trails?
TW: Our friends, the Brewers, raved about Thousand Trails and how it allowed them to travel and save money. They also told us that we would meet a ton of other families if we stayed in Thousand Trails parks. We're a very social family, so this sounded very appealing! We started with a Thousand Trails Camping Pass to try it out, and fell in love with Thousand Trails, quickly upgrading our membership to enjoy going park-to-park with a larger booking window.
TB: What is one of your fondest camping memories? How about one of your fondest TT memories?
TW: One of my favorite camping memories was while staying at Tahoe Valley. We were there with friends, and about 20 of us got together with all of our kids and went on a bike ride to the lake together. We rode about eight miles and then stopped by a brewery on the way back to the park! We were quite a sight to see riding all around town! One of our favorite Thousand Trails parks in the Peace River in Wauchula, Florida. Spending time with my kids finding treasures in the river like fossilized shark teeth and stingray barbs was such an adventure! One more favorite memory in a Thousand Trails park was being at the beautiful Rancho Oso in Santa Barbara, CA. As we were on a walk one morning, we realized there was a brand new colt in the field! We got to see him just hours after being born as he wobbled to stand and walk. We absolutely loved seeing all the animals during our time there.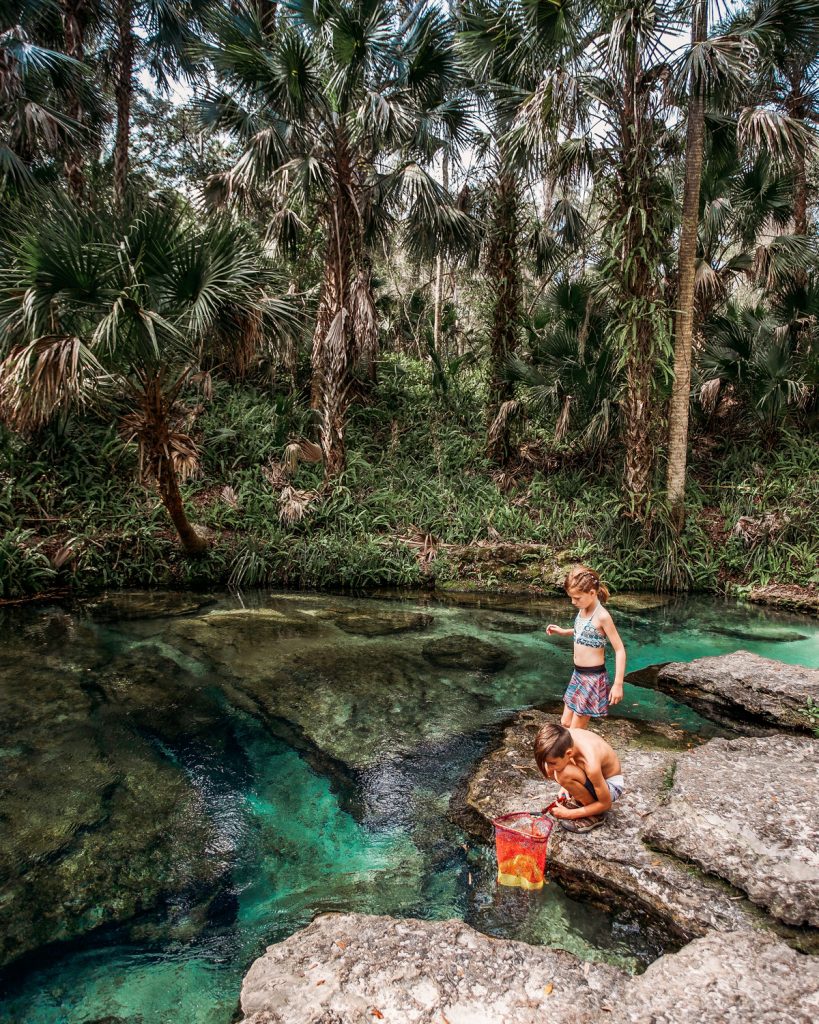 TB: Any funny camping/ RVing stories?
TW: While camping near Yellowstone National Park, we ran into a situation with a mama moose with her two babies. We were on a bike ride in the campground and all of a sudden realized we weren't alone! The moose were very close. We startled the mom by our presence and she ran up to our trail, blocking our path. I feel like we waited forever for her to move so we could pass! For a while, I thought we were going to have to make our own trail through the woods and leave a different way through the brush! Quite a memorable experience!
TB: What type of camper are you/what equipment do you use? What do you prefer and why? (ex: fifth wheel, RV, tent, cabins, etc.)
TW: We have a 2016 Coachmen Chaparral 390QSMB, which we absolutely love. Our kids have their own bedroom with a door and plenty of storage, we have our own bedroom with a door, and the entire family can enjoy our large living room with tons of floor space for family game nights. We love all the space we have in a fifth wheel as well as the high ceilings. We feel we made the best decision with our RV choice and wouldn't trade it for anything! We absolutely love our home on wheels.
TB: What is your favorite part of the outdoor lifestyle?
TW: We love the smell of campfires at night and people grilling out in the late afternoons. The relaxed atmosphere of a campground coupled with the friendliness of RVers is simply where we want to be. It's where we feel welcome and home.
TB: Where have you gone that you wouldn't have otherwise if it hadn't been for your Thousand Trails membership?
TW: Florida was always our vacation destination before we became RVers, and we had only visited the beaches there. We RVed in Florida all winter and were able to visit so many other beautiful Florida destinations we had never heard of! Since we have the Trails Collection, we were able to stay at Crystal Isles in Crystal River, FL, and visit Three Sisters Springs, where we got to swim with manatees! It was an incredible experience.
TB: We want to know when you knew you were the consummate camper, a true TrailBlazer. Can you finish this sentence? I knew I was a TrailBlazer when…
TW: I knew I was a TrailBlazer when people started asking ME for the advice! For the first 6 months (at least) we felt like the new kids on the block and were always asking advice. Now we feel like pros and are happy to share advice and experiences wherever we go! TB: If you could leave a piece of Thousand Trails history behind so that campers 50 years from now will remember what it was like to camp in this decade, what would you leave and why? TW: I would leave behind the description of how RVing with Thousand Trails in 2019 changed our lives. We have met our "family" in these parks and have experienced what life is really all about.
Check out thewanderpreneurs.com to follow more of their Trailblazing adventures!
Instagram: @the.wanderpreneurs
Facebook: @thewanderpreneurs