Who was it that said to take the road less traveled? Oh, yes, Robert Frost and, according to his famous poem, taking the road less traveled made all the difference.
Come along with TrailBlazer as we choose the roads less traveled and go off the beaten path just a bit to see some truly unique places the average tourist might drive right past, on the other road of course!
DONNER ABANDONED RAILROAD HIKE: If you're familiar with California history, you know that the Donner Summit is named for the Donner Party.
This somewhat unlucky group of westward travelers was aiming to make California home but, due to a snowstorm, the group was forced to spend the winter on the east side of the Sierra Nevada mountains. The outcome for some was not so great but we won't go into detail here. However, modern-day adventure seekers can tackle an abandoned tunnel hike trekking through tunnels #6, #7, and #8. This is a one-of-a-kind experience.
Visit Truckee, California, to begin your Donner adventure – Truckee is roughly 30 miles from Snowflower RV Campground. 
MONTE RIO BEACH: Truly a playground on the water, Monte Rio Beach has it all from kayaking to canoeing, plus tubing, swimming, and just lazing by the river. Different from California's more popular oceanfront beaches, Monte Rio Beach runs along the Russian River. Surrounded by towering pines, this is a different California day at the beach experience.
Russian River RV Campground is the perfect place to stay when enjoying Monte Rio Beach. 
ALBANY BULB: As they say, one man's trash is another man's treasure. That is definitely the case at Albany Bulb, the site of a former landfill that is now home to sculptures made of garbage, scrap metal, and driftwood, among other things. In addition to the sculptures and urban art, there are several hiking trails here as well as a dog-friendly beach.
Albany Bulb is about 20 miles north of San Francisco RV Campground.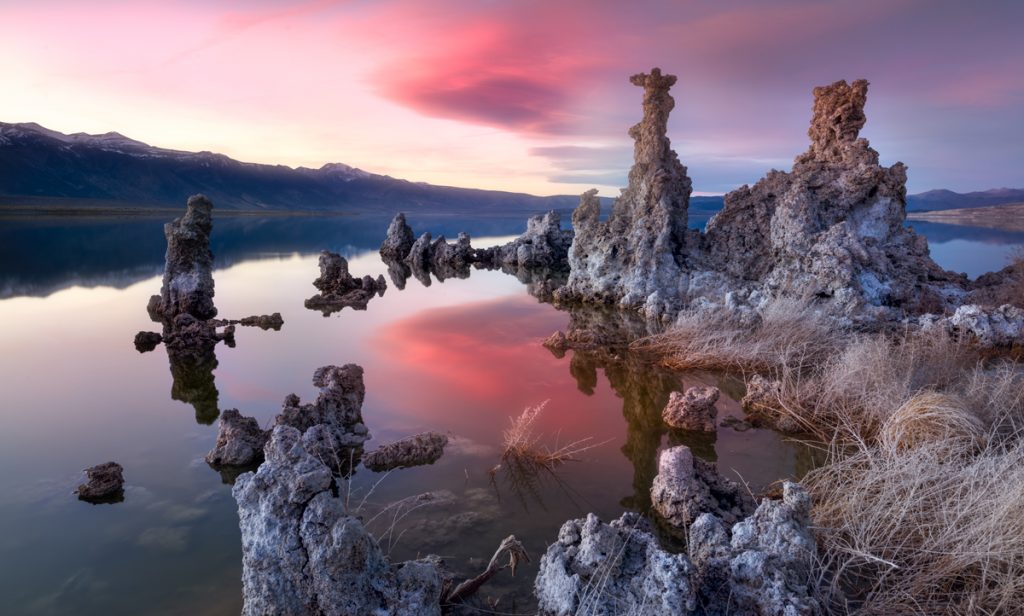 MONO LAKE: Believed to be one of the oldest lakes in North America (possibly 1 million years old), Mono Lake is known for its tufa towers, which are columns of calcium carbonate. Tufa towers are formed in soda lakes (carbonate-rich saltwater) and begin underwater. The reason they are so visible at Mono Lake is that the lake level dropped drastically in the 1940s as it lost its freshwater sources.
Mono Lake is approximately 100 miles from Tahoe Valley RV Campground.
LARGEST MONOPOLY BOARD: Do you know the way to Park Place? Or perhaps Vermont Avenue? Well, if you know the way to San Jose you can easily find these other locations most typically found on a Monopoly game board. Head to the Children's Discovery Museum in downtown
San Jose and you will find a 30-square-foot Monopoly board in the meadow adjacent to the museum. Created in 1922 for the San Francisco Garden and Landscape Show, the granite board is built to scale and free to see. However, if you want to play a game, reservations are required in advance and games run $300!
San Jose is about 20 miles from Morgan Hill RV Campground. 
GILROY GARDENS: Axel Erlandson definitely had a way with trees. He is considered the father of the Circus Trees, which are uniquely shaped trees created through Erlandson's grafting techniques. Erlandson started grafting the trees as a hobby but they soon became a curiosity and people began to pay to see them. Sadly, in 1964 Erlandson sold his trees, but today, visitors to Gilroy Gardens can see 25 of his creations, including his original, the Four-Legged Giant, which is 80 years old.
Gilroy Gardens are less than 15 miles from Morgan Hill RV Campground.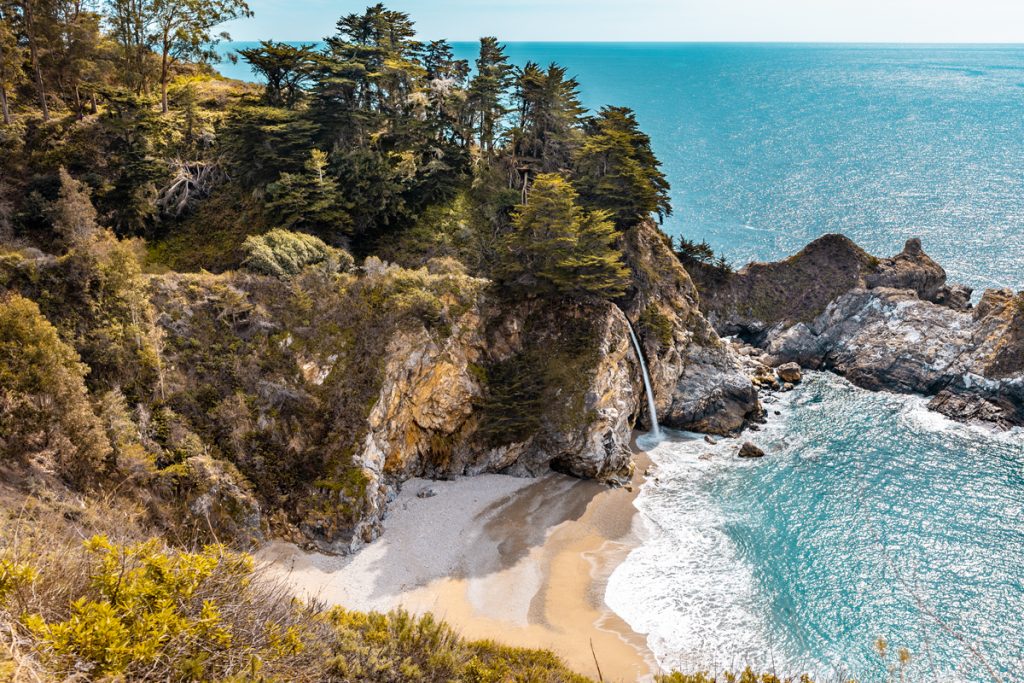 MCWAY FALLS: An 80-foot waterfall that flows year-round, McWay Falls is a must-see on the Big Sur Coast (of course, most of the Big Sur area is a must-see). In fact, McWay Falls is one of the most scenic and most photographed parts of Big Sur. McWay Falls is truly iconic California at its best.
San Benito RV Campground is about 90 miles from McWay Falls.
THE MADONNA INN: You can choose to spend a night at this quirky hotel, which has over 100 one-of-a-kind themed rooms, including the Caveman, the Country Gentleman, Mount Vernon, China Flower, and Showboat, or you can just drop in for a quick drink, lunch, or dinner. Even a quick stop allows you to experience the equally unique dining rooms, which include the Gold Rush Steakhouse with its oversized round leather booths or the Silver Bar Cocktail Lounge with its ornate woodwork and stained-glass windows. Pink is the color here and it's worth a stop to see what some consider to be the quirkiest motel in California.
San Luis Obispo is about 90 miles north of Rancho Oso RV Campground.
LA BREA TAR PITS: Smack dab in the middle of Los Angeles- sit the La Brea Tar Pits. In fact, they are within beautiful Hancock Park, and yet the pits are smelly and bubbly. Surprisingly, they are not tar, but what is known as natural asphalt, which has been seeping up through the ground here for thousands and thousands of years. You may recall how they were depicted in your schoolbooks, trapping a wooly mammoth and other prehistoric creatures. Because so many prehistoric plants, insects, and animals were trapped here, the site still serves as a major fossil site.
Soledad Canyon RV Campground is roughly 50 miles from Los Angeles.
CABAZON DINOSAURS: Just about 46 miles from Idyllwild RV Campground, you'll find a place where dinosaurs still roam the Earth, sort of! The Cabazon Dinosaurs – known formally as Dinny the Dinosaur (a brontosaurus) and Mr. Rex (a tyrannosaurus, of course) – are two very popular roadside attractions in California. In fact, they are movie stars have appeared in the film, "Peewee's Big Adventure." They were originally created to draw people to the Wheel In Restaurant, which was owned by the dinosaurs' creator, Claude Bell, a sculptor and theme park artist. Mr. Bell, who was known for his work on California's Knott's Berry Farm amusement park, first began working on Dinny in the early 1960s and then created Mr. Rex in the early 1980s. 
INTERNATIONAL BANANA MUSEUM: This museum, dedicated to the banana, will charge you just $1 to see more than 25,000 banana-related items. In fact, it holds a world record for the largest collection of banana-related items. Just a quick visit will do, and plan on a selfie or two with the large banana statue, but when you're done seeing all things banana, you can enjoy a fabulous banana shake and other banana-based treats!
The International Banana Museum is located in Mecca, California which is less than 20 miles from Palm Springs RV Campground.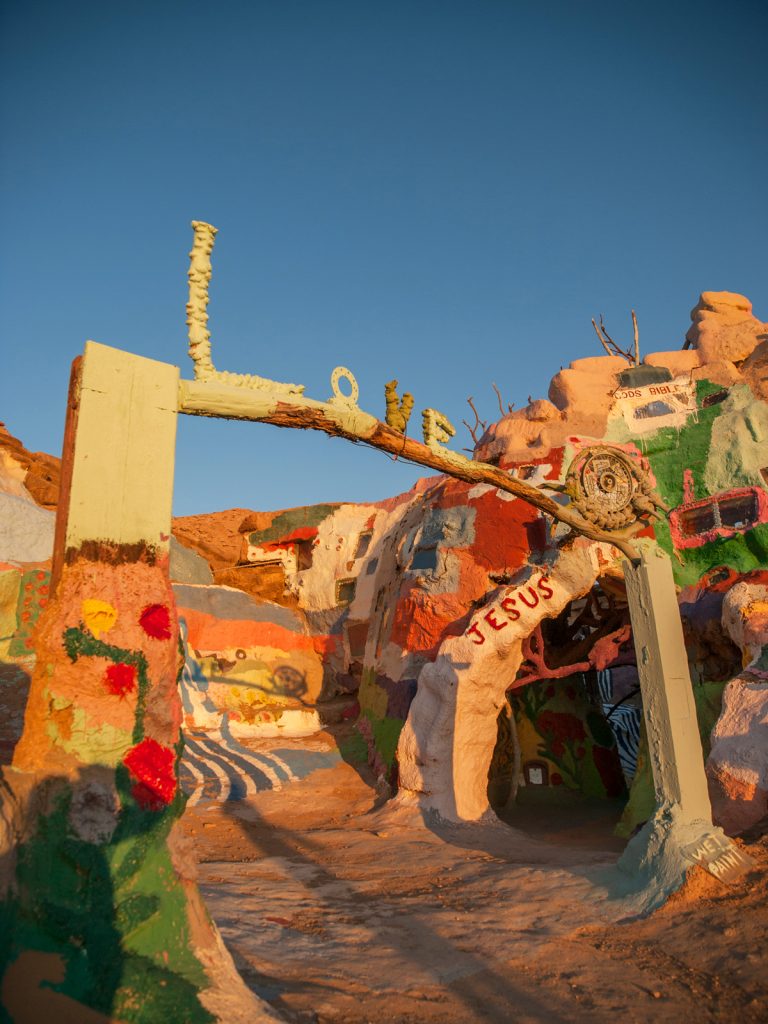 SALVATION MOUNTAIN: Drive a little more than an hour south of Palm Springs (roughly 88 miles) to find Salvation Mountain and a little bit of religion in the desert. You should note, Salvation Mountain is not a real mountain per se, but rather crafted by Leonard Knight with adobe clay, hay bales and other scraps he found in the nearby desert, as a testament to his faith. It took him over 25 years to complete the mountain on which he painted the words "God is Love."
SUNNY JIM'S CAVE: Enter through the Cave Store, browse around a bit and then descend down roughly 140 wooden, and slightly uneven, steps to see this man-made cave that was dug in the early 1900s. Created as a tourist attraction since it was California's only sea cave accessible by land (although before the stairs were built, visitors had to climb down a rope to view the cave), the cave was also popular with smugglers and bootleggers. The viewing platform provides a great way to see La Jolla Cove.
Sunny Jim's Cave is located in La Jolla, which is less than 35 miles from Pio Pico RV Campground.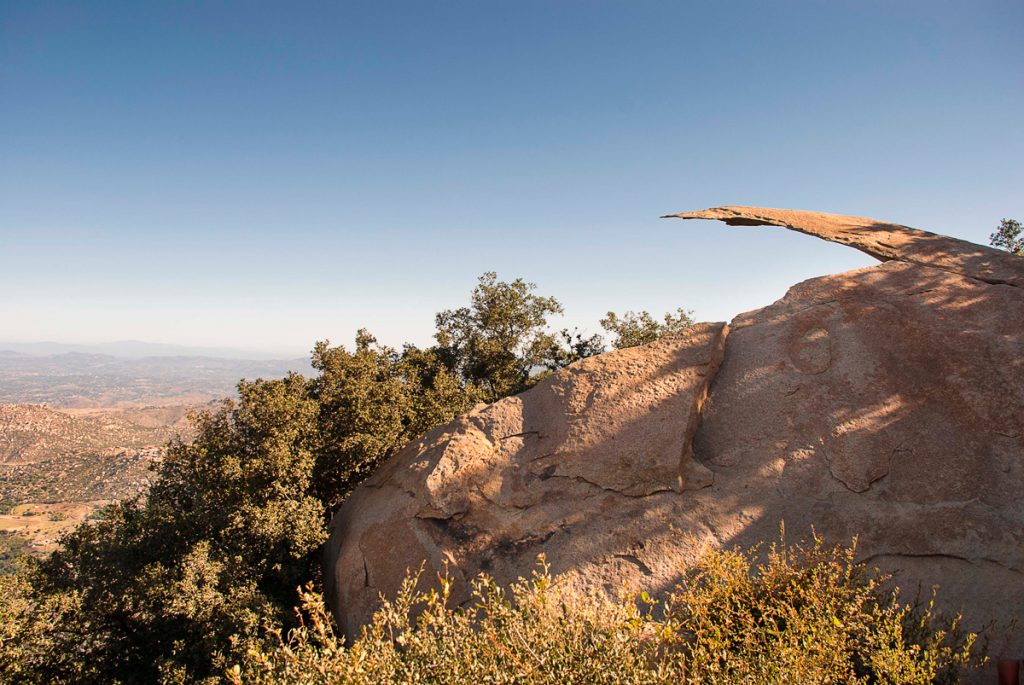 POTATO CHIP ROCK: Oh yes, the ultimate selfie location! Potato Chip Rock is a natural formation that can be reached by a lengthy hike (roughly 8 miles round trip) but it's well worth the photo op. The "chip" can be reached via the Mt. Woodson Trail in Poway. In addition to the great pic on the chip, the hike itself is quite scenic.
Poway is about 35 miles from Pio Pico RV Campground.