Stretching close to 125 miles from tip to tip, the Florida Keys are a wonderland of natural beauty, underwater magic, and colorful characters. And nowhere is that more evident than in the Keys bookends of Key Largo and Key West. Whether lounging on the beach, fishing for the one that won't get away, sipping fruity concoctions as the sun goes down, or shopping for that perfectly "Keys-ey" souvenir, the Florida Keys make for a perfect getaway.
BEACHES
With so much coastline, it's not surprising that beaches abound.
Key West
Smathers Beach/Higgs Beach
Key West's largest public beach at a half-mile long, Smathers Beach is typically bustling, especially during Spring Break and the holidays.
Located at Mile Marker 0, Smathers is loaded with amenities, including chair and umbrella rentals, natural coconut tree shade, showers and restroom facilities, and food trucks, making it the perfect place to catch some rays (or some zzzzs). For something a bit tamer and family-friendly, head to Higgs Beach, where the landscape is tropical, the vibe is serene, and the parking is free.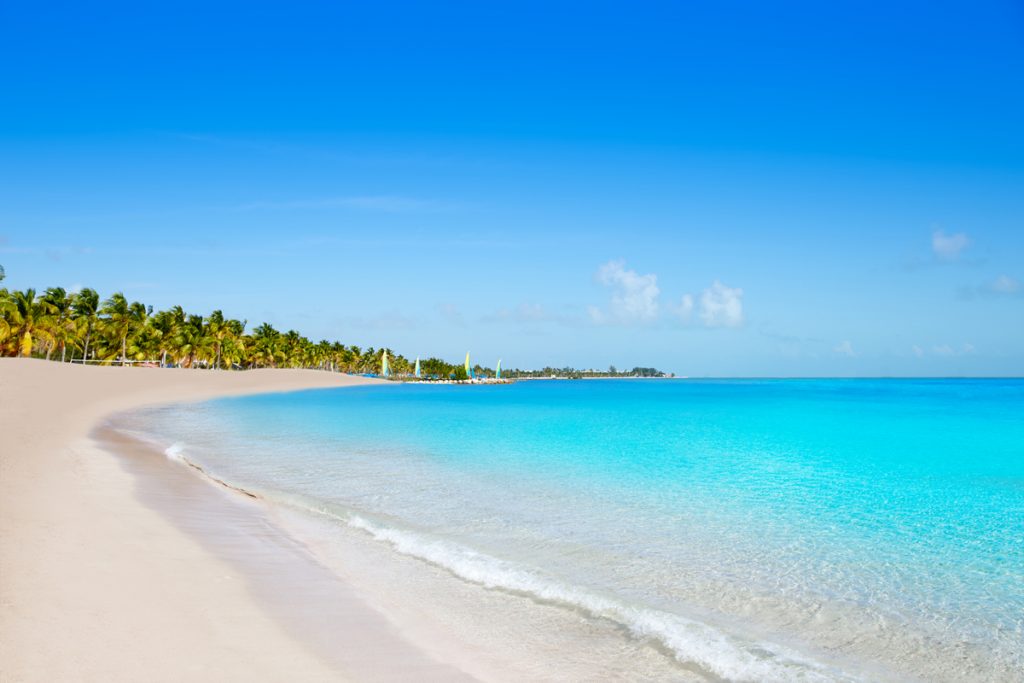 Key Largo
Harry Harris Park
Harry Harris Park is located at mile marker 92.5 and is the perfect family beach getaway. The beach surrounds an ideal tidal pool for the little ones and just outside the jetty is perfect for swimming and snorkeling for the adults. There is also a boat ramp for the fishermen, grills, picnic tables and pavilions, playgrounds, showers and restrooms, a bike path, and a ballpark. But, be sure to bring your own food and beverages, as there are no concessions.
SNORKELING-DIVING
The Florida Keys are home to the continental United States' only living coral barrier reef, protected by the Florida Keys National Marine Sanctuary and offers some of the world's
best diving.
Key West
Dry Tortugas National Park
For some of the most vibrant diving in the Florida Keys, head to Dry Tortugas National Park (nps.gov/drto/index.htm), 70 miles west of Key West. With only one percent of the park being dry land, it's the underwater world that enchants with tons of sea life, colorful coral reefs, and dozens of shipwrecks and sunken treasure. With many of the marine attributes being in five to fifteen feet of shallow water, snorkeling is equally magical.
Key Largo
John Pennekamp Coral Reef State Park
The first underwater park in the United States, John Pennekamp Coral Reef State Park (pennekamppark.com) extends 25 miles long and three miles into the Atlantic Ocean and is filled with legendary marine life and coral reef systems. Don't miss the famed Christ of the Abyss statue in about 25 feet of water (on clear days, snorkelers can often see it from the surface). For more advanced divers, the intentionally sunk artificial reef, Spiegel Grove, is an underwater treasure trove.
WATER ACTIVITY
With so much water, it isn't surprising that there's more to the Florida Keys than just beaches and diving.
Key West
Fishing
Some of the best angling in the world can be found in Key West – from backcountry fly fishing on the famed flats to light tackle fishing for permit, tarpon and bonefish to the mother lode of offshore deep-sea fishing including sailfish, blue marlin, blackfin tuna, and dolphin fish, also known as mahi-mahi. The big one is just waiting on charter boats, party boats, or bring-your-own personal boats.
Key Largo
Kayaking
With so much backcountry and meandering waterways, along with vibrant wildlife including fish, birds, dolphins, crocodiles, and more, Key Largo is the perfect spot for kayaking. Bring your own, rent, or sign up for a kayaking tour – there are plenty of options for beginners and advanced paddlers throughout the island. You can even try your hand at kayak fishing.
SUNSETS
With sunsets everywhere you turn in the Keys, it's hard to pick just one. All you need to do is open your eyes.
Key West
Mallory Square
For a communal sunset celebration, there is no better choice than Mallory Square (mallorysquare.com). With an enviable location at the northwestern tip of Key West, there's no shortage of magnificent red, pink, orange, purple, and crimson wisps of clouds to pay homage to the day's end. There's also a colorful cast of magicians, jugglers, clowns, psychics, musicians, artists, and food vendors that make it a daily party. For something a bit more subdued, but equally stunning, head to the Afterdeck at Louie's Backyard.
Key Largo
Rowell's Waterfront Park/Sundowners/Snook's Bayside Restaurant
Ask ten locals and you'll get ten answers. For your money, head to Rowell's Waterfront Park (monroecounty-fl.gov). Facing northwest, the park is free, dog-friendly, and has picnic tables, benches, and unobstructed views of the sunset along with the sound. If you like food or beverages with your sunset, there are plenty of bars and restaurants to choose from, including nearby Sundowners or Snook's Bayside Restaurant.
WATERFRONT DINING
With the ocean on the south side and the bay on the north side, waterfront dining is almost an oxymoron.
Key West
Latitudes Restaurant on Sunset Key
Just 500 yards off Key West, award-winning Latitudes Restaurant (sunsetkeycottages.com) on the 27-acre island of Sunset Key takes waterfront dining to new heights. Accessible only by boat, with ferry service available from Margaritaville Key West, the Lunch by the Beach menu and Dine in Paradise dinner menu are filled with locally sourced seafood, daily fresh catches, tropical fruits, and luxurious island cuisine in either the Ernest Hemingway room or al fresco overlooking the Gulf of Mexico surrounded by tiki torches and twinkling stars.
Key Largo
Snappers Key Largo
Even though it's all about the waterfront view at Snappers (snapperskeylargo.com), it's also about their seafood, including lots to graze on, raw bar specialties, seafood signature entrees, and loads of fresh catch options prepared a half-dozen ways. Don't miss their three unique waterfront bars, including the Turtle Club, the Tiki Bar, and Reef Bar offering up happy hours, live music, and special events.
WATERING HOLES
Some might say that the Florida Keys invented the concept of the watering hole. Or, at least they have perfected it.
Key West
Green Parrot Bar
On the same site since 1890, the Green Parrot Bar (greenparrot.com) is a Key West institution. An iconic rough-and-tumble honky-tonk that has withstood the test of time (and Key West progress), it is still what you might expect with colorful characters, live music (or a jammin' jukebox when the stage is dark), the clackity-clack of pool balls, and the coolest beverages in town. For something a bit more upscale, check out the Sunset Pier at Ocean Key.
Key Largo
Caribbean Club
The oldest bar in the Upper Keys and where parts of the Humphrey Bogart and Lauren Bacall film, Key Largo, was filmed, the Caribbean Club (caribbeanclubkl.com) oozes old Key Largo charm. With an extensive outdoor area – complete with sand beach, palm trees, and boat docks – the bar is steps away from the water, including spectacular waterfront views and sunsets. Stop in for live music, happy hour, or just to enjoy the Key Largo vibe.
SHOPPING
What's a trip to the Florida Keys without finding that perfect souvenir?
Key West
Key West Island Books, Bésame Mucho
and Kino Sandals
Channel your inner Hemingway at Key West Island Books (keywestislandbooks.com). New and used, the shop hosts fiction and non-fiction in its funky, beachy vibe, as well as tons of local writers to get you in the mood. For truly unique finds from bath and body to books and baubles and candles to clothing, Bésame Mucho (besamemuhco.net) has your gift-giving covered. And don't leave the Keys without a pair of 17 different styles of high-quality and über-comfortable locally made Kino Sandals (kinosandals.com).
Key Largo
Shell World and Key Lime Products
No trip to Key Largo is complete without a stop at the behemoth Shell World (shellworldflkeys.com). Carrying all things shells (literally tens of thousands to pick from), nautical gifts, key chains, Christmas ornaments, tropical décor, clothes, accessories and more, Shell World runs the gamut from tacky tourist to high quality merchandise and is the epitome of one-stop shopping. For all things Key lime, head to Key Lime Products (keylimeproducts.com.)