Photo above Courtesy of Lee Steffen
By Lynn and Cele Seldon
This month, we chatted with American country and gospel singer, and former member of the Statler Brothers, Jimmy Fortune.
Jimmy Fortune's last name is no accident. He has been blessed with much fortune in his life. Not necessarily the monetary side of fortune (although after a 35-plus year career as a chart-topping singer, the money likely took care of itself), but more as someone who was at the right place at the right time. Some might say serendipity. Fortune might say blessed.
Growing up in Nelson County in the heart of the Blue Ridge Mountains of Virginia, Fortune was one of nine siblings. His upbringing was like that of The Waltons, the fictional family portrayed in the television series of the same name which, ironically, was set in the nearby community of Schuyler, Virginia, also in Nelson County. After kids asked him to sing for a nickel when he was in first grade, he ended up with a couple of nickels in his pocket at the end of the day and knew there was something to this. He started performing with his Dad at local square dances. At 13, he formed his first band, The New Edition. After he graduated, he started playing the Holiday Inn, Sheraton, Ramada Inn hotel circuit six nights a week in Charlottesville, Lynchburg, Waynesboro, Staunton and up towards Washington, D.C. Working days as a service writer at a Charlottesville Porsche Audi dealership, he was burning a candle at both ends and burning himself out.
Then, as it were, good fortune struck. The original tenor of the Statler Brothers, Lew DeWitt, was suffering from Crohn's disease and needed to temporarily stop playing and touring with the band. He had heard Fortune singing at a Virginia ski resort and suggested he audition for the role. The band members thought he would be a good replacement and Fortune started performing with the band in January 1982. By July, DeWitt knew he would be unable to return to the band and Fortune was hired as the permanent tenor for the Statler Brothers.
He performed with them for the next 20 years and went on to write some of the bands most popular hits, including three of the bands #1 hits, "Elizabeth," "My Only Love," and "Too Much on My Heart." When the Statler Brothers retired in 2002, Fortune realized that he wasn't done yet. In his mind, he hadn't completed his mission from God to deliver his uplifting music to people in need. So, he set off on a solo career. Within weeks, good fortune struck again, and the Oak Ridge Boys reached out to see if he was interested in going on the road and opening for them. Naturally, he said yes.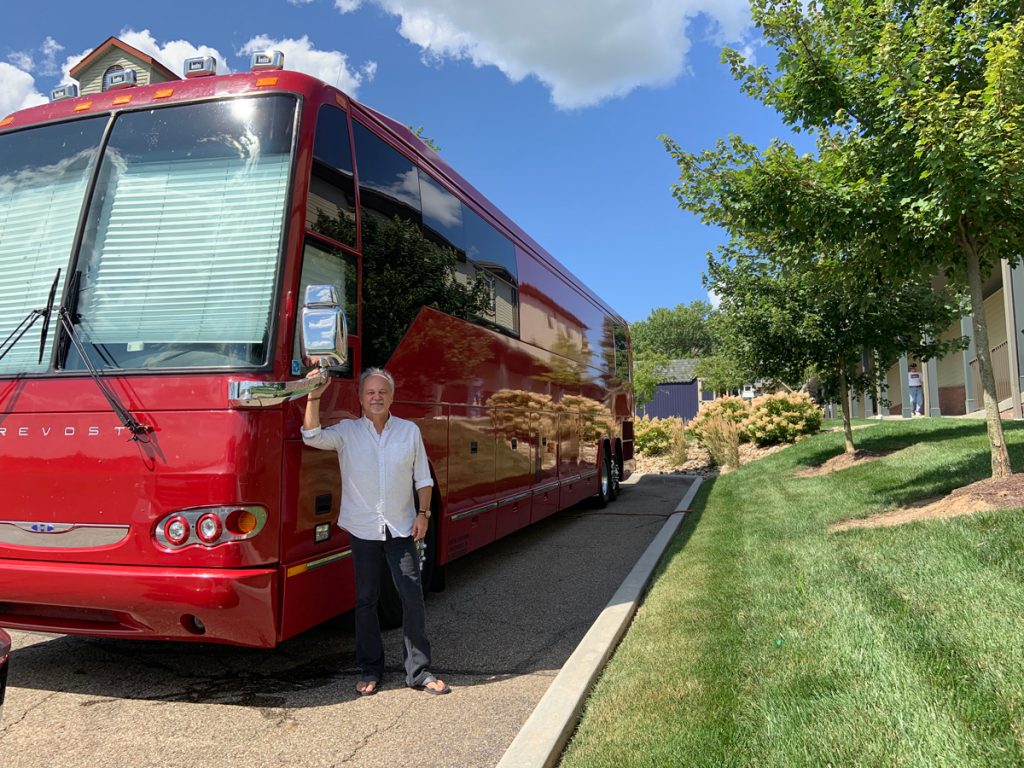 Now, 17 years later, Fortune's solo career is going strong. His eighth album, "God & Country," was released earlier this year to great fanfare. The fourteen tracks are reimagined national classics and congregational favorites that share faith and patriotism. They are a celebration of the beauty of America, the courage of those who have made it free, and the belief of what we can accomplish as a people.
We recently caught up with the Jimmy at home in Nashville before heading out on an early Fall tour.
You are a singer and songwriter. Do you write all your own songs?
Half of my show are songs that I've written. A lot of songs that I learned through the years were songs that led me to writing the songs that I write now. I have a background that started in gospel music and then went into country and then into all this different kind of music. Music has been a life of doing what I love for a living.
Which do you prefer?
I love both. Singing was the first thing that I discovered that I could do. Singing was the thing that brought me to the dance. It made me realize that's what I wanted to do. I didn't know I could write until after I was with the Statler Brothers. I never had the time. The first song I wrote was "Elizabeth", which turned into a #1 song.
Have you ever written songs for other singers?
Dailey & Vincent have cut a lot of my songs. A lot of gospel groups and bluegrass groups have recorded some of my positive Christian songs. The Statler Brothers were really the ones that got my songs on top of the charts years ago. That catapulted me to the good things that are happening today. I just want to write for the sake of a good song. I want my music to have a message of hope, of understanding that we're not in this by ourselves.
Was going solo once the Statler Brothers retired difficult?
It was. I was standing out there by myself. When I was singing with the Statler Brothers, I didn't have to talk. I didn't say much at all. When they retired, I had to talk to the audience. It scared me to death. I didn't know if I could do it or not. Now I'm in to a 17-year career on my own.
Now to talk about your bus and your life on the road. What kind of bus do you have?
I have a 2005 45' Prevost H3. It's got two staterooms, it sleeps 12 people, it has a bathroom and shower. It's a working bus more than it is a motor home. It's kind of a home away from home. It's kind of a refuge where we can go and be comfortable.
Does your bus have a name?
Elizabeth. It doesn't have a name on the side. I just have a little license plate on the back. It's a solid red bus and it's kind of a subtle thing on the back that says Elizabeth so people will know it's mine.
How many shows do you perform a year? How many miles would you guess you travel on your bus a year?
We're doing about 90 shows per year. Probably looking at more in 2020. We've put about 70k miles on it so far in 2019.
Who travels on the bus with you?
My wife which is something I love. I have a sound man. A driver, of course. I can drive it as well. I said I'm not paying that much for something that I can't drive. I have a bass player. I have a couple of guys that sing who also play multiple instruments. There's usually at least six of us on there. Sometimes we take some friends with us.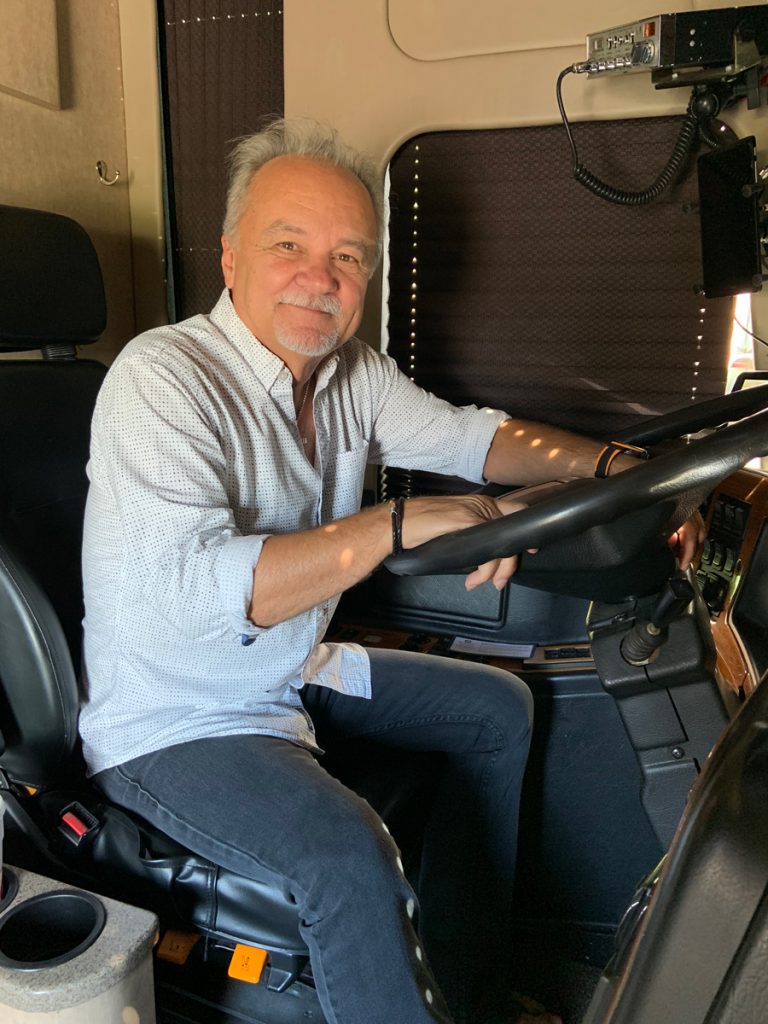 Tell us about your bus.
There's a living room, kitchen, bunk room and a stateroom in the back. You can sleep in the back, but it doesn't have a bed. It has a huge couch, a table with another seat, and closets. We all use it as an additional living area. If someone needs a little private time, they can go back there. The bus is for all of us. It's not just for me. Everyone sleeps in the bunks. Every bunk has a TV and the ability to watch movies. There's a big TV in front and one in the
back lounge.
What's your favorite thing about staying on your bus versus a hotel room?
If you need a place to go lay down and rest in the middle of the day, you can go back and relax and have your private place to think, get your show together, get your thoughts. You can entertain on the bus with friends. It makes life a lot more comfortable.
Do you listen to music on the road?
I do from time to time. We'll listen to something while we're rehearsing. Or somebody might bring some new music on the road. It has a great sound system in the front and the back.
What else do you do while you are on the bus?
Mostly talk. We can run our business out of it. Nina can be on the phone and talking or working in the back lounge for booking or publishing.
Do you cook on the bus?
We only have a microwave. We don't really do any cooking. Although we do have a nice big refrigerator. Most things are already fixed or something we can heat up. My mother-in-law fixes a bunch of stuff that we can take on the road and just heat it up. She's a great cook. Also, people bring us stuff on the road.
Any favorite places you like to eat on the road?
We love Cracker Barrel. We stop at Cracker Barrel a lot because, well, of course they have my music in there which is one good thing. But they also have a lot of great food. I don't think I've ever had a bad meal at Cracker Barrel. We like Panera. We like their salads. If we hear of a great steakhouse in the area, we'll stop. Some like sushi so we'll find a place that has good sushi.
Do you ever stop to do any sightseeing?
We try to mix in as much of that as we can. Especially out west. I just love it out west. I love Montana, Yellowstone Park, Wyoming, Northern CA, especially the Redwood trees. Arizona is one of my favorite places to go.
Did you ever camp as a kid?
Mostly tent camping. I had a camper when I was with the Statler Brothers. I'd camp with the kids. Now we usually get a beach house in Folly Beach, South Carolina with the family. Nina and I want to get a small Airstream just for us to go whenever we want to.