By Cele and Lynn Seldon
Whether you spend life on the road for pleasure or work, it's nice to have the comforts of home as you travel the highways and byways. TRAILBLAZER checks in with folks who spend a fair amount of time on the road to see just what makes their home away from home.

This month, we chatted with Lawrence Frederick and his Disc Dog World Champions, Disc-Connected K9s
What began as a stunt between a dog and his owner at the top of the ninth inning at a nationally broadcasted baseball game between the Los Angeles Dodgers and the Cincinnati Reds in 1974 has morphed into the highly competitive dog sport of Disc Dog some 45 years later. With dogs racing at speeds up to 35 miles per hour and leaping as high as nine feet in the air to catch discs (the generic term for the popular "Frisbee," which is trademarked by the Wham-O® company) thrown by their human throwers, there are now dozens of disc dog organizations and competitions across the country. Disc dog shows are also often popular attractions at sporting events, amusement parks, county fairs, and pet-focused festivals.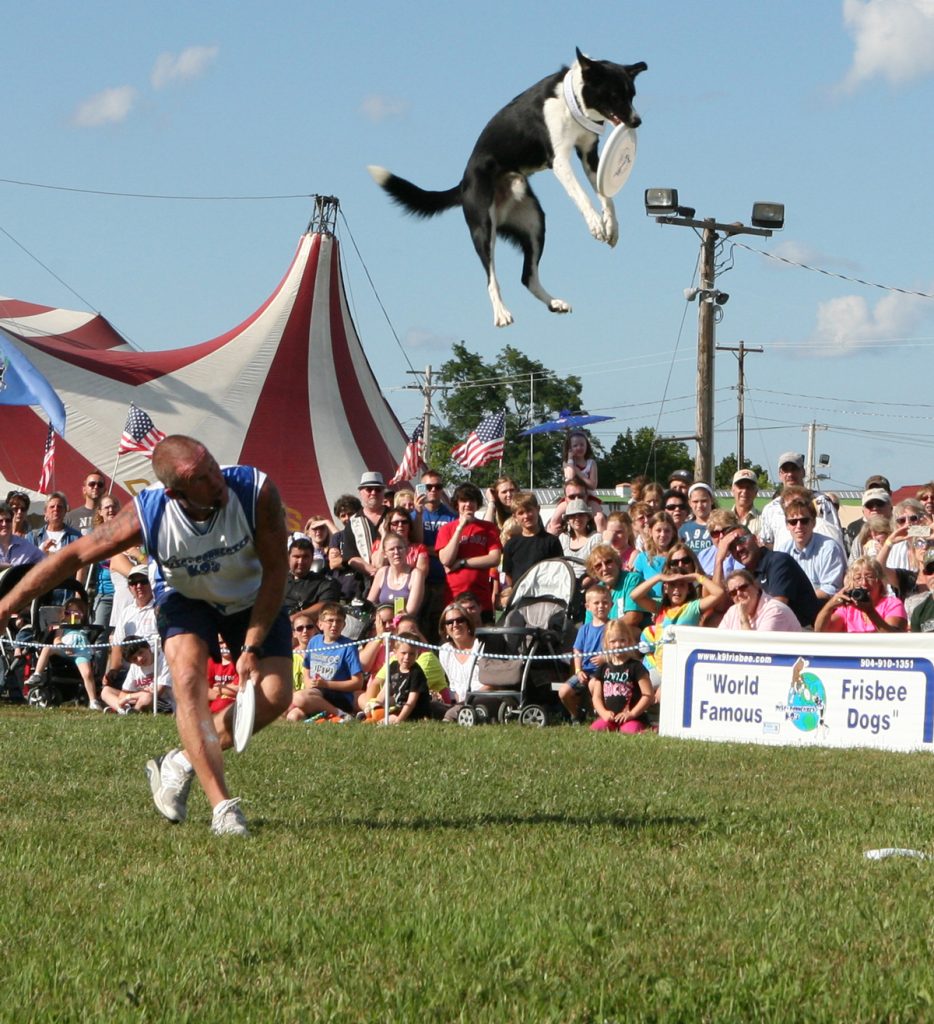 Disc-Connected K9s has been putting on disc dog competitions since 1989 and performing disc dog shows since 1997. Founded by "human" Frisbee competitor Lawrence Frederick after a knee injury permanently sidelined him, Disc-Connected K9s is a professional touring disc dog organization that features dogs who have been rescued from their "disc-connected" homes—meaning they were abandoned, homeless, or sheltered—and rehabilitated and "disc-connected" to a new purpose in life.
With human performers throwing discs and using their bodies for ramps and landing pads, and anywhere from 13-15 dogs performing acrobatics, gymnastics, and dance maneuvers choreographed to music—all while catching Frisbees—Disc-Connected K9s travel the country (and the world) performing at pet festivals, home and garden shows, county fairs, state fairs, festivals, corporate events, and college and pro half-time shows. They also compete in team and individual Disc Dog Competitions across the country and the world. They are one of the winningest competition teams, with a world record of five different World Champion dogs, 100+ World Finals appearances, and 17 different canine World Finalists.
Performing shows 42 to 46 weeks per year, owner and chief dog handler Lawrence Frederick and his other human performers—along with 13 dogs—travel the country by motor coaches. We recently caught up with Lawrence in Deland, Florida, while performing at the Volusia County Fair.

What kind of Motor Coach do you travel in?
We have two Newmar Motor Homes. Our primary one is a 2016 Ventana, Model 4369 and is 43 feet, 11 inches long. Our secondary Motor Home is a 2016 Baystar, Model 3401 and is 34 feet, 11 inches long.

How many miles would you guess you travel on your bus a year?
Our 4369 coach is just three years old and we have 91,010 miles on it, as of today.

Do you and all of the dogs sleep in the coach?
Yes. We have thirteen (13) crates that are built into the wall and floor for the dogs to travel and sleep in each night.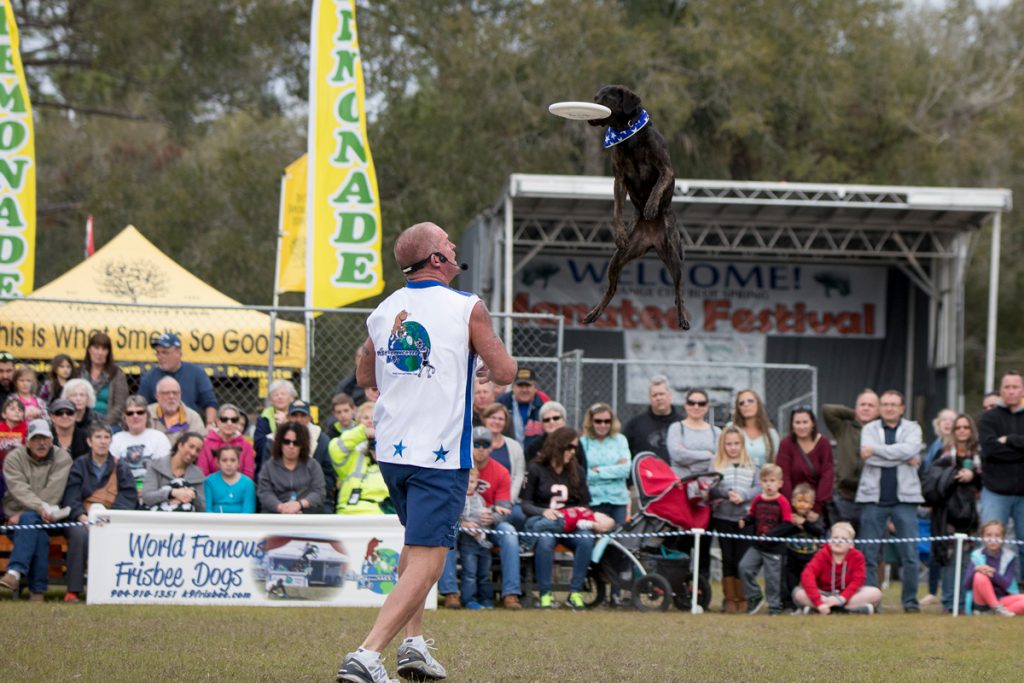 How have you had to modify your coach to accommodate the dogs?
In order to make room for the crates, we had to take out the dining set, as well as one of the foldout couches.

Do the dogs stay in their crates or do they have the run of the coach?
Our dogs are in the crates full-time when we are traveling and during shows. Other than that, we let them out for the freedom of the coach.

Is barking ever a problem?
No. Our coach is very sound proof and we never leave the windows or doors open. Additionally, our dogs are trained not to bark unless there is a purpose.

Who else travels with you?
I always have another performer that travels with me at all times. I sleep in the master bedroom in the back and the other performer sleeps on the remaining foldout couch.

What's your favorite thing about staying on your coach versus a hotel room?
With 13 dogs, even Motel 6 will not leave the lights on for us. No, seriously it affords the dogs to have a constant and familiar environment that they know and are comfortable in. Also, it allows us to stay on the grounds of where we are performing, and we don't have to exit and return to the venue each night and morning.

What are your three favorite things onboard?
The huge shower, washer and dryer, and satellite TV.

When you aren't traveling or performing, what else do you do on your coach to pass the time?
We are constantly walking and training our dogs almost every free minute we have. With what little free time we have, we are either watching one of our four TVs, reading, or on our computer.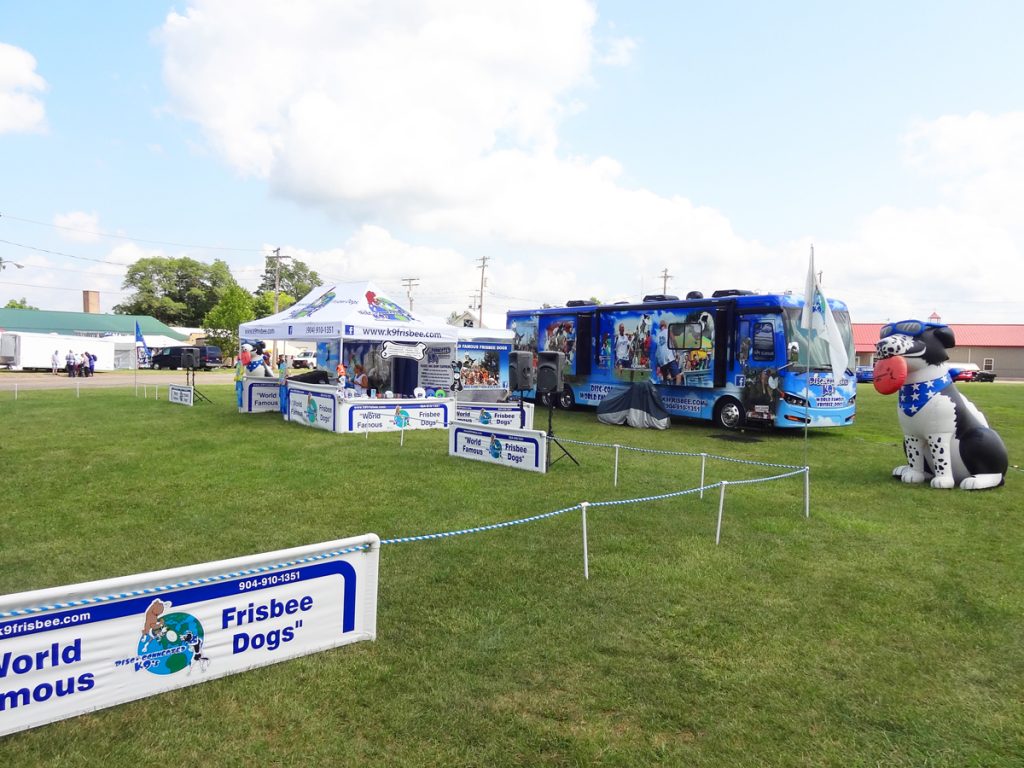 Do you cook on the RV? If so, what are some of your favorite things to make?
We have never used the stove, nor the convection oven. We eat out every night.

Any favorite places you like to eat on the road?
We are constantly using TripAdvisor to find the local restaurants in each area we happen to find ourselves. We do everything to avoid the "chain" restaurants, if at all possible.

Highways or scenic routes?
We normally do not have time between venues to take the scenic routes. Our Magellan GPS is programmed for interstate highways whenever possible. Plus, our total length between the motor home and our trailer is 71 feet.

Do you ever stop to do any sightseeing? If so, where have been some of your favorite places?
We do gosightseeing whenever possible, but it is normally on our Harley Davidson Street Glide (which is always in our trailer). Some of our favorite places would be: Mt Rushmore, Devils Tower, Bar Harbor, Maine; The Alamo, Grand Old Opry, Horseshoe Curve, Gettysburg Battlefield, Jack Daniels Distillery, and so many more.

Are there any unique things about traveling with so many dogs that people wouldn't think of?
Well, the most obvious one is finding an RV park that will allow us to stay with 13 dogs. The good thing for us is that the parks that we frequent are more than happy to be references for us. Additionally, and thankfully it doesn't happen very often, but when we break down for any reason, getting the repair centers to accommodate us while they are making the necessary repairs. Especially, since the dogs need to be walked every 3-4 hours.
Due to a varying of pet policies on our properties we encourage pet owners to please contact the property to find out each properties pet restrictions