This month, TrailBlazer introduces you to Danella and Allie (@wander.free.and.queer), newly minted Thousand Trails members who've been traveling the East Coast with their two dogs and have aspirations to travel the whole country! Read more about Danella and Allie and their newest adventures in their motorhome in this month's, I Knew I Was a TrailBlazer! 
1.) How long have you been camping and RVing? Who introduced you to it? Tell us how it all began! 
We have been living and traveling in our RV full-time since May of 2018! We have always been passionate about travel, but we were inspired to make the leap to full-time RV living when we met another young couple working and adventuring in their motorhome. Less than one year later we had sold 99% of our belongings to hit the road! 
2.) How did you first hear about Thousand Trails? 
We were introduced to Thousand Trails by another traveling couple that has a membership. We felt overwhelmed by the process of finding campgrounds and making the most budget-friendly choices. Thousand Trails made the decision easy! 
3.) What is one of your fondest camping memories? How about one of your fondest TT memories? 
Our week-long stay at The Orlando RV Resort in Clermont has been one of our favorites! We enjoyed swimming in the gorgeous pools and walking our puppies around the property. We felt very welcomed by all the friendly folks there! 
4.) Any funny camping/RVing stories? 
We have so many funny RVing stories! One that stands out is when we arrived to the Carolina Landing campground in South Carolina. There had been some pretty torrential rains, and the ground was super soft. We were attempting to navigate the RV to our site and got stuck in the ditch! It didn't take more than 5 minutes before we had 10+ RVers around us trying to get us free from the ditch, and even offering us dinner. The camper community is wonderful.  
5.) What type of camper are you/what equipment do you use? What do you prefer and why? (ex: fifth wheel, RV, tent, cabins, etc.) 
We chose a 34-foot Newmar Bay Star, which is a class A motorhome. We selected this particular model because the floorplan and storage were perfect for our lifestyle needs! We travel with two very active pups, as well as our creative small business, so we needed a very functional layout. We also tow our Jeep Cherokee which we use to see all the sights once the RV is parked at a campground. 
6.) Where have you gone that you wouldn't have otherwise if it hadn't been for your Thousand Trails membership? 
We traveled from Maine all the way down to the Miami area to spend two weeks at the Miami Everglades RV Resort. We never would have been able to travel to southern Florida if not for Thousand Trails because the private campgrounds near the coast are all so busy and expensive. We'll never forget the alligators we saw down there!  
7.) What is your favorite part about the outdoor lifestyle? 
We love almost all outdoor activities! Full-time RV living has allowed us access to stunning hikes, sunrises and sunsets all over the country, and lots of boat rides. Even just sitting outside the RV in the sunshine brings our little family lots of joy. 
8.) This is the question we will be finishing the feature with every month. We want to know when you knew you were the consummate camper, a true TrailBlazer.  Can you finish this sentence?  I knew I was a TrailBlazer when… 
We knew we were TrailBlazers the moment we got behind the wheel of our RV. So much strength and empowerment came to us, knowing we could drive our home anywhere. We became in charge of our destiny that day, and never looked back!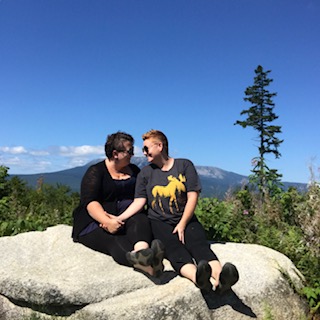 9.) This is a new question for 2019 – If you could leave a piece of Thousand Trails history behind so that campers 50 years from now will remember what it was like to camp in 2019, what would you leave and why? This can be an actual artifact, a story, an image, or something else! 
We would leave our pride flag behind as a piece of Thousand Trails history. Despite our initial fears, we have been so warmly welcomed and accepted by the RV community, no matter the destination! We feel safe and respected in all the Thousand Trails campgrounds we visit. The flag is a symbol of camaraderie within the traveler community. 
Allie and Danella 
Wander Free and Queer