By Lynn & Cele Seldon 
Known for its theme parks and dozens of other attractions and activities, it's always fun to discover something different in the Orlando area. For those not yet in the know, Discovery Cove® just might be one of those different discoveries. 
Conveniently situated 10 miles south of downtown Orlando proper and at the intersection of Interstate 4 and FL 528 (the Beeline Expressway), Discovery Cove is a unique all-inclusive day resort where lucky visitors enjoy a one-of-a-kind opportunity to swim with dolphins, rays, and tropical fish, hand-feed exotic birds, enjoy varied water features ranging from The Grand Reef® to the Freshwater Oasis®, a river, and more, and enjoy a tasty and bountiful selection of food and drinks all day. 
The tropical atmosphere of Discovery Cove provides a paradise of rocky lagoons surrounded by lush landscaping, tropical reefs, winding rivers, a resort-style pool with waterfalls, and pristine white-sand beaches. The park's animals include Atlantic bottlenose dolphins, sharks, southern and cownose rays, otters, thousands of brilliantly colored tropical fish, and more than 250 exotic birds.  
Reservations are required and daily attendance is limited to just 1,300 guests to ensure no overcrowding. Guests are greeted for their day of discovery at a luxurious reception area before heading down a nature walk to all of the possibilities. 
The all-inclusive day at Discovery Cove includes: a freshly prepared breakfast and lunch, snacks, and beverages (water, soft drinks, and alcoholic beverages for those 21 and older) throughout the day; swim vest/wetsuit, towel, and swim gear, including a souvenir snorkel and eco-friendly sunscreen; and private lockers and dressing areas. 
The highlight of the day for many (six and older) who choose to include it is the opportunity to swim with an Atlantic bottlenose dolphin during a 30-minute interactive adventure in Dolphin Lagoon. Small groups accompanied by a trainer enjoy varied animal training demonstrations and hands-on interaction in shallow water, before proceeding to deeper water for an incredible dorsal fin tow ride back to shore. 
Other Discovery Cove options in the basic ticket package include: The Grand Reef® (shallow to deep water swimming and snorkeling adventures, shark viewing, and more); Freshwater Oasis® (face-to-face encounters with otters in a rainforest canopy above and sparkling springs below); Explorer's Aviary (a free-flight aviary filled with hundreds of exotic birds as tall as four feet); Wind-away River (a waterway that meanders through the park, encountering beaches, palm-covered walkways, and rocky lagoons); and Serenity Bay's varied beaches and pools. 
Along with the Dolphin Lagoon experience, other special add-ons to make a day of discovery even more fun include the Shark Swim, the Ray Feed, SeaVenture® (an underwater walking tour using dive helmets), and private cabanas tucked away in lush foliage. 
Parking (lots of it) is included and so is an incredible 14 consecutive days of unlimited admission to SeaWorld and Aquatica, SeaWorld's Waterpark in Orlando, before, during, or after a Discovery Cove visit. Discovery Cove prices per person start at $170 (without the Dolphin Lagoon experience) and vary seasonally. Children under two are free with a full paying adult.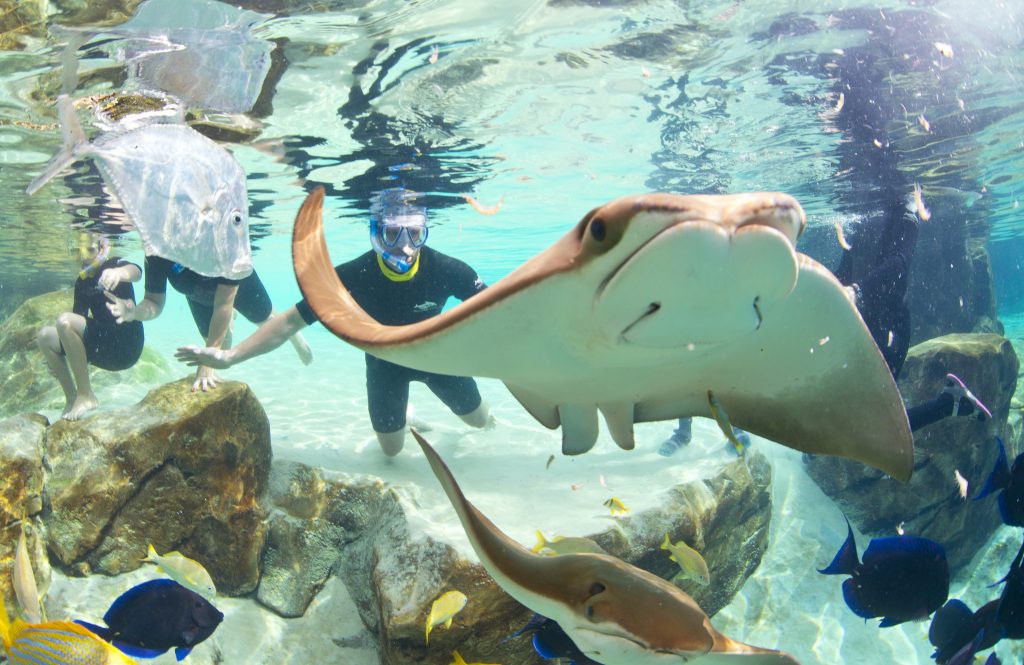 For more information and advance reservations, visit www.DiscoveryCove.com.