Quite simply, Eric Jackson is the best whitewater kayaker in history. He's won more than 100 events—the most of any kayaker ever—reaching many of them in an RV. His wife, Kristine, and children, Emily and Dane (also renowned kayakers), are devoted RVers as well.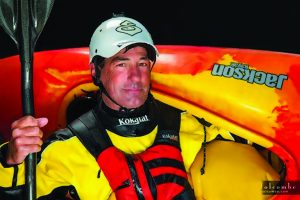 In fact, back in 1997, it was Kristine's idea at a family meeting to give up their house and move full-time into an RV. The concept was for Kristine to spend as much time as possible with the kids and for Eric to compete on the nascent "freestyle" kayaking tour. It worked, with a happy family foursome on the road and Jackson winning competitions right out of their RV.
Still competing and winning against much younger paddlers, Jackson has also produced well-received instructional books and videos. He has appeared on "Hooked on Wild Waters with Drew Gregory" and "The Kayak Fishing Show with Jim Sammons."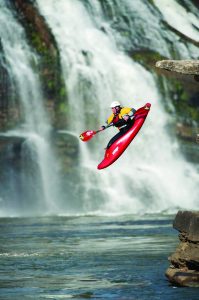 Eric founded Jackson Kayak in 2003 after designing kayaks for other manufacturers for many years. His varied kayaks have a very loyal following, including lots of fishing kayaks (yet another passion of Jackson's). Along with Jackson Kayak and Orion Coolers (Jackson is also president), other sponsors include Kokatat paddling gear, Werner Paddles, and GoPro photo and video cameras.
We caught up with Jackson between paddling on one of his favorite rivers, Maryland's Potomac River near Washington, DC.
Please tell us about your RV.
I am a "Class A" kind of guy…not always a classy guy, but I sure do like Class A motorhomes. The key word for me in Motorhome is "HOME."  I call my RV home. "Hey, Honey, ready to go home?" This means, let's drive our dingy—a Mini-Cooper—back to the RV. It is a 35-foot Newmar Dutchstar diesel pusher. It is a '99 model year with 110,000 miles on it and running like a champ.
What's your favorite thing about traveling in your RV versus staying in a hotel?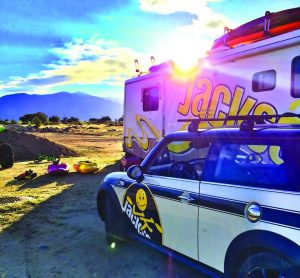 Hotels are a high-maintenance way to have a place to hang your hat, and are a means to an end—a place to sleep because you don't have your bed with you.
An RV is your home, with your bed, bathroom, food, couch, etc., and it goes where you go. No packing, unpacking, lack of food, privacy, etc., every time you want to move.
What are a few favorite things onboard?
Backgammon, DVD case, fishing rods, kayaks, bikes, my family, wine, and Nespresso coffee maker.
What are a few favorite destinations and why?
We love all of the places we go, which is why we go there, but we do have a list of places that are on our must go: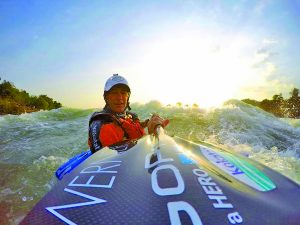 *Hood River, Oregon—This is a true kayaker bum, wind surfer bum, kite boarder bum, skier bum town that has grown up into one of the most awesome places to socialize, eat, drink, and play.
*Ottawa Valley near Beachburg, Ontario (on the Ottawa River in Canada)—Farmland, rafting, kayaking, swimming, epic fishing, cheap, and a short distance to the capital (Ottawa) [and] Montreal (like a little France).
*Buena Vista, Colorado—Presidential Range Mountains as a backdrop, awesome breweries, food, hiking, day drives, skiing, sledding, kayaking, rafting, biking, and more.
*Cascade, Idaho—Awesome western town with an amazing whitewater park, historic theater, the Payette River, and [it] is just down the road from Crouch, Idaho, one of the most memorable places in the world to watch fireworks (think crazy cowboys), and McCall, an awesome lake town that is great for eating, shopping, or water fun.
*Ocean City, Maryland—Next to Assateague Island where wild horses roam, the beaches are not crowded, and the biking, hiking, camping, fishing, SUP, etc., are awesome.
What about favorite rivers reached by RV?
Wow- so many:
*Potomac River (Great Falls), Maryland
*American River (Coloma) California
*Ottawa River (Ontario) Canada
*Ocoee River, Tennessee
Tell us about traveling with your paddling gear?
It is easy—we put wood footers on the roof [of] the RV and then mounted two sets of Thule Racks, which carry 14 kayaks. In the basement we have our kayak paddles and gear.
Your children travel and paddle with you as well, right?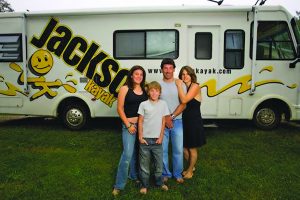 My kids have been RVers since they were four and seven. We started off full-time, for eight years, so RV life is quite natural for them. Last year, my daughter, Emily, son-in-law Nick, and grandson Tucker traveled with us for the season as—well as my son, KC who was five. [Now], it is just Kristine, KC, and I—and the occasional kayaker who needs a ride to the next river. Having the entire family together is the single biggest reason we love the RV.
What are some favorite meals onboard (or restaurants) on the road?
Taco Tuesday (yes we started it long before Mr. Business in the Lego Movie). Kristine's Mexican omelet with Mrs. Renfrew's Salsa, [and] seven-layer dip for after paddling. Okay, those are the Mexican favorites. Other favorites are stir fry, sandwiches, lots of cheese, crackers, and wine.
Do you have any funny stories from the road you can share?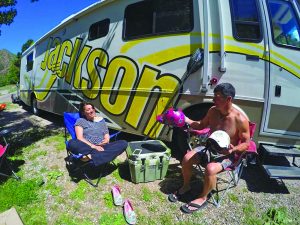 Yes, we have lots of funny stories…and a few we can share [smiling]. Most have to do with being stuck somewhere…like up to the chassis in a field of mud, but not stressing about getting out. But instead, putting on a movie, having a beer, and enjoying the moment. This type of thing has happened with snow, mud, closed roads, forest fires, etc.. Funny? Not if we didn't have an RV!
What didn't we ask you about life on the road (and rivers) that you'd like to share?    
The RVs most under-valued asset is that it can go from Point A to Point B and then to Point C without ever having to go back to Point A. Being free to roam with the tools to do it (the RV) is so liberating that I can't imagine living without it.