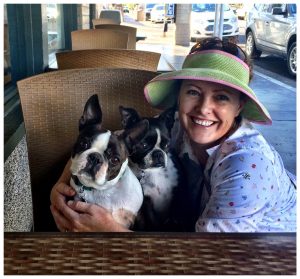 by Jenn Swope-Gehr
 Jenn, I have a purebred dog that was registered with another breed organization other than the AKC. I am looking to begin competing in AKC companion events. I'm interested in agility and some obedience. My dog is spayed. I have not been able to contact the breeders. I don't think my dog is eligible for AKC registration and I'm not sure how to go about signing up for an AKC event without her being registered. Any ideas on what I can do? My travel on the road and I am not a part of a club or group who can give me a definitive answer.
Thanks, Sara and "Hobo"
JENN: Sara, How wonderful that you are interested in taking on an event challenge with your canine companion! There is a ton of information on the details of exactly what you are asking for at www.app.akc.org or, the phone number that you will want to reach out to is 919-816-4232. You will be looking for a PAL/ILP registration that will allow you to be a distinguishable member owning an AKC registered breed that will give you the clearance to enter the events you are interested in. The PAL/ILP (Purebred Alternative Listing/ Indefinite Listing Privilege) is part of the AKC and a way for this governing body to track points & other statistics for organized events across the country. Depending on what areas you plan on being in on a regular basis, a phone call to the AKC will help direct you to a local or local chapters that will provide you the competition information and other resources necessary to take the next step forward with your pet. I wish you much success in your endeavors with Hobo.
We live full-time in a small, 30′ RV with a cat and a dog. Both pets wear collars complete with i.d. tags. Can you recommend a BPA free dish/bowl that would be suitable for RV camping where the dogs and cats collar tags are not clanking against the stainless steel at all hours of the day? Hard plastic isn't safe and the sun makes them brittle and the tags still make a terrible noise when they hit the sidewall. We will be in Oregon this summer and fall and hope to see you in your travels. On a side note, what do you suggest for a healthy treat for finicky critters? Is there anything that both the dog and the cat can enjoy other than cheese or plain yogurt?
Cheers, Bing and Rachel 
JENN: Oh, yes! It's amazing how those little noises can drive you up the wall when you live in a tiny space. I have just the product to recommend to you and all others who camp or live full time on the road! SiliPint is a fantastic, BPA free, microwave, freezer, dishwasher safe sturdy, unbreakable oven and grill approved, durable 100% food-grade silicone product that comes packed with a lifetime guarantee. The company is in beautiful Bend, Oregon and their 1 L, Aqua-Fur bowls are incredible, fun to use, packable, unbreakable and completely noise free when your pets tags knock against the side. These clever bowl come in six different colors. There are a number of Silipint retailers in Bend, Oregon – check out Bend Pet Express on the east or west side as they stock glow-in-the-dark SiliPint bowls that are sure to be a hit! If you're looking for a larger, corporate order with a custom logo, Silipint offers an incredible group/corporate pricing rates. Sure to be a hit, silicone pints, half pints and more are just plain fun to use and come in an array of cool colors. We have seen custom graphics made to order for specialty groups, RV tours and family reunions. Check out this company, folks! PromoCode SiliRV2
Kudos for thinking of acquiring a new healthy snack that both pets might enjoy receiving nutritional benefits from- my go-to treat and supplement for dogs and cats is Primal Pet Foods, Raw Goat Milk. Found in the freezer section at non-chain or big brand retailers (Buy local and support small business is a theme I respect and live by!) such as Bend Pet Express, Primal Goat Milk is packed with vitamins, minerals, electrolytes, trace elements, fatty acids, and protein. Known as the universal milk, goat milk is easily absorbed by most mammals. Primal Goat Milk can be served over food, alone in a bowl or as a frozen snack from an ice cube tray. Primal is committed to sourcing their goat milk from free-range goats that are raised without antibiotics or added hormones. Each batch of Primal Goat Milk is tested to be free of pathogens prior to sale and is appropriate for all life stages for both cats and dogs and it ideal for pets that suffer with irritable bowel disease or have been on a antibiotic treatment. The fermentation process of lactobacillus and acidophilus in addition to added organics, natural anti-inflammatories, anti-fungal and detoxifier herbs such as Turmeric, Ginger and Cinnamon all found in Primal Goats Milk make it the only choice for my pets. Just plain yogurt and cheese are not fermented and not a healthy choice for your pets. I love mixing the Primal Goat Milk over Primal Freeze Dried or Frozen Nuggets for a complete meal.