COOKING CLASSES & MORE WITH THE CULINARY INSTITUTE OF AMERICA
By Lynn & Cele Seldon
Founded back in 1946 by Frances Roth and Katharine Angell, The Culinary Institute of America (CIA) is recognized as the world's premier culinary college, with more than 50,000 alumni situated across the country and around the world serving as living tasty testaments to the quality of a CIA education. Originally designed to train to return World War II veterans in the culinary arts, Frances Roth hoped the school would eventually become "the culinary center of the nation."
Officially named The Culinary Institute of America in 1951, Roth's long-ago goal has certainly been met by today's CIA. The long list of famous CIA graduates includes: Cat Cora, Charlie Palmer, Michael Mina, Sara Moulton, Bryan Voltaggio, Anne Burrell, Richard Blais, Roy Choi, Maneet Chauhan, Grant Achatz, Geoffrey Zakarian, the late Anthony Bourdain, and many more.
Though the CIA is well-known for producing world-class chefs, many foodies cooking in kitchens, campgrounds, and RVs from the Atlantic to the Pacific may not know they also offer a wide array of cooking classes and much more through their popular "CIA Foodies" food enthusiasts program at their iconic main Hyde Park, New York, campus, as well as at their satellite campuses in Napa (Copia) and St. Helena (Greystone), California, and San Antonio, Texas.
Ranging from a few hours to popular one-day offerings and two- to five-day intensive classes (called "Boot Camps"), there are literally dozens of different offerings from the CIA throughout the year, including chef demonstrations, hands-on cooking classes, family-friendly classes, wine and beverages classes, holiday cooking and baking classes, and more.
"We offer a wide range of possibilities for RVers to become better cooks in their RVs and campgrounds," says Chef David Bruno, Associate Professor in Culinary Arts, who focuses on the CIA's diverse offerings for food enthusiasts through CIA Foodies. "Pre-preparation is so important in small spaces, as is being more efficient and needing less tools to prepare recipes," he continues. Chef Bruno even created a class called "Tips & Tricks: The Secrets of a Chef," where each recipe taught in the class highlights a tip or trick foodies can use at home – and in their RV or while grilling.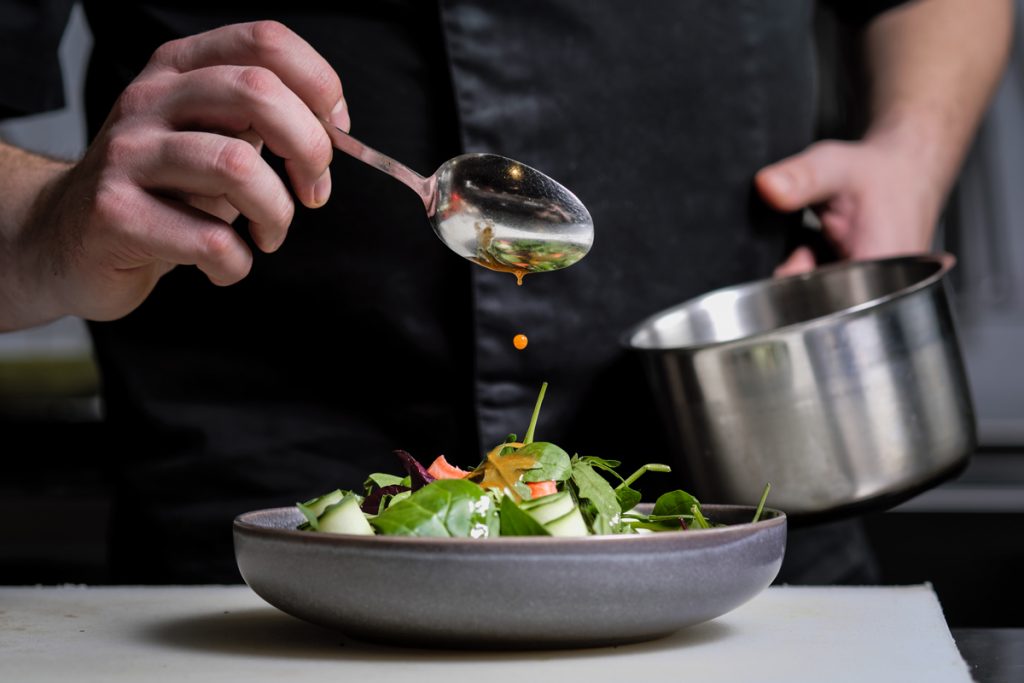 Other specific possibilities that Chef Bruno sees as ideal for RVers who often prepare meals in small spaces or outdoors include: one day or shorter options, like "Everyday Grilling," "Gourmets in Minutes," "CIA Favorites," and "Around the World in 8 Desserts," and many multi-day Boot Camps, including the popular four- or five-day "Best of Boot Camp," which provides a taste of their varied Boot Camps and highlights the fundamentals of cooking and baking, as well as specific cuisines from their Boot Camps.
More CIA offerings that might appeal to an RVer's inner foodie include their "Hors d 'Oeuvre Boot Camp," "Pastry Boot Camp," and varied three-hour "CIA Skills" classes (like "Brunch," "Farm to Table," "Cooking with Beer," and "Grilling Like a Pro"). Wine-focused options offered at Hyde Park and out at Copia in the Napa Valley include "How to Taste Wine in 90 Seconds," "Pairing Principles," and "The History of Napa Valley in 8 Glasses."
One brand-new option that just started being offered in Spring 2020 involves an exciting partnership between The Culinary Institute of America and equally iconic America's Test Kitchen (which devoted foodie fans know as simply "ATK"). It's definitely a recipe for success, in that two of the experts who help develop ATK's foolproof recipes and star in their award-winning television shows are CIA grads Julia Collin Davison (CIA, 1996) and Dan Souza (CIA, 2008).
The CIA and ATK are teaming up to bring one-of-a-kind culinary experiences to help foodies gain confidence and have more fun wherever they're cooking. Led by CIA chef-instructors, the options include single-day hands-on classes, like "ATK & CIA Cooking Fundamentals," several options for kids, and specific Boot Camps that feature years of culinary expertise through in-depth hands-on skill development, as well as ATK's beloved kitchen- and chef-tested recipes.
Those who don't yet have the time or inclination for taking a class should still consider a visit to Hyde Park or the CIA's other campuses in Napa and St. Helena, California, and San Antonio, Texas. After even a short visit, which often includes a meal, most foodies decide to return for one or more classes.
The main CIA Hyde Park campus has many options for visitors, including varied restaurants (mostly staffed by students), shopping, and popular tours led by students when classes are in session. The tasty dining options include American Bounty Restaurant (focusing on the seasons and products of the surrounding Hudson Valley), The Bocuse Restaurant (a French restaurant named for the most famous chef of France), sophisticated regional Italian cuisine at Ristorante Caterina d' Medici, rustic Italian at casual Al Foro Trattoria, The Apple Pie Bakery Café, and The Brewery at the CIA, the college's on-campus brewery classroom, which was named New York State Brewery of the Year at the 2020 New York State Craft Beer Competition. There's also the Craig Claiborne Bookstore, which offers culinary delights, cookbooks, kitchen gadgets and gear, and souvenirs.
Down in The Lone Star State, the San Antonio campus includes dining options that are also open to the public. Savor Restaurant is inspired by global cuisines rooted in CIA's culinary arts curriculum, while CIA Bakery Café is a student-run pop-up featuring a variety of sweet and savory bakery items, great coffee, delicious wines, and more. Regular campus tours might include students cooking in the Skills Kitchens and maybe even a Boot Camp in action. The campus is located along the San Antonio River Walk and set among the restored 19th century buildings of the Pearl Brewery.
Out in California, the historic campus of The Culinary Institute of America at Greystone, in St. Helena, Gather at Gatehouse restaurant showcases the talents of CIA student-chefs after two years of study and partly utilizes local produce sourced from the college's own farms and gardens. Over at The Restaurant at CIA Copia in the quaint town of Napa, the open kitchen offers up seasonally inspired Napa Valley cuisine. Casual outdoor dining is available at Copia's Colavita Olive Grove Terrace and Outdoor Kitchen. In addition, The Bakery Café by illy back at Greystone features creative café cuisine.
Foodie shoppers will also love Spice Islands® Marketplace at Greystone, where they can chat with chefs-in-training and shop for cookware, bakeware, kitchen tools, and more. In addition, The Store at CIA Copia offers a selection of cookware and culinary tools as well as Napa's largest selection of cookbooks. Guests can also find culinary antiques, hand-stitched linens, locally made pottery, home and garden items, gifts and accessories, and seasonal items, complemented by a selection of well-priced, whimsical items and children's toys and books. Some of the culinary antiques sold in the store come from the collection of Wade Bentson, one of the co-founders of the Chuck Williams Culinary Arts Museum, which is also housed at Copia. The Store hosts an annual Holiday Marketplace, featuring local artisans, the weekend following Thanksgiving. Tours are also available at historic Greystone, which is home to Brother Timothy's Corkscrew Collection, the Rudd Center for Professional Wine Studies, the Ghirardelli Chocolate Discovery Center, and more.
And, for those who can't make it to Hyde Park or other CIA campuses for a visit or a class (at least not yet), there are also options available to foodies online and in books (both eBooks and in print). One great possibility online (at ciafoodies.com) is called "DISH®," a membership program (free trials available) which offers immediate access to resources that will enhance any foodie's enjoyment of food, wine, cooking, and more.
DISH membership includes: videos where CIA faculty show new techniques and recipes, culinary greats, live demonstrations, CIA-created and -tested recipes (including the ability to upload recipes to a personal digital Recipe Box), blogs, e-books with access to CIA-published books, and lots of special deals and discounts, with significant savings on CIA offerings, as well as on hundreds of projects and services through their nationwide network of merchants.
There's also a specific CIA book that Chef Bruno recommends for everyone looking to improve their cooking, wherever their kitchen may be at that moment. The bible-like book is called The Professional Chef and it's packed with instruction, tips, recipes, four-color photos, and so much more. "It's like a CIA Boot Camp in a book," in a book, says Chef Bruno. For campground and backyard grillers, he recommends The Culinary Institute of America: Grilling, as well.
Given all these options, it's easy to see the many possibilities The Culinary Institute of America can provide to release your inner foodie. Now, get cooking and eating!