By Joan Rykal
Did you know the average person gains between five and seven pounds in the winter? That statistic comes directly from webmd.com with the caveat that the total pounds gained does vary from person to person. While many reasons are cited for the winter weight gain, the biggest one is basically hibernation, and we're not talking about the bears, here.
With the change in the weather and the shortened daytime hours due to Daylight savings time, people tend to spend winter mostly indoors. With winter, gone are the days of heading outside for a round a golf, a long stroll, a bike ride and nearly any outdoor activity. But our thought on this is why not embrace the season and get out and get active? Winter Differently this season by taking advantage of outdoor activities and keep fit while having fun!
Here's some more stats to get you moving: an hour of skiing burns roughly 400 calories, an hour of ice skating can burn up to 600 calories and an hour of snowshoeing can burn up to 300 calories. We've got all kinds of outdoor fun in all kinds of locations – so stave off the weight gain and come stay with us!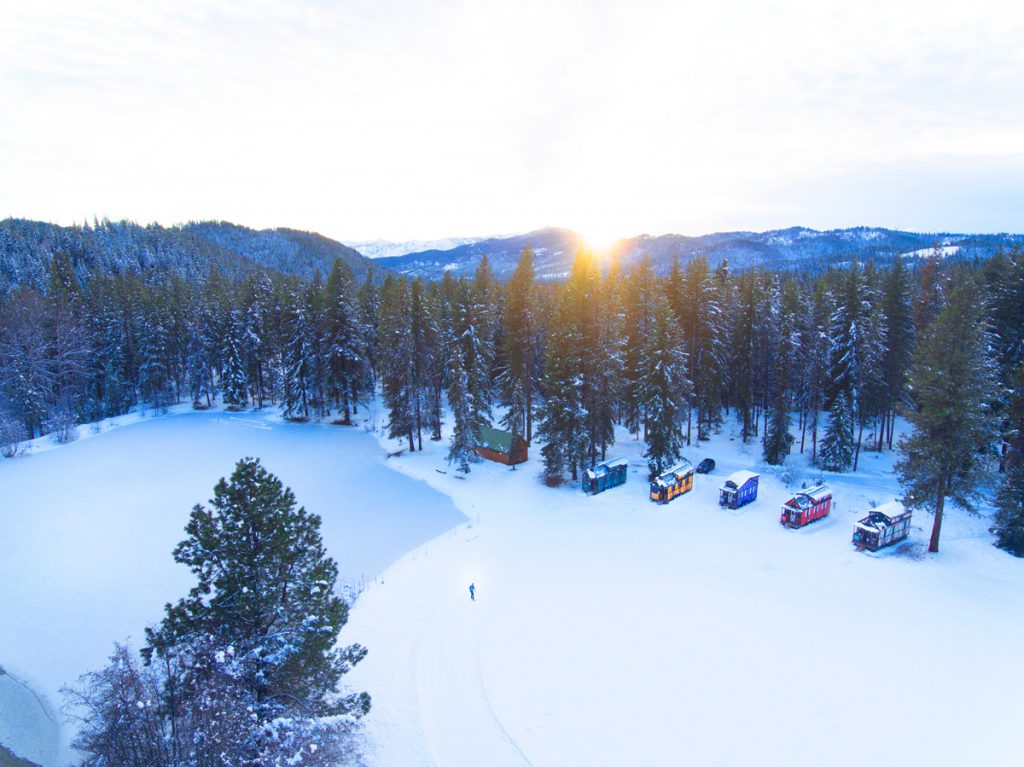 Northwest
The Farmers' Almanac is predicting warmer than usual temperatures this winter but still plenty of snow in the Northwest and that means lots of snow-covered hiking and snowshoeing trails, perfect powder on the mountains for skiing and sledding, and crisp and swift snowmobile paths.
Leavenworth, Washington's has more outdoor fun then you can shake a snow shovel at!
Check out the Leavenworth Winter Sports Club. Established in 1928 with a mission to "promote health, fitness and fun through skiing and other winter sports," the club offers very affordable day tickets to take advantage of the area's snow-filled activities. Visit leavenworth.com for more information.
Stevens Pass (stevenspass.com) is another great place to enjoy the snow and winter activities in the Leavenworth area. Averaging 460 inches of snowfall annually, there is plenty of snow to be had to enjoy skiing, snowboarding, and snowshoeing. Daily passes, lessons, and rentals are all available, too.
Head to Mt. Hood, Oregon's highest peak at 11,249 feet, for lots of winter activity. Options include the Mt. Hood Skibowl (skibowl.com), which offers the fun of night-skiing with 34 lit runs (there is also day skiing on 65 runs as well as the fabulously fun Snow Tube and Adventure Park) or the historic Timberline Lodge and Ski Area (www.timberlinelodge.com), which offers over 1,400 acres of skiable terrain! The Lodge itself is a major attraction. Built in 1937, it was declared a National Historic Landmark in 1977.
The Mt. Hood National Forest offers both cross-country skiing and snowshoeing opportunities as well as snowmobiling and sledding.
Book your stay now at Leavenworth RV Campground or Oregon's Mt. Hood RV Campground to enjoy a wonderful winter in the Northwest.
California
Of course, California is a great winter destination, but we're looking for something a bit different than a day at the beach. How about some fun in the snow with plenty of sunshine? Get in on the winter fun at Yosemite National Park.
Depending on how long you plan to stay in the area, you can opt for the Winter Fun Pass, which is valid from January 7 to March 27, 2020, and includes savings on rentals, lift tickets, the Valley Floor Tour, and ice skating. The Curry Village Ice Rink is a great place to skate outdoors while enjoying views of the always spectacular Half Dome. Another great winter outdoor adventure is photography – and Yosemite in the winter is a snow-capped and covered wonderland. Check out the Ansel Adams Gallery right in the Park. Another interesting place to visit is the Yosemite Museum, where you can learn about the people and culture of the Ahwahnechee people who lived in the Yosemite Valley.
From an activity standpoint, Yosemite in winter has hiking and snowshoe trails as well as skiing, snowboarding, and snowtubing at the Badger Pass Ski Area. Hikes to consider would include the less-than-a-mile trek to Lower Yosemite Falls or the hike to Mirror Lake (shuttle required), which provides great views of Half Dome.
Birding is big in the winter as many of the birds in Yosemite stay year-round. Year-round residents include Western bluebirds, red-shouldered hawks, and woodpeckers. Download the Yosemite Bird Checklist (.nps.gov/yose/learn/nature/upload/yosebirdchecklist.pdf) and see what you can find!
Explore Yosemite in winter and plan a stay at Yosemite Lakes RV Campground.
The Sunbelt
The Sunbelt typically includes 11 sunny southern states, thus the name. It stretches across the southern portion of the US from Florida to California. For our purposes of wintering differently, we'll focus on activities in Florida and Texas.
The Rio Grande Valley of Texas is a great place to winter. Birding, hiking, and the nearby beaches and waters of South Padre Island provide plenty of fit and fun activities. Expend plenty of calories parasailing in South Padre or enjoy a brisk hike on the Bentsen-Rio Grande Valley Loop Trail, in the Bentsen-Rio Grande State Park, which at just over four miles is a great way to check out the birds and wildlife while burning approximately 430 calories per hour!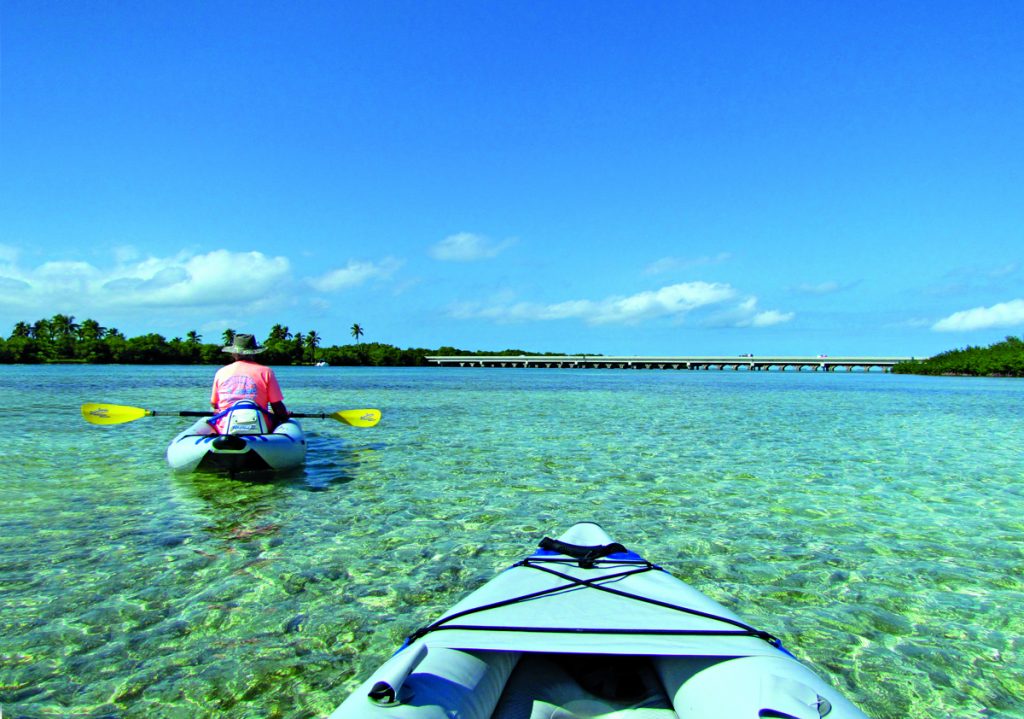 Did you know you can basically hike your way through the Sunshine State? If you follow the Florida National Scenic Trail, which runs 1,300 miles from north to south, you can travel from Pensacola on down to the Everglades on foot! Check out floridatrail.org and see what you think. With plenty
of Encore and Thousand Trails locations throughout Florida, there's always a great resting point in reach!
If swimming burns off approximately 400 calories per hour, does swimming with mermaids up that figure? Maybe, maybe not, but that is an experience you won't forget. Visit Weeki Watchee Springs State Park to take a dip with these legendary creatures. The Park is also great for kayaking and paddle boarding and all kinds of outdoor water fun. Check out weekiwatchee.com to see all the activities. The Park is in Spring Hill, just about an hour's drive from the Orlando RV Resort.
Learn more at RvontheGo.com!