A Road Trip Between Phoenix, the Sonoran Desert, & Tucson
By Lynn and Cele Seldon
When it comes to winter road trips in the sunny Southwest, it's enticing to look at a map of Arizona and see how easy it is to visit three great destinations in the state: Greater Phoenix, the Sonoran Desert (and, specifically, Sonoran Desert National Monument), and tantalizing Tucson. This triangular-like road trip can be pursued in any order and only involves about 300 miles of driving (round-trip) no covered wagon required.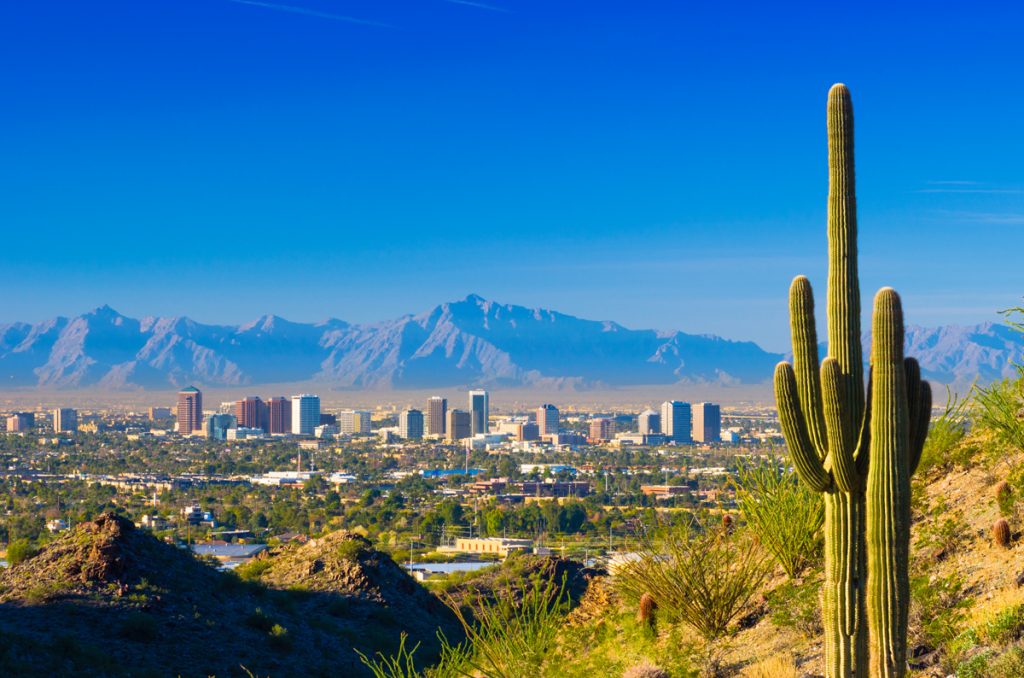 Greater Phoenix
The Greater Phoenix area encompasses about 2,000 square miles and features 20 incorporated cities, including Phoenix, Glendale, Scottsdale, Tempe, Mesa, and more. Maricopa County, where Phoenix is situated, covers more than 9,000 square miles. America's sunniest metropolis is at the heart of the Sonoran desert, serves as the gateway to Grand Canyon National Park, and features a desert and mountain backdrop that filmmakers (John Ford), writers (Louis L'Amour), and visitors have enjoyed for centuries.
The Hohokam people originally inhabited the area until about 1450 A.D., creating the first major urban civilization in the Salt River Valley and developing a canal system still in use today. The city of Phoenix was established in 1868 and the first census noted 74 dwellings and about 250 people. Today, Greater Phoenix has almost 4.5 million inhabitants.
Top area attractions include: the Heard Museum; Dobbins Lookout; Desert Botanical Garden; Heritage & Science Park (in historic Heritage Square); South Mountain Park and Preserve; the Musical Instrument Museum; Phoenix Zoo; Tempe Town Lake; Camelback Mountain; First Friday Art Walks in downtown Phoenix; and much more.
Consistent sunshine make outdoor pursuits easy, including world-class golf, tennis, hiking, biking and more. Road warriors will also love the offerings at the famed Bondurant High Performance Driving School in Chandler. Spectator sports are also a Greater Phoenix highlight. The options include PGA golf tournaments, NASCAR races, college football bowl games, and more. Phoenix is one of only 13 U.S. cities with franchises in all four major professional leagues: Arizona Diamondbacks (MLB); Phoenix Suns (NBA); Arizona Cardinals (NFL); and Arizona Coyotes (NHL).

Sonoran Desert
The vast Sonoran Desert (about 100,000 square miles) is one of four major deserts in North America (the other three are Great Basin, Mohave, and Chihuahuan). Generally speaking, it includes much of the southern half of Arizona (including Phoenix and Tucson), southeastern California, most of the Baja California peninsula, the islands in the Gulf of California, and a lot of the state of Sonora in Mexico.
It would take months of exploration to traverse the varied landscapes of the Sonoran Desert, but a trip to accessible – yet remote – Sonoran Desert National Monument, less than 60 miles southwest of downtown Phoenix, provides a great introduction to Arizona's Sonoran Desert flora and fauna, including the iconic saguaro cactus. Managed by the U.S. Department of the Interior's Bureau of Land Management (BLM), the National Monument has extensive forests of the classic cactus – but, it also has much more to offer visitors. It can be accessed from the west (Gila Bend is a great base and features a Town Museum), the east (west from Maricopa), and the south (off I-8 at Exit 144/Vekol Road), with a full tank of gas and lots of drinking water, highly both recommended.
The monument features three distinct wilderness areas and three mountain ranges rising from the desert floor (Maricopa, Sand Tank, and Table Top), along with the Booth and White Hills, which are separated by wide desert valleys. Hiking and horseback riding is popular throughout the monument (with four designated trails in three congressionally designated wilderness areas totaling 26 miles), as well as many miles of roads for mountain bike and motorized touring. Wildlife spotting possibilities include desert bighorn sheep, mountain lions, mule deer, javalina, owls, rattlesnakes, the Sonoran desert tortoise, lots of small birds, and more.
There are also significant historic and archaeological sites to explore, including the remnants of important trails (like the Juan Batista de Anza National Historic Trail, which parallels the Butterfield Overland Stage Route, the Mormon Battalion Trail, and the Gila Trail). No matter where visitors head, there are a lot of opportunities for a lot of solitude and silence.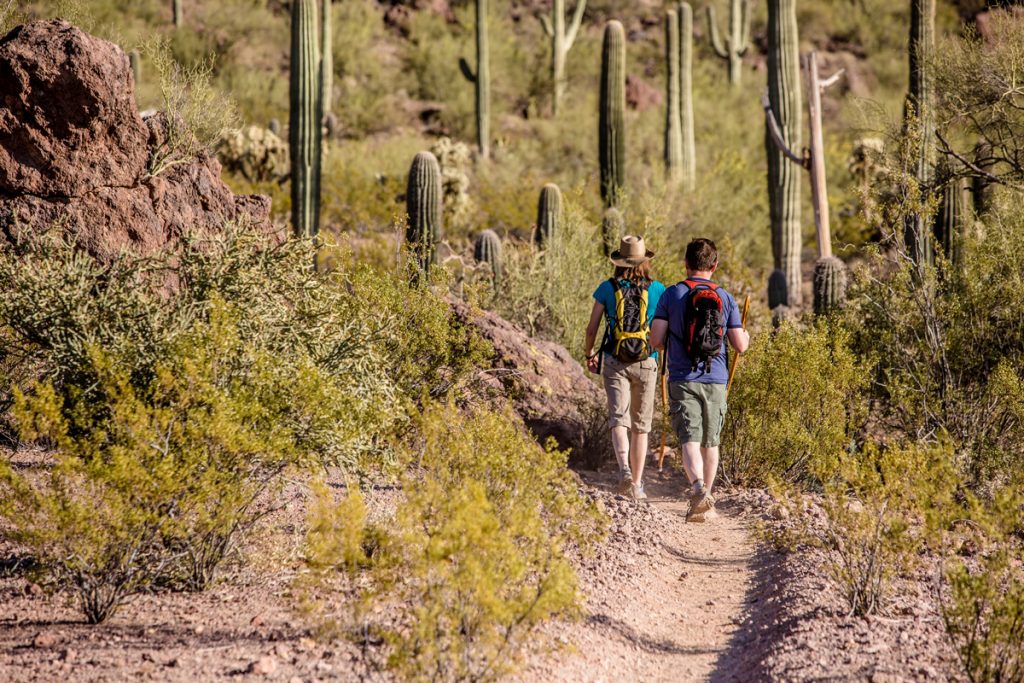 Tucson
Located just 90 miles or so from the heart of Sonoran Desert National Monument (and just 115 miles from Phoenix on I-10), the area that is called Tucson today is one of the oldest continually inhabited areas in North America. Like Phoenix, the Hohokam people lived here for centuries.
Spanish missionaries and soldiers arrived in the late-1600s, establishing Presidio San Agustin del Tucson and Mission San Xavier del Bac, which remain the area's most historic and iconic structures. The city was founded on August 20, 1775, which is celebrated annually as La Fiesta de San Agustin.
Today, metropolitan Tucson has more than a million residents. Highlights of a visit might include: aforementioned Presidio San Agustin del Tucson and Mission San Xavier del Bac; the Tucson Museum of Art and Historic Block; Old Town Artisans shopping and dining (including famed La Cucina and, nearby, beloved El Charro Café); the Arizona State Museum; the Arizona Historical Society; the Tucson Botanical Gardens; Pima Air & Space Museum; the Titan Missile Museum; the Casino Del Sol Resort; Biosphere 2 (a half-hour north); and much more. Those coming from or heading to Sonoran Desert National Monument will definitely want to check out Tucson's excellent Arizona-Sonora Desert Museum.
While all outdoors activities are popular in Tucson, two-wheel travel is especially alluring. Along with countless and varied trails, Tucson features The Loop, which is a network of more than 130 miles of paved car-free multi-use paths encircling the city (those without a bike can use popular Tugo Bike Share).
To plan your Arizona Adventure go to RVontheGo.com