Thousand Trails members, Jason and Rae, made their dreams of traveling full-time into a reality in July 2017! Read on for their story about how they knew they were TrailBlazers…
TB: How long have you been camping and RVing? Who introduced you to it? Tell us how it all began.
J&R: We started full time RVing in July 2017. We tent camped once a year together before that but neither one of us had ever RVed before. Technically, you could say YouTube introduced us to it! We were looking at different ways to travel full time and RVing was recommended as a topic to us… that's when our wheels really started turning! After about a year of research we knew this is what we were going to do and dove in. After we started RVing, we were so thankful for all of the resources online and knew we wanted to help others in the future as well, so we also started our YouTube channel and website, Getaway Couple.
TB: How did you first hear about Thousand Trails?
J&R: We first heard about Thousand Trails when we were researching the RV lifestyle. We found a few articles written by other full time RVers that raved about the membership. After discovering there were different zones, tiers, and over 100 parks we knew the membership was going to be a great fit with our travel style.
TB:What is one of your fondest camping memories? How about one of your fondest TT memories?

J&R: One of our fondest camping memories has to be when we were in Humboldt County, about one month into our full-time journey. That's when it really hit us that we actually made our RV dreams a reality. We were surrounded by the beauty of the redwoods, trying new activities, and really excited about what our future held. We have a ton of great Thousand Trails memories but we agree the best was at the Thousand Trails Orlando Resort. We originally only booked 5 days there but when we arrived we were so taken by the fun vibe of the resort that we knew we had to extend our stay. Luckily, there was availability and we stayed 21 days in the park! We played the giant lawn games, rode our bikes, went swimming, ate at the food trucks, had multiple campfires and even spent a few days at Disneyworld® and Universal Orlando. It sounds cliché but this resort made us feel like kids again!TB: Any funny camping/RVing stories?
J&R: Our second week on the road we forgot to put chalks down under our tires and when we unhitched the RV, it rolled back a couple feet. You should have seen us; our instinct was to grab onto the RV and hold it! I'm sure it was a sight to see two RV newbies grabbing onto their 42-foot fifth wheel as it rolls back a few feet. It was not funny at the time, but we can laugh now.
TB: What type of camper are you/what equipment do you use? What do you prefer and why?
J&R: We have a Grand Design Solitude and absolutely love it! Since we were going full time, we wanted to be comfortable and this rig definitely does that for us. It has three distinct living spaces (living room, kitchen, and bedroom) so it feels more like a home to us. We
also have great storage space on this floor plan which is perfect
for full timers!
TB: Where have you gone that you wouldn't have otherwise, if it hadn't been for your Thousand Trails membership?
J&R: Honestly, so many places! But the one area that sticks out is Corinth, NY. We also added The Trails Collection when it came out, so we ended up staying at Alpine Lake RV Resort in Corinth for one week. Our route changed mid-summer so we needed to find places to stay on our way to Indiana. We saw Alpine Lake and decided to stop there along the way and are so glad we did! The resort was gorgeous and has the best walking trails we've ever seen in an RV resort.
TB: What is your favorite part about the outdoor lifestyle?
J&R: We take so much joy in exploring a new area! It's so fun to see what's trendy with the locals and partake in the activities. Each town is unique and it's exciting to learn its history. Some towns are all about outdoor activities while others are more about food/drink, it's been great getting to learn a town and participate in whatever
is popular.

TB: Can you finish this sentence? I knew I was a TrailBlazer when…

J&R: We made the decision to stop playing keeping up with the Joneses and live our own version of the American dream.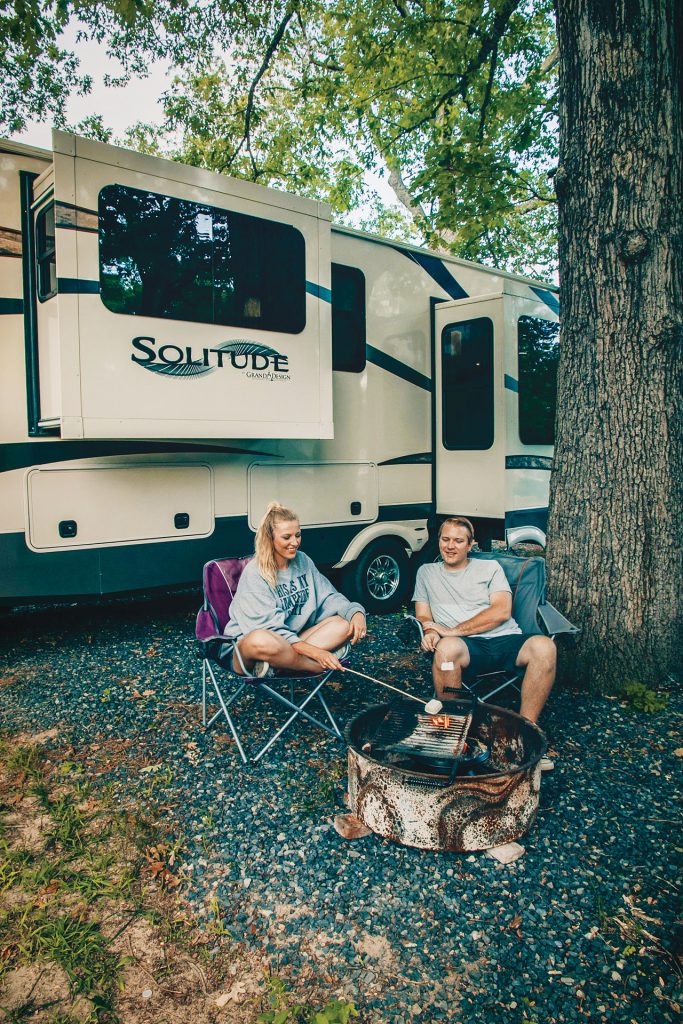 TB: If you could leave a piece of Thousand Trails history behind so that campers 50 years from now will remember what it was like to camp in 2019, what would you leave and why?
J&R: We believe this picture [See above] accurately depicts what it's like to camp in 2019! Our favorite spot is by the campfire, cooking up some marshmallows. This picture was taken in Thousand Trails Mays Landing Resort.