By Lynn Seldon
Whether you spend life on the road for pleasure or work, it's nice to have the comforts of home as you travel the highways and byways. TrailBlazer Magazine checks in with folks who spend a fair amount of time on the road to see just what makes their home away from home.
This month, we chatted with Mighway's Lead Content Producer, Tim Hamilton.
As a renowned videographer, New Zealand native Tim Hamilton has spent hundreds of nights on the road in a wide variety of RVs. He recently completed a three-month road trip around the Western United States in a Mighway (mighway.com) RV.
Originally launched in New Zealand, Mighway is an innovative new Airbnb-style peer-to-peer RV rental platform. It changes the RV rental game by offering the option to manage everything for owners and making the process pain- and worry-free for renters as well. "Mighway is raising the bar on peer-to-peer platforms, offering owners the freedom of being completely hands-off during the rental process," says Dave Simmons, CEO of Mighway—which is owned by TH2, a new joint venture between Tourism Holdings Limited (thl), the world's largest RV rental and sales operator with 30 years of experience in the industry, and Thor Industries, manufacturers of the renowned Airstream and Jayco RV brands.
I spent several days with Hamilton and his Mighway RV at Yosemite Lakes RV Resort and in Yosemite National Park at the beginning of his adventure and caught up with him again right before his odyssey ended.
Tell us about your work with Mighway back in New Zealand and during this Western United States trip.
I've worked all over the place in the film industry and through some of the tourism groups I'd worked with, I was put in touch with Mighway. I first started working with them making a video series called [ironically] "On the Road," highlighting my Mighway RV adventures and more. There were three series in New Zealand. The Western United States trip was 90 days and developed out of my success with the videos in New Zealand.
Tell us a bit about the RV you used for your Western United States trip. Did you give it have a name?
It's a 28-footer with a slideout and had everything I needed. It's completely outfitted. I didn't name it, though someone suggested Frankie as a play on words from the Frank Sinatra hit, "My Way." I actually named a rescue dog I picked up along the way temporarily and he's been a great companion on my adventures. I named him Frankie! He's been incredible.
What's your favorite thing about traveling in an RV versus staying in a hotel?
I love RVs, because—unlike hotels or tents—I can do all the things I'd do in a home. Like I just finished my motorbike build—built ground-up all from the RV. I also hate that hotels have room service [cleaning]. I want to live how I live and clean up at the end. But, also, I love the unknowns.
Can you briefly walk us through your amazing trip?
I had an itinerary, but I didn't understand how hot it could get—once I found the Mojave Desert [laughing]. In my three months on the road, I've zigzagged across the West and have colored in my map once I visited a state: California; Nevada; Arizona; Utah; Idaho; Oregon; Washington; Montana; and Wyoming.
I know you enjoyed several Thousand Trails and Encore properties. What was your favorite?
Oh, that's hard! There were some really great ones. Yosemite Lakes [just west of the Yosemite National Park entrance] was really cool. I really liked the swimming hole.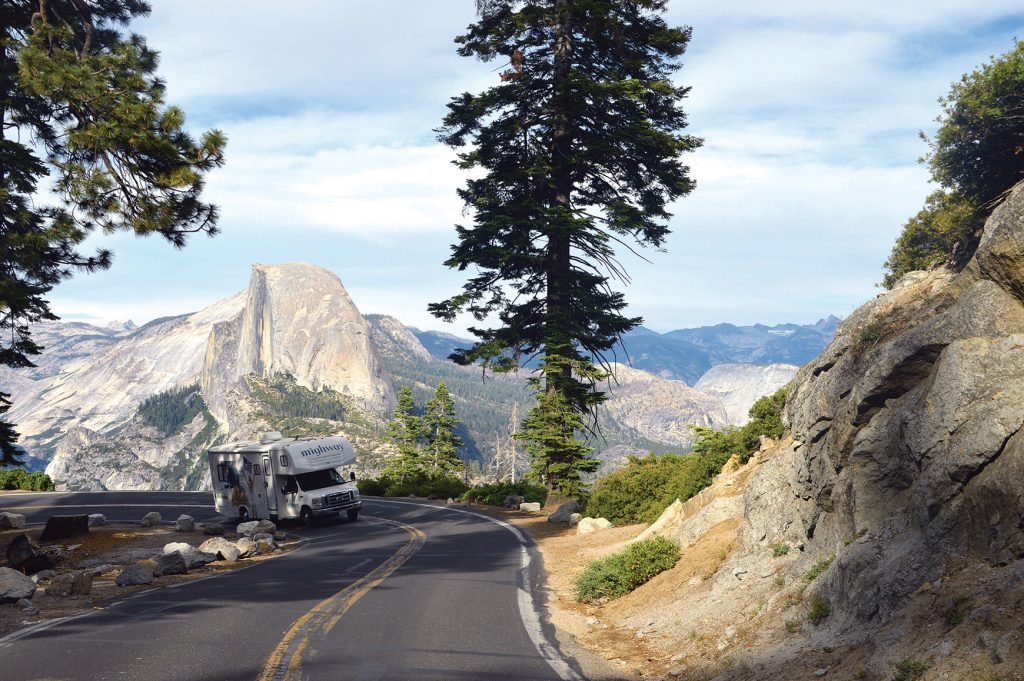 It's hard, I realize, but did you have a few favorite destinations from your trip?
So many! Lava Hot Springs in Idaho for sure. It's a small town with a river running right through the middle of it. The thing to do is jump on an inflatable tube and float through the town. Go find a local to learn about their "secret" spots (like Chicken Soup, if you're lucky). I also ended up going into the nearby hills around town with Clint Eastwood's grandson.
Bonneville Salt Flats for sure. New Zealanders have a special relationship with this spot, because a native Kiwi, Burt Munro, set many speed records there. [Munro was immortalized in the feature film, "The World's Fastest Indian," starring Sir Anthony Hopkins.] I met some New Zealanders when I was there and it was a very beautiful and surreal moment. Just before coming to the United States, I had been lucky enough to visit part of his old workshop.
And, of course, Yosemite Lakes RV Resort where we met and experienced so much in Yosemite National Park.
What are a few favorite things onboard?
My dog, Frankie—I love him. I picked him up in Palm Springs. My longboard, which is a skateboard that I've used for filming some amazing video using my steady cam and being pulled by my Frankie. My RV also had a large under storage area and I ended up buying a small motorbike that fits perfectly in it! The power inverter. The emergency start function. There's one other thing I can't do without [when there's internet]…podcasts. Oh, and my coffee maker!
What were some favorite meals onboard on the road?
Well, you know I love salmon because I cooked it for you when we were at Yosemite Lakes RV Resort together. Every RV park is a small community that pops up, with similar ideals. Someone sells you salmon at your doorstep, tells you about the land, one neighbor taught me to fillet (the campground let me borrow a good knife), and then our other neighbors started a fire, shared some wine, and showed us how to cook [the salmon] in mayonnaise and lemon. That's what I love about RVs.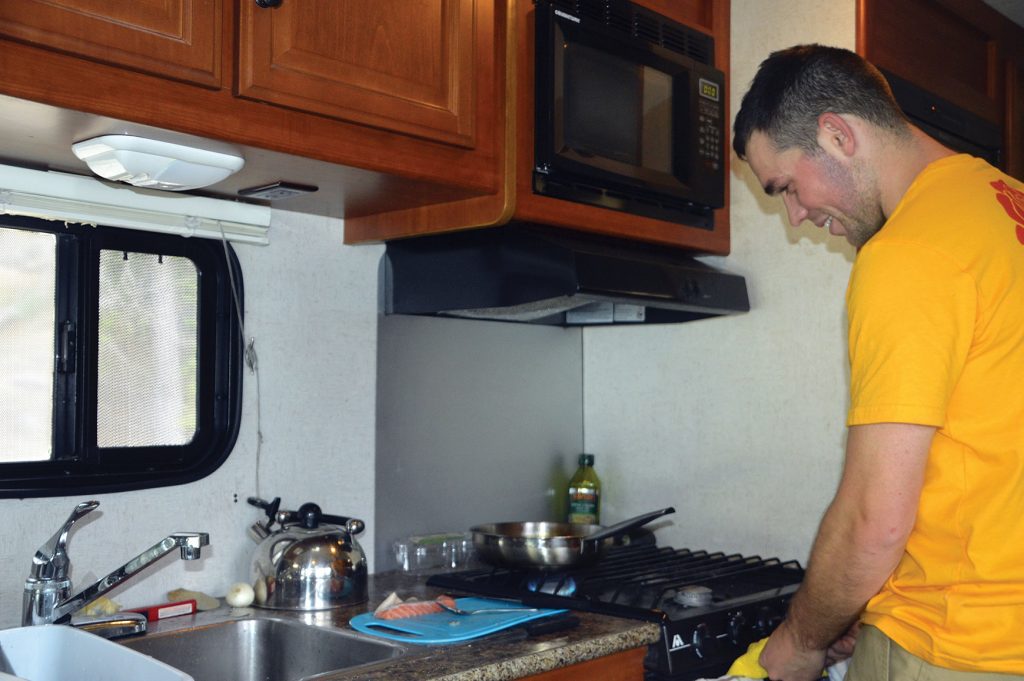 We heard you were a body double for Sam Claflin, one of the stars in the feature film, Adrift. Can you tell us a bit about that experience?
I was hired as a picture double. We spent six or seven weeks or so on the main island in Fiji. More recently, back in Wellington, New Zealand, I was in Leonardo DiCaprio's television series, "The Men Who Built America: Frontiersmen." A lot of U.S. films are actually made in New Zealand.
Where can people watch the videos of your trip, as well as those you produced in New Zealand?
The best bet is to visit the Mighway Facebook page (@mighway).
*featured image courtesy of Tim Hamilton; all other images courtesy of Seldon Ink