Whether you spend life on the road for pleasure or work, it's nice to have the comforts of home as you travel the highways and byways. TRAILBLAZER checks in with folks who spend a fair amount of time on the road to see just what makes their home away from home.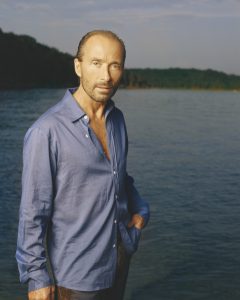 This month, we chatted with country music superstar, Lee Greenwood.
Lee Greenwood is an American country artist who has successfully bridged the gap between traditional and contemporary country music. He is best known for his patriotic anthem, "God Bless the USA." The iconic song, which celebrated its 30th anniversary in 2013, went far beyond what Greenwood expected when he wrote it in the back of his tour bus back in 1983.
The song has been in the top five on the country singles charts three times (1991, 2001, and 2003), giving it the distinction of being the only song in any genre of music to achieve this feat. It was also #1 on the pop charts after 9/11. Of the song, Greenwood says, "USA is the song I always felt I needed to write. I just wanted to have something that would unite Americans from coast to coast, and I wanted to instill pride back in the country."
The song is part of the film for Homeland Security shown when swearing in new citizens to the United States. "The song represents my family, my community, and those men and women who have paid the price for the freedoms we all love and enjoy."
Greenwood has 32 charted singles, two platinum albums, and four gold albums. He won a Grammy for Best Male Country Performance in 1984 and 2 CMA Male Vocalist of the Year awards in 1983 and 1984.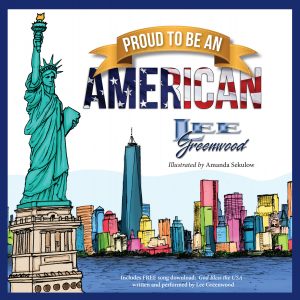 Greenwood has also achieved success as an author. The politically-charged book, Does God Still Bless the USA: A Plea for a Better America, was published in 2012. His latest, a children's illustrated book, was released Memorial Day Weekend, 2015, and is called Proud to Be An American. Written to the lyrics of "God Bless the USA," it encourages patriotism among the nation's younger generations. It debuted at #1 on three Amazon children's book charts the week of its release.
While Greenwood could easily talk about the accomplishments in his life, the high-energy entertainer prefers to continue writing and recording with the same passion and integrity that have fueled his career. Greenwood continues to tour across the country, averaging more than 80 dates per year, and performs at many charitable events, lending his time and name to many organizations—including Helping A Hero, which provides specially-adapted homes for wounded warriors and their families.
The son of a World War II veteran, Greenwood has participated in more than 30 USO tours. Lee and his wife Kimberly (a former Miss Tennessee) fell in love on his 1989 USO/DOD tour. They were married in Nashville in 1992 and have two sons, Dalton and Parker.
Of touring and his love of tour buses, Greenwood says, "We lease now, but I owned two MCIs that were built by Custom Coach in Ohio and we put a million miles on [each of] 'em. That's where I wrote 'God Bless the USA' I actually have a picture of me, my father, and my older sister in front of my original bus."
What's your favorite thing about traveling in your tour bus versus staying in a hotel?
I prefer to be on a bus. The purr of the motor is reminiscent of everything I've done in the last 30 years. You can get a good eight to 10 hours sleep. I've got my wardrobe in the bus. All my gear is there. I have a piano and a studio in the back for recording. None of that's available in a hotel. We can also usually go straight from the bus to the stage door
What are a few favorite things onboard?
Food [see below]. Most of the clothes that I wear on stage are on the bus. We also have merchandise, in that I get lots of requests to sign items.
Do you listen to music on the road and what else do you like to do onboard?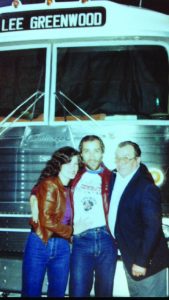 When we first started traveling, it was an exciting time because I'd never done it before. We'd look at the window and wave at everyone because they saw my name at the front of the bus. We eventually changed it to read, "Nobody You Know" or something funny like that. We used to stop at truck stops and just talk to people as a break. We also played card games. I'd also ride with the band to write songs and practice for the next gig. Now, we get our computers out. You can now conduct all kinds of business from the bus as you're moving along.
What are a few favorite destinations and why?
Going to small towns. You can pull up in front of a park or next to the venue. It's a magic moment when relatives and friends come to the bus—particularly with kids. They're fascinated by the inside bus and we love giving tours.
I love smaller towns. I've been in every doghouse, outhouse, and roadhouse in America. When we're getting into a small town for a fair, people wave as we pass and sometimes we'll stop and I'll get out and shake their hands and grab a funnel cake from somebody.
What are some favorite meals onboard (or restaurants) on the road?
We have our Keurig for coffee. I have to have my coffee and donut in the morning. All the guys know if they bring me a bag of donuts, they're in my good graces. There's generally a variety of things and they're more healthy than they used to be. Cereal and popcorn are really popular on our bus. In the evening after a show, going down the road, there will be a bottle of wine to share.
As for restaurants, Waffle House. I gotta' have my Waffle House whenever possible. Chili's. We like steakhouses. Sometimes Hooters, because they make great wings. We love Chinese food. We can go down the road eating egg rolls, chow mein, or fried rice.
We hear you wrote "God Bless The USA" in the back of your tour bus back in 1983. Can you give us some more background?
In 1981, '82, and '83, I was on the road 300 days a year. We had to do two albums a year, which was our contract. The only place I could write was on my bus. Time was very limited. "God Bless The USA" was one of those songs I wrote in the back of bus. It wasn't even chosen as a single originally, but Universal decided to release it as a single and it really got legs on the radio.
Along with writing hit songs, we hear you've also written books, right?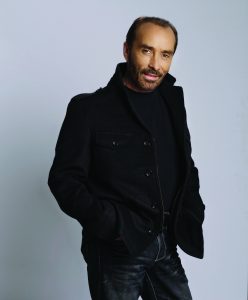 Yes. God Bless the USA: Biography of a Song in the early days. Then, Does God Still Bless the USA. There's also a seven-song CD. That book was difficult to write, in that it explored whether we were still the country we were back when my father was in the Navy and when this country first began. The latest book is a children's illustrated book, Proud to Be an American. I believe that children don't necessarily have a good lesson in patriotism. When I grew up near Sacramento, California on a farm where we had a barn with "USA" painted on its side. I'm deep into patriotism, I love the country, and I've always worked for soldiers in many ways.
Can you tell us about more about your long-time work with the military?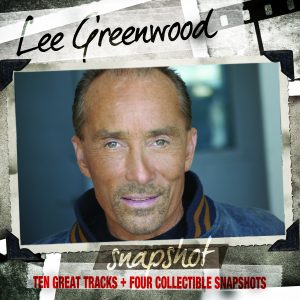 Since I moved to Tennessee, I offered my entertainment for USO tours. I'd done USO tours when I was a teenager in high school. There have been [more than] 30 tours since then. I actually toured with Bob Hope on his last tour in 1988 around the world, with eight stops and eight shows. It was amazing. You don't know how big the earth is until you go around it. Seeing so many military and seeing where our troops are around the world was incredible. I've always had an affinity for those who serve. "God Bless the USA" had that line in it: "I won't forget the men who died." I put that in there because I have such great empathy for those who have sacrificed so much and those who died. I wear an MIA bracelet from a downed Marine pilot from Vietnam in 1967 and I have for 30-some years. I walk the talk.