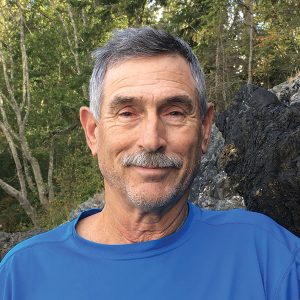 Q- Our 2011 Fleetwood motorhome spends most of his time in Palm Springs. The roadside faces the sun most of every the day, resulting in the vinyl striping deteriorating. The majority of the stripes on the roadside have cracked badly making the motorhome look like it's 20 years old. The curbside has begun to crack but not nearly as bad although the color has faded making it look outdated. I tried removing some of the graphics with a razor blade only to find out it would probably take me 100 years to get them off. Any suggestions on how to remove a full set of vinyl graphics or rather a suggestion on who can complete this tedious job for me?
Cheers, Carl and Judy Perkins
A- Yes indeed, It probably would take you a year and a half to remove all of the stripes and graphics from your motorhome. Once the sun has dried the vinyl to the point where it is cracked and dry like the Sonoran Desert floor, they're almost impossible to remove by hand. And to top off the fun, you'll need to remove the glue after you remove the vinyl. My suggestion for your time and mental health would be to have a shop that specializes in removal and replacements of RV graphics take care of this very tedious task. At this time, the colors and shapes can be upgraded to a more modern look if you so desire. The vinyl and graphics expert, RV Stripes, Graphics and More in San Bernardino are within an hour of you. Their phone number is 909-880-3057- ask for Daniel and tell him RV Bill sent you! We personally had our 5th wheel fully restriped in late March of this year and the results far exceeded our expectations! I'm certain this team can easily facilitate your needs. Their state of the art computer system can replicate the new graphics and colors for you to see before proceeding. The process takes about 5-6 business days and you can stay on the lot if necessary or, take advantage of your Thousand Trails membership and book a Get-A-Way Cabin.
Q- Bill, I have a question about my 2002 Toyota Tundra's towing capability. The truck is fully loaded with a tow package/all the bells and whistles. The owner's manual claims that I can tow 10,000 pounds but it seems a bit excessive to me. One of the weight issues I have is the fact that I have a hard camper shell covering large, slide out drawers and a lot of weight in the back of the truck. My guess would be about around 1000 pounds total. I don't want to overload the engine when I'm trying to pull steep grades. What type of a hitch would I need to support the added tongue weight of the trailer seeing as how I have a load per say in the back of the truck? Do you know approximately how much weight I could safely tow?
Be Well, Ken
A- Over the years I have been asked this question many times regarding how to determine how much a vehicle is able to tow. It will be important to weigh your truck when it's loaded with fuel and whatever else you're going to be taking with you when towing. Folks, this info is true for a small SUV or heavy duty truck as well. Look in your owner's manual and find the GCWR (gross combined weight rating) this would be the total weight of the truck and trailer. When looking for a trailer to match with your tow vehicle, you'll want to find the sticker that gives you the GVWR (gross vehicle weight rating) as this will be the maximum weight of the trailer fully loaded. Subtract this from the GCWR and you will have the approximate weight of the trailer that you can tow. Ken, I would subtract about 1000 pounds from that capacity to give you just a little bit of leeway considering your special circumstance. I highly recommend the Equal-i-zer Sway Control Hitch- This weight-distributing hitch will help to control sway and balance tongue weight between the trailers tires and the tow vehicles tires. The Equal-i-zer Sway Control Hitch requires a little bit more set up than a standard hitch but it's well worth the effort. We hope to see you on the road one day soon…with The TanTan, The Dean and the Noodle Rod in hand!
Q- Bill, I've written to you many times over the years about our 2011 Carriage Fifth Wheel. I know that you have the same year trailer as we do. I was wondering if your seals on the edge of your slide outs have deteriorated and do you know where I can locate that exact seal? I have been unsuccessful at finding this at any auto parts or hardware store. Is this a project you think I can accomplish on my own over a few days?
Happy Travels, Don
A- Don, I recently just replaced the "D" seals on the edge of our slide outs. The project will be a bit time consuming but rewarding. The new seals can be ordered from www.cleanseal.com and look in the section "D" for the exact replacement that matches your seals. Our seals were about 6 years old and the update was an impressive upgrade both esthetically and improved function. I believe that your seals are white in color, the same as mine were, but I switched to black as they will last longer in the sunlight. As always, preparation is the key to success. Prior to removing the self-adhesive seals from the slide out purchase a plastic scraper from Amazon to help you make the job a lot simpler. Don't use a razor blade, as the sharp edge will damage your RV. Pull the seals backwards while scraping with the plastic blade to release the glue strip at the same time. It's not going to be easy but it can be done. Take your time as to not tear the old seal during removal or break your back while being crouched in an awkward position for hours on end. Before attaching the new seals, be sure to clean the surface thoroughly with alcohol. Install the new seals at an ambient temperature of 70° – 80°F if possible. If the metal is too cold, adhesion could be a problem. This is absolutely a simple and cost effective DIY project that can be pecked away at over the course of a week.
Q- I have a question about our bed that is in our slide out. It seems that installing gas struts would be nearly impossible as there is no way to attach them to the floor. I can't tell you how nice it would be if the bed platform would stay up without having to use a 2 x 4 to keep it from falling on my head.
Thanks, Jaye
A- Jaye, you are in luck! There is a company that makes gas strut install kits that will fit most bed platforms without mounting them to the floor. Go to hatchlift.com and look at their RV bed lift kits. They offer a wide variety of brackets and gas struts ranging from 10 to 120 pounds of lift. They are very helpful if you have any questions give them a call.