Whether you spend life on the road for pleasure or work, it's nice to have the comforts of home as you travel the highways and byways. TRAILBLAZER checks in with folks who spend a fair amount of time on the road to see just what makes their home away from home.
This month, we chatted with country artist and avid RVer, Debbie Cochran.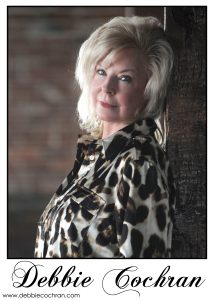 For some singers, life on the road can be a grind, driving from city to city and not spending quality time in the town they perform in. But, for traditional country artist Debbie Cochran, it's often the road that inspires the music she sings.
Debbie and her husband Elmer are avid members of the RV community and spend a good portion of the year traveling on the road in their 42-foot RV. "This is a great way to see the world," smiles Debbie. "Being members of the Winnebago Itasca Travelers (WIT) RV club, it's one big party goin' down the road."
With her latest single "Faith Can" hitting the airways last fall, Debbie manages to maintain the best of both worlds—getting to travel around the country for pleasure, but also still managing to perform and promote her album, "Before We Met The World," wherever she visits.
"Wherever I go, my music goes. I take my guitar, my keyboard…everything." Life on the road has inspired Debbie so much that she has written a song called "Winnebago Ride," which secured her a performance at the WIT Grand National Rally by Winnebago Industries. "I performed two shows there in front of several thousands of folks."
Debbie traverses a path to fulfill her lifelong dream of being a recording artist and is proving that it's never too late to pursue your childhood aspirations. "Faith Can" is the title track of her current album, produced by well-known Kent Wells (Dolly Parton's producer and bandleader). The song tells the story of Kate Foster and her courage and willpower to conquer leukemia. Due to this terrible disease, doctors had to amputate Kate's leg; however, she did not let that stop her from chasing her dream of becoming a competitive gymnast like her parents. Radio and industry critics have given this "Helen Mirren meets Debbie Boone" performer rave reviews, including earning the DisCovery Award from renowned music critic, Robert K. Oermann, and gaining praise for her inspirational and heartfelt sound and lyrics. Debbie has developed a firm foundation for her traditional "halo-country."
"Life on the road is our favorite place to be," says Debbie. "Wherever we park, we call it home. We were leaving the Smoky Mountains one day, when a song came to me titled, "Happy Soul."  That describes us the best.
Tell us about your RV, Debbie. What's your favorite thing about travelling in your RV versus staying in a hotel?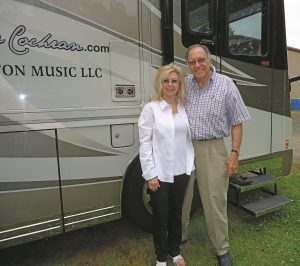 We have a Winnebago Ellipse. We call it by its model number, "The 42." We love the idea [of] "Made in USA." We have toured the amazing Winnebago factory in Forest City, Iowa.
First, we love the idea of home, anywhere we desire to travel and park for the night. It's a peaceful experience. We meet the nicest people with a common interest to explore the world on wheels. We love having our own bed on board. Elmer tries to limit my carry-on clothes. I slip in a few extras, with rhinestones, when he's not looking
What are a few favorite things onboard?
My guitar named "Martin" is top priority. Elmer says his favorite thing to have on board is me. When he calls for reservations, they will ask if he has a pet. He says yes. Her name is Debbie. He loves the open road. When we leave our home, he peels out of the driveway in high gear. We finally slow down when he knows we've gone too far to turn back.
What about favorite destinations?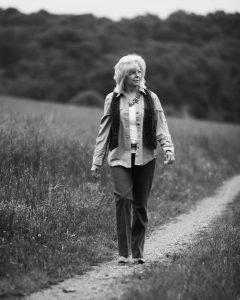 We have visited so many beautiful places in the USA and Canada. We drove the Alaska Highway through Canada to Anchorage, Alaska, and back. Modern-day pioneers. The mountains were breathtaking. Mount McKinley stood tall out of the clouds the day we were in Denali. We witnessed the northern lights and even experienced an earthquake in Tok, Alaska. We saw wild life, which included the most beautiful herd of wild horses that ran out of the woods and came close to us on the road and turned back into the woods.  It was mesmerizing. The only bear we saw was in a museum in the Yukon. We have seen many beautiful colorful flowing streams in our travels through Canada and the US. The Colorado River is beautiful traveling through the Grand Canyon. We saw brilliant green colored rivers rippling downstream as we traveled through Canada. However, we live on the White River in Arkansas, so that would be my favorite.
Where do you like to eat on the road?
We love to dine with Cracker Barrel. They have parking provided for RVs. If Elmer has green beans, he's a happy camper.
Do you have any funny RVing stories to share with us?
We were leaving Kent Wells Production Studio in Franklin, Tennessee, and forgot to put in the bedroom slide. We wondered why everyone was honking. I thought they were paparazzi! Also, my first time I drove was in a 40-foot Winnebago. I was doing great, keeping it between the lines. Then Elmer said, "Turn in there." It was a service station. So I whipped it in quickly and the SUV went up and down the embankment and there was an attendant standing between two gas pumps and his eyes opened as big as saucers. Just like in the movies. Elmer was speechless. I made it to the pump without a mishap. The truck was still in one piece and attached.