Whether you spend life on the road for pleasure or work, it's nice to have the comforts of home as you travel the highways and byways. TRAILBLAZER checks in with folks who spend a fair amount of time on the road to see just what makes their home away from home.
This month, we chatted with Snowbirds author, Jo Ann Bender.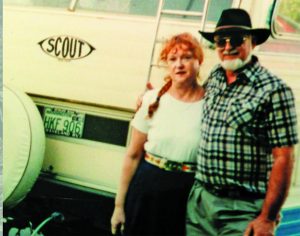 Like many retired couples, Jo Ann Bender and her husband, Frederick "Bud" Budinger (aka Skipper), thought it would be a grand adventure and a dream come true to go on an epic RV trip. So, they upgraded the interior of their $7,000 Ford motorhome and spent $3,000 in repairs hoping that would be sufficient to fix the engine—and they hit the road.
The resulting memoir, Snowbirds, shares what happened to them on their 2,000-mile trip from Spokane, Washington, to Texas. The trip featured breakdowns on the side of the road and hours searching for, finding, and then getting help from mechanics everywhere on the route. They learned new skills as navigators and mechanics as they plowed joyfully ahead in their cantankerous RV looking for free parking and heading to hot springs, Native American ruins, western forts, the Marfa Lights, a mariachi mass, and more.
Snowbirds was published by Downstream Publishing and is also packed with insights and "discoveries" about life on the road. Bender has written several other books, including Lebensborn (republished as Lebensborn Secrets), Rusty Springs, a western, and several cookbooks from their Lazy Bee B&B.
When they're not traveling, Jo Ann and Skipper live in the mountains of Washington State just a few miles from the Canadian border.
Was Snowbirds written during the trip or once back home?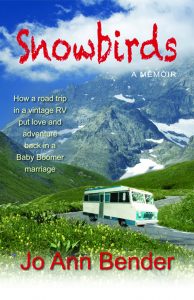 As a former journalist, I'm addicted to writing and to keeping a travel diary. Snowbirds was written as we made our way down the coast and through the Southwest. Once back home, I wrote the introduction. I hoped my words could capture the essence of the continuing wonderment of RV travel, even though this little vehicle was often breaking down as it moved down the road. As a memoir, perhaps it puts a sense of adventure in a little love story that's set in an RV.
Why is traveling better in an RV than staying in a hotel?
Hotels, motels, B&Bs, Airbnb. Each has their role to play for a traveler. RVs have the most flexibility. They move. The others provide lodging within static buildings. More beloved objects can be taken along. In the bigger RVs, children, pets, and sports equipment can come, too. The places to see or to park are endless.
It's economical. Makes you an easier guest to receive once the host realizes that you'd rather sleep in your vehicle rather than in their guest room and they won't have to change the sheets or vacuum up after you.
What are some of your favorite things to take on the road?
Food: Frozen flat packets of turkey, ham, and chili that lay flat in the tiny freezer compartment. These, along with boxed and canned food, can make up two hearty meals a day when fresh produce, dairy, and baked [goods] are added.
Clothes: Three pair of shoes, hiking, tennis, dress. Three sets of travel and one dressier set.
Laundry: Stash of quarters, plus laundry detergent and softener, make laundry quick and easy along the way every three to five days.
Odor: Potted silk plant and scented candles and daily sweeping and washing up do the job of keeping an RV from having the "human odor."
Mail:  Pre-printed labels for postcards, birthday cards, postage stamps, passports, laptops, small printer.
Books: Favorite cookbook (2nd edition of my Favorites from the Lazy Bee), paperback fiction, and non-fiction.
Gifts:  Items that represent your hometown.  Apples and onions from WA. State. Maybe copies of Snowbirds or Bud's new historical fiction, Courage Beyond Expectations (about the Indian War in the Pacific Northwest).
What are some favorite destinations and why?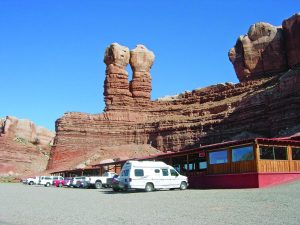 The City of Rocks, a camp ground in southern New Mexico, is a wonder among wonders, and so is the national park, Fort Bowie, in southern Arizona. Before entering the City of Rocks, a sign says: "You Have 30 Minutes to Choose Your Camp Site." Oh, you say, who needs that much time?  You do and then some. The sites are situated within the CONE of a volcano. Each site, so unique, it's a paradise all of its own. So, you move slowly viewing the camp sites, writing down site numbers, so many awesome sites that your head whirls. But, you have to decide. You can't park in them all!
Fort Bowie in one of the least visited among national parks. Once there, you can feel the West as it was in the late l800s.  From the vantage point of the few buildings remaining, the beauty of the rolling hills and the past come alive.
Where is the vintage RV that you featured in Snowbirds?
Several years ago, I was ahead of my time. Vintage is in now. It wasn't when I fell in love with the interior of a l973 Ford Scout. She had new countertops, refrigerator, and stove. Her motor needed work. All her "road" problems are described in Snowbirds. She did successfully make the 2,000-mile trek. Now, these vintage models are in high demand as backyard recreation dwellings.
Skipper wallpapered her plywood walls, re-caulked windows and [the] large windshield, installed new tracking for the new fabric drapes, [and] wired light bulbs under cabinets to keep them from freezing. She finally had to be traded on her second trip out the following year when rain poured though the walls in Oregon enroute to California. I remember telling Skipper, "When the sun comes out, don't you think it's time to upgrade?"  He did. The dealer gave us kudos for her spectacular interior and we moved into a small Winnebago. That RV was soon totaled when a drunk driver hit it and it rolled down a main highway in a Canadian town to careen into a building.
From there, Skipper had his chance to get a diesel pusher, a Southwind, 33—too big for me to feel comfortable behind the wheel. The Southwind was perfect for the four- to five-month trips during the next few years when we'd go to our mine site in Arizona. Skipper was looking for lost Spanish gold in the shadow of the Superstition Mountains. At Burnt Corral, one of our favorite camp sites, along the Apache Trail, we'd take out the folding two-person Klepper kayak, paddle two miles up Apache Lake and walk two miles into the canyon in the lonely desert. While he dug, I wrote Cries in the Desert, a treasure-hunting story.
What about the new RV—the 2004 Pleasure Way van?
Once our mining days were over and we no longer needed a live-in RV, we wanted something smaller. We live in the woods near the Canadian border and are almost one hour from Colville and almost three hours to Spokane. It suits us better for short camping or for parking in a town. Folks often ask to see the interior.
It's easy to clean and supply, a definite clutter-buster. Great for the recent two-month trip from [our] Lazy Bee B&B near the Canadian border to New Mexico and Utah to hike and explore Pueblo ruins. We found that President Clinton was right when he said, "The whole state of Utah should be declared a national park."