MILD TO WILD RIVER ADVENTURES
by Lynn & Cele Seldon
From mild to wet and wild, whitewater rafting in the Mid-Atlantic region is better than ever, thanks to a number of top-notch outfitters who offer lots of rafting trips on varied rivers—as well as many other adventures. In the last decade or so, rafting outfitters in the region and across the nation have added a wide variety of rafting adventures and a laundry list of other mild to wild pursuits.
Here's an overview of six top-notch Mid-Atlantic outfitters, lots of rivers, and much more:
Wilderness Voyageurs (Ohiopyle, Pennsylvania)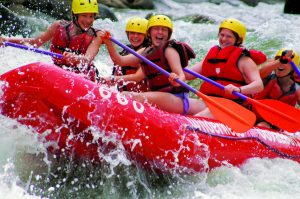 Established more than 50 years ago as the first whitewater outfitter on Pennsylvania's Youghiogheny River and on the east coast, Wilderness Voyageurs has grown into a popular company that still offers lots of mild to wild trips on the "Yough"—and much more. But, it all begins with the Yough, with Wilderness Voyageurs located at the heart of the river just an hour south of Pittsburgh and three hours west of Washington, DC.
There are basically three different whitewater rafting options on the Yough, with three degrees of intensity that are ideal for different experience levels and ages. These are the Lower Yough, the Middle Yough, and the Upper Yough.
Available to run every day from April 1 to October 31 (thanks to continuous releases from Yough Lake), the guided Lower Yough trip continues to be the most popular trip at Wilderness Voyageurs for good reason. This section typically has fun waves and fast paddling action, but is also punctuated by meandering sections. It's generally ideal for both first-timers and rafting enthusiasts and has a minimum age of 12. The trips can be booked with guides in each raft or guide-escorted (the guides travel with the groups, but in their own kayak or raft).
The mild Middle Yough trip features a relaxing float trip without guides, where Wilderness Voyageurs offers instruction, shuttles, and a large assortment of rental boats. In contrast, the Upper Yough trip is most definitely wild. It's high intensity whitewater and generally requires previous technical whitewater experience, has a minimum age requirement of 16, and meets in Friendsville, Maryland, for the put-in.
West Virginia's Cheat River is another great option. It spans 11 miles through Cheat Canyon and offers lots of appropriately named Class III to V rapids, including Maze, Fish, and Even Nastier. As the largest undammed watershed east of the Mississippi, rafting is typically only offered in the spring.
Like many Mid-Atlantic outfitters, Wilderness Voyageurs also offers a wide range of other adventures and activities. The possibilities include: kayaking (including instruction); stand-up paddleboarding (SUP); fly fishing; rock climbing (instruction and guided climbs); and varied bike tours (rails-to-trails, road biking, mountain biking, and inn-to-inn tours in 13 states). Varied accommodations are also available, ranging from cabins to camping.
River Riders (Harpers Ferry, West Virginia)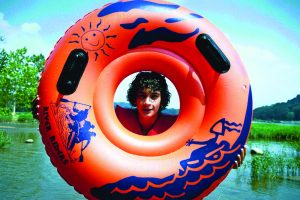 Just an hour from both Baltimore and Washington, DC, and with varied rafting options on the nearby Potomac and Shenandoah rivers, River Riders offers guided raft trips for beginners and veteran paddlers where the whitewater depends on the river, the season, and water levels. For experienced paddlers, they also offer the opportunity to put together your own (un-guided) trip on the Potomac.
The raft trips are typically four- to seven-mile excursions and feature Class I-III rapids through breathtaking scenery. Other water activities offered by River Rivers include kayaking, canoeing, tubing, and SUP. Early-spring and late-fall generally provide wilder rides on the rivers, while summer trips are typically more mild and suit an array of experience, ability, and ages.
Both the Potomac and Shenandoah run through stunning countryside and nearby and distant mountains. Most paddlers return from trips with River Riders amazed that these rivers and wilderness can be found so close to the big cities in the area.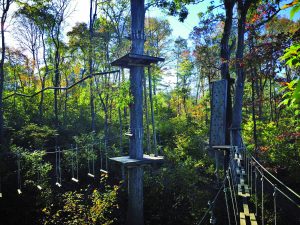 Land-based possibilities with River Riders include: ziplining (including the area's only Superman Mega-Zipline); an aerial adventure park; a rock climbing wall; geocaching; orienteering; biking; dining and post-rafting beverages at the Front Porch Café; and more (including dog kennels for your pet to enjoy while you play). Located near historic downtown Harpers Ferry, they also offer waterfront cabins and tent and RV camping, plus their own adjacent hotel and nearby historic vacation rental homes.
Riverside Outfitters (Richmond, Virginia)
Featuring the only Class II to Class IV whitewater rapids running right through a major U.S. city, Richmond's Riverside Outfitters offers a variety of mild to wild river trips on the James River and much more. Their convenient shop right downtown is more like a turn-of-the-century farmhouse, where cold beverages, porch sitting, and souvenir T-shirts await river runners post-paddle.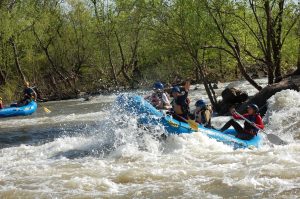 The 'signature' trip at Riverside Outfitters is called "Falls of the James" for good reason. Depending on water levels, the three- to five-hour trip features aforementioned Class II to Class IV rapids, a gourmet lunch on one of many quiet river islands, lots of wildlife, and a mixture of secluded forest and downtown skyline views. Part of the James River Park System, this trip typically stars at the Pony Pasture put-in and ends at the 14th Street whitewater takeout at the bottom of historic Shockoe Slip (a great place to eat!). There are age, weight, and swimming requirements for this outing.
There's also a shorter two- to three-hour "Lower River" rafting trip that still hits the major rapids after a put-in further downstream at the Reedy Creek section of the park. Finally, with a lower age and weight requirement, the "Upper River" trip explore the section between Pony Pasture and Reed Creek, with a few mild rapids and lots of time for swimming breaks. It's a great choice for kids, parents, and grandparents.
Riverside Outfitters also features guided kayaking and canoeing trips, downriver stand-up paddleboarding (SUP), SUP Yoga and Eco Tours (at their popular Riverside Outpost on Brown's Island), varied equipment rentals, and rock climbing options. Of course, Virginia's capital city also has much more to offer, including history, museums, and a dining, wine, and beer scene that has captured a hungry and thirsty nation's attention (particularly after rafting the James).
Adventures on the Gorge (Lansing, West Virginia)
Over in West Virginia, the possibilities at Adventures on the Gorge are even more numerous and diverse on and off the river. Their legendary river trips include the historic New River and the famed Gauley River.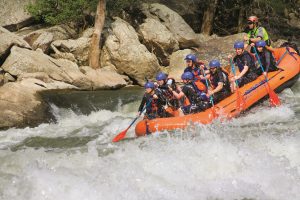 The Upper New is great for families and first-timers, while the Lower New features big whitewater. Nearby, the Gauley River is dam-controlled and the fall releases create world-renowned whitewater—while spring and summer can also mean great Gauley River runs, depending on water levels. Lots of different river trip options, including overnight camping and much more can make trips on both of these fabled rivers even more memorable.
"We started out as a whitewater paddling company on West Virginia's wonderful rivers," says company co-founder Dave Arnold. "We still offer a wide variety of whitewater adventures, but now there's so much more to pursue as well while here." With a popular pool complex, multiple dining options, and much more, now-sprawling Adventures on the Gorge is situated right on the deep New River Gorge and overlooks the dramatic New River Gorge Bridge.
U.S. National Whitewater Center (Charlotte, North Carolina)

 Situated on and around the Catawba River less than 15 miles from downtown Charlotte and open since 2006, the U.S. National Whitewater Center (USNWC) promotes access to the whitewater padding and many other outdoor adventures for all levels of participants through its all-day pass programs, instruction, leadership school, as well as festivals, races and other outdoor events. The USNWC's sprawling 1,100-acre facility offers a wide variety of outdoor activities for all ages and skill levels. With more than 30 different water- and land-based activities, mild to wild adventure-seekers can enjoy whitewater rafting and kayaking, flatwater kayaking, stand-up paddle boarding, rock climbing, zip lines, ropes courses, a canopy tour, and mountain biking on a 35-plus mile trail system.

For those looking to kick back, live music and outdoor festivals create a unique atmosphere of relaxation and fun. The River Jam concert series takes place every Thursday and Saturday evening throughout the summer months, in addition to nine other unique festivals held throughout the year. The River's Edge Bar & Grill, Pump House Biergarten, and other dining options feature various menu items and more than 100 taps offering numerous craft beer options.
The USNWC also utilizes various adventure sports and natural environments onsite and throughout the region to develop leadership and communication skills. Skill development programs include specialized instruction and certification, summer camps for children and teenagers, and customizable team development courses for groups and schools, testing the mental and physical limits of participants in the wilderness. Learning opportunities are available to individuals, families, and groups of all ages and skill levels.
Wildwater (Bryson City, North Carolina; Asheville, North Carolina; Long Creek, South Carolina; Ducktown, Tennessee; and Hartford, Tennessee)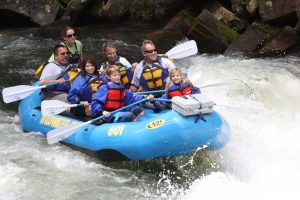 This long-time whitewater rafting and adventure operator was founded way back in 1971, the year "Deliverance" (based on James Dickey's novel of the same name) was being filmed on the Chattooga River between Georgia and South Carolina. The company still offers various rafting trips on the famed Chattooga (a National Wild & Scenic River), but they now feature so much more on and off several Mid-Atlantic rivers.
With Wildwater Adventure Center locations in North Carolina, South Carolina, and Tennessee, Wildwater features mild to wild paddling adventures on the Chattooga, Nantahala, Ocoee, and Pigeon Rivers. Each river has its own appeals (and required age, weight, and experience levels) and many Wildwater veterans have paddled them all several times.
Along with the convenient rivers, Wildwater feature many other mild to wild adventures, including: Aerial Adventures at each Wildwater location, plus an Asheville outpost, (The Adventure Center of Asheville, with canopy tours, an adventure park, and KidZip just for kids); the new KidZip at their Nantahala location; "Raft & Rail" river and railroad adventure trips; Jeep tours; ropes courses; climbing walls; paddling instruction (kayaking and canoeing); lake kayaking; SUP tours; tasty dining on and off their rivers; overnight river trips; and even varied lodging options (from camping to cabins to popular yurts).
If you go:
*Wilderness Voyageurs: www.wilderness-voyageurs.com
*River Riders: www.riverriders.com
*Riverside Outfitters: www.riversideoutfitters.com
*Adventures on the Gorge: www.adventuresonthegorge.com
*U.S. National Whitewater Center: www.usnwc.org
*Wildwater: www.wildwaterrafting.com